Welcome to another edition of The Future of Automotive, with Steve Greenfield, Founder, and CEO of Automotive Ventures, where I put recent automotive and mobility news items into context, in terms of the broader thematic areas that will potentially impact the industry.
I'm glad that you could join us.
The psychology of pricing
I've often wondered why consumers fall for the low-priced "loss leader" deal in automotive. A recent article in the Wall Street Journal shines a light on the psychology behind this consumer behavior. 
The conclusion? Consumers themselves are to blame. Even when we know the fees are coming, we underestimate their magnitude and have a hard time doing the mental math.
A few research experiments illustrate why "drip pricing," as it's called by researchers and regulators, is so effective at getting us to pay more.  The experiments explain why these fees proliferate across automotive shopping. 
Why don't retailers include all of the associated fees with the sticker price? A 2009 paper out of the University of California, Berkeley showed consumers punish that sort of transparency, and actually prefer cost complexity. 
The University of Chicago has run a series of experiments asking participants to find the best deal for a range of purchases, across categories outside of automotive. They can then choose between complex or simplified disclosures.
For example, the complex disclosure for prepaid cards breaks down the final price into things such as "initial fees," "card acquisition fees," "card activation fees," "service fees" and "administration fees." The simplified disclosure combines all these fees as a single "initial fee." 
Surprisingly, 70% of people preferred the complex disclosure. They believe that it's more transparent and that they can calculate the total cost by themselves.
But the study showed that they're wrong. Even when participants are offered cash to identify the cheaper option, people botch the math and pick the more expensive options. 
StubHub did an experiment that showed that lower prices prompted shoppers to upgrade. 
In this StubHub experiment, half of shoppers saw all-in pricing, and half saw the lower base price with taxes and fees only added at the end. The latter strategy boosted revenue by 20%. 
And shoppers didn't just buy more tickets. When they saw lower prices initially, they opted for better seats. By the end of the checkout process, they were committed.
When people get to the end of the process, there's a variety of psychological reasons they get locked in. They overestimate the cost of starting over, or they underestimate the benefits. Maybe they're just excited about the purchase, or reluctant to admit they could have made a mistake. 
Our instincts as consumers are counter-intuitive: We punish transparency, think we're clever enough to figure out any complexity, get sucked in by low offers then upgrade our ambitions, and conclude it's too much hassle to start over. 
I've always wondered why consumers don't demand all-in (or out-the-door) pricing, and why that screaming low lease deal drives in customers, who only realize later that the actual monthly payment is going to be a lot higher. 
Turns out that shoppers can't help themselves, and mostly have themselves to blame.
Right to Repair
The second article that caught my attention this past week was in the Boston Globe about Right to Repair legislation.
Since the summer of 2021, Subaru has refused to activate Starlink on new cars sold in Massachusetts. Since January 2022, Kia has stopped offering a similar service called Kia Connect. Both companies say it's the best way to avoid violating the state's right-to-repair law.

Switching off Starlink and Kia Connect deprives consumers of many popular features, such as the ability to remotely start the car, shut it down if it's stolen, and track teenagers when they go for a drive. And since consumers typically pay around $100 to $150 a year for these services, switching them off eats into the carmakers' profits.
This is yet another skirmish in the raging fight against the Massachusetts automotive right-to-repair law that was enacted by public referendum in 2020, and has been snarled in legal challenges ever since. The law requires carmakers to let independent repair shops access digital data transmitted wirelessly by millions of late-model cars.
Subaru and Kia have been especially aggressive in resisting the law. While other automakers are counting on a long-running federal lawsuit to overturn the statute, Kia and Subaru opted to shut off the features in their vehicles that are covered by the law.
Both companies say it's the best way to avoid violating the state's right-to-repair law.
The Massachusetts law was merely supposed to ensure fair competition in the car repair business by sharing vehicle data with independent repair shops.
Owners of independent auto repair shops want access to this real-time diagnostic data so they can compete with the carmakers' franchised dealerships. For example, a car owner could subscribe to a service that would send the data to his local mechanic instead of the dealership.
This is why the independent car repair industry fought so hard to get the Massachusetts Data Access Law on the books. They hope it'll serve as a template for federal legislation. 
But carmakers say the Massachusetts law would make it far easier for hackers to steal digital information from cars, and even to seize remote control of vehicles. A letter sent last week to carmakers by the National Highway Traffic Safety Administration said the threat is so severe that carmakers must not comply with the Massachusetts law.
One way to do that is to simply deactivate the telematic features, as Kia and Subaru have done. But that option is leaving some consumers angry and frustrated. 
I expect Right to Repair acts will continue to gain momentum across the U.S. to protect the aftermarket's access to vehicle data. But practically, it's going to be harder and harder to access the vehicle's data, and employee independent technicians that have the skillset and tools required to work on the rapidly evolving technology within these vehicles. 
In any case, expect to see continued battles fought across many fronts that will impact the automakers, franchise and independent dealers, aftermarket accessory installers, and in many cases the confused consumer who will be downstream from all of these decisions.
Companies To Watch
Every week we highlight interesting companies in the automotive technology space to keep an eye on. If you read my industry Intel Report, I showcase a few companies each week, and we take the opportunity here on this segment to share those companies with you.
Today, we have two companies to watch: VolfFang and Dcbel Energy.
Voltfang
Voltfang is repurposing used EV batteries into a sustainable battery storage solution, often called a "virtual power plant".
A virtual power plant is a system that consists of a large number of decentralized power generators and is controlled via a common control system. By coordinating the individual units, the virtual power plant can act as a whole and react flexibly to fluctuations in the power grid. This enables efficient integration of renewable energies and stabilization of the power grid. 
These virtual power plants help businesses to optimize their energy balance and at the same time ensure the security of their energy supply – by using their economical and sustainable battery storage from car batteries.
Voltfang's energy management system enables all energy flows to be recorded, controlled and monitored. So you can smooth out peak electrical demand, reducing your overall electrical bill. 
Businesses can also rest assured that they have access to an emergency power supply, and know that power outages and other unforeseen events won't leave you in the dark. Business continuity is guaranteed.
And, with Voltfang's 10-year guarantee, they ensure that the storage capacity of your system is maintained and will, if necessary, replace individual battery modules. 
You can check out Voltfang at www.voltfang.de.
dcbel Energy
dcbel's Home Energy Station brings premium DC charging to residential customers. It delivers more energy, a faster full-range charge and the ability to power your car with solar panels.
dcbel's residential bidirectional DC charger first to achieve certification in the U.S.
Imagine never having to worry about the power going out. Dcbel can charge your electric vehicle with solar energy and transform its battery into a backup power source for your house. 
dcbel's Home Energy Station can get you on the road in minutes instead of hours. Its ability to integrate solar energy into your vehicle charger along with an offboard inverter means you can charge your car with the power of the sun. It's the cleanest, fastest way to charge your electric vehicle.
If you're building a new home, or planning to adopt solar and storage, the dcbel offers the first 4-in-1 Home Energy Station. 
Bidirectional Power Flow

Solar Energy Conversion And Storage

DC Charging; and

Smart Home Energy Management
With dcbel, solar panels work during a blackout, a stationary battery reliably stores clean backup power, and your EV can power your home for 3 or more days at a time, depending on battery capacity.
You can check out Dcbel Energy at www.dcbel.energy.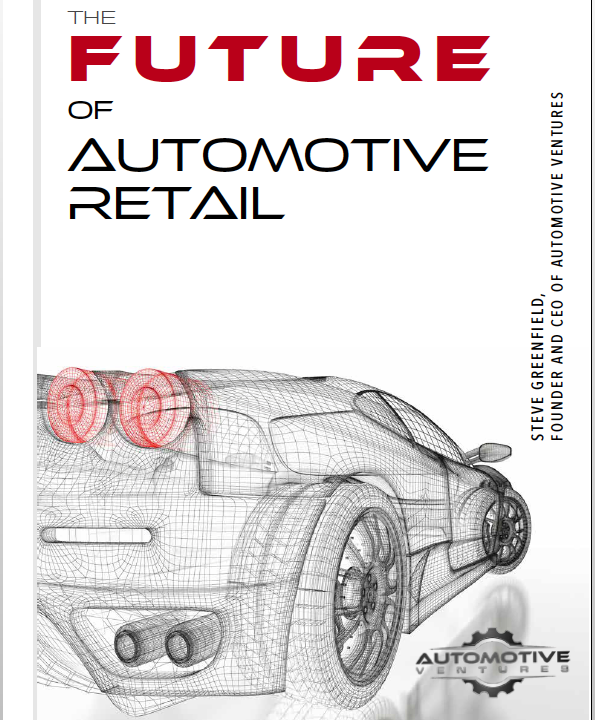 If you're an AutoTech entrepreneur working on a solution that helps car dealerships, we want to hear from you. We are actively investing out of our new DealerFund.
If you're a dealer who wants to invest in early-stage AutoTech companies that benefit your business, let me know. We are still accepting new investors into the DealerFund.
If you're interested in joining our Investment Club to make direct investments into AutoTech and Mobility startups with small checks, join the Club. There is no obligation to start seeing our deal flow.
And don't forget to check out my book, The Future of Automotive Retail, on Amazon.com.
Thank you for tuning into CBT News for this week's Future of Automotive segment, and we'll see you next week!