With the arrival of summer drawing ever closer, car dealers are anxious to know where the auto industry stands and where it will go in the coming months. To answer these questions, Haig Partners, one of the nation's most-recognized dealership buy-sell firms, has published its first quarter report, giving retailers invaluable insights into the trends shaping retail automotive. In this article, we examine four major takeaways from the Q1 2023 Haig Report and what they can tell us about the automotive mergers and acquisitions market.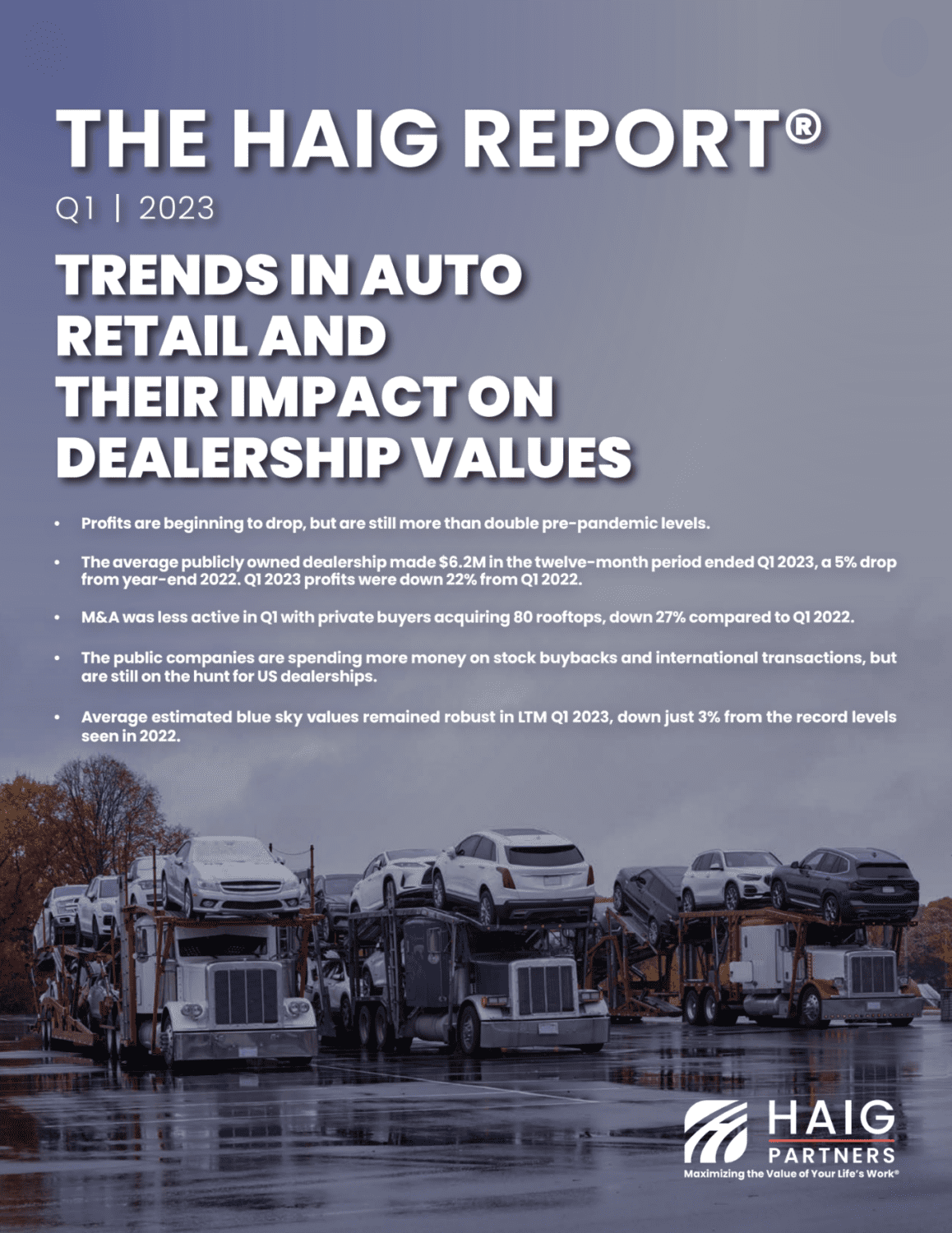 Interest rates and dealership buyers
While inflation has improved, the costs of goods and services still remain well above the Federal Reserve's target. As a result, the government has raised interest on a regular basis, with rates hitting a 16-year high in May. Like many sectors of the economy, the car business has suffered under the increasing burden of these rate hikes. Consumers are paying heavier interest on both new and used vehicles, while storeowners are struggling to cover expensive floor plan costs. 
According to Haig, these rate hikes could also produce a negative effect on the automotive buy-sell market if they continue. The report reads: "…for dealership-buyers, acquisitions may be less attractive due to high financing costs that reduce cash flow to their new stores."
Prices and dealership values
While new car prices have risen month-over-month, Q1 values were slightly lower compared to Q4 2022. OEM incentives have also re-emerged, averaging $1,599 in April. Although this news may disappoint some dealers, storefronts have nevertheless continued to rake in massive returns thanks to the favorable margins.
This influx of cash has also served to drive store valuations even higher. Haig writes: "A typical dealership today is worth around $40 million, including real estate and other assets." The opportunity to make a lucrative exit has many storeowners weighing "the risks and capital investments required to remain dealers and deciding to take their chips off the table via a sale."
Optimism and uncertainty
Based on the perspectives buyers have in regard to their personal finances and the economy, the consumer sentiment index is an important variable for dealers to track due to its effectiveness in predicting auto sales. Since dropping to historic lows last June, the index has steadily recovered, driving demand in the automotive sector. However, the Haig Report notes that economic concerns still persist among American shoppers, especially in the areas of pricing and employment.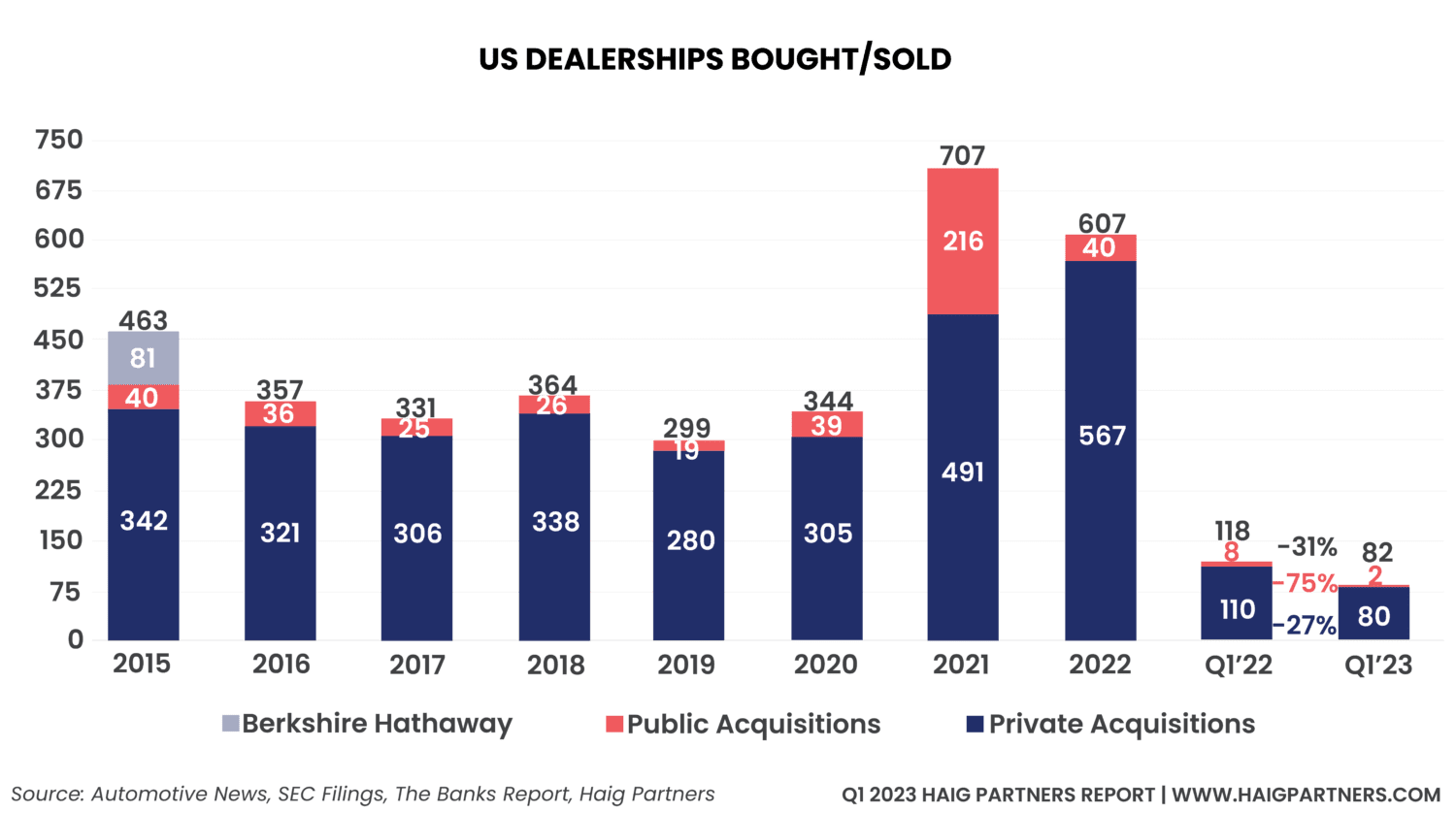 These worries may also explain the sudden decline in mergers and acquisitions activity seen over the first quarter. Buy-sell activity dropped 31% year-over-year, according to the Haig Report, and while 2022 was a particularly busy year for dealership exits, the number of companies looking to purchase a storefront has decreased under the weight of economic uncertainty.
"Overall, we expect 2023 to be another busy year for buy-sell activity, below the record levels we saw in 2021 and 2022 but above what we experienced before the pandemic," — Alan Haig (Q1 2023 Haig Report)
Just as consumers have grown more optimistic since the start of the year, buyers are also likely to overcome their hesitation sooner rather than later, eventually returning to the mergers and acquisitions market. Haig Partners predicts that transaction numbers will rise throughout the year as the industry's confidence in dealerships recovers.
Fluctuating profits
Fluctuations in the new and used market were apparent throughout the first quarter, propelling opposite results for the two sectors. New vehicle inventory grew over the period, hitting its highest level since April 2021 as car manufacturers overcame supply chain difficulties, while used vehicle inventory fell under declining rates of leasing and rentals. Profit margins also trended in different directions, with new cars earning less and preowned cars earning more than the prior quarter.
Opinions on the direction profits may take down the road tend to vary between dealerships. Haig Partners notes that storeowners are unable to decide whether automakers will return to their old habit of producing more supply than necessary or if car brands have "learned their lessons" and will maintain more profitable levels of inventory. 
In the buy-sell market, however, the consensus is generally optimistic.
"...we can tell from the prices that buyers are paying, they believe that dealership profits are going to remain elevated well above 2019 levels for some time." — Alan Haig (Q1 2023 Haig Report)
While quarterly margins, inventory, and sales have varied unpredictably between dealerships, storefronts are still making substantially more than they were pre-2020. In fact, for the 12 months ending March 31, 2023, retail profits were 212% higher than their 2019 average.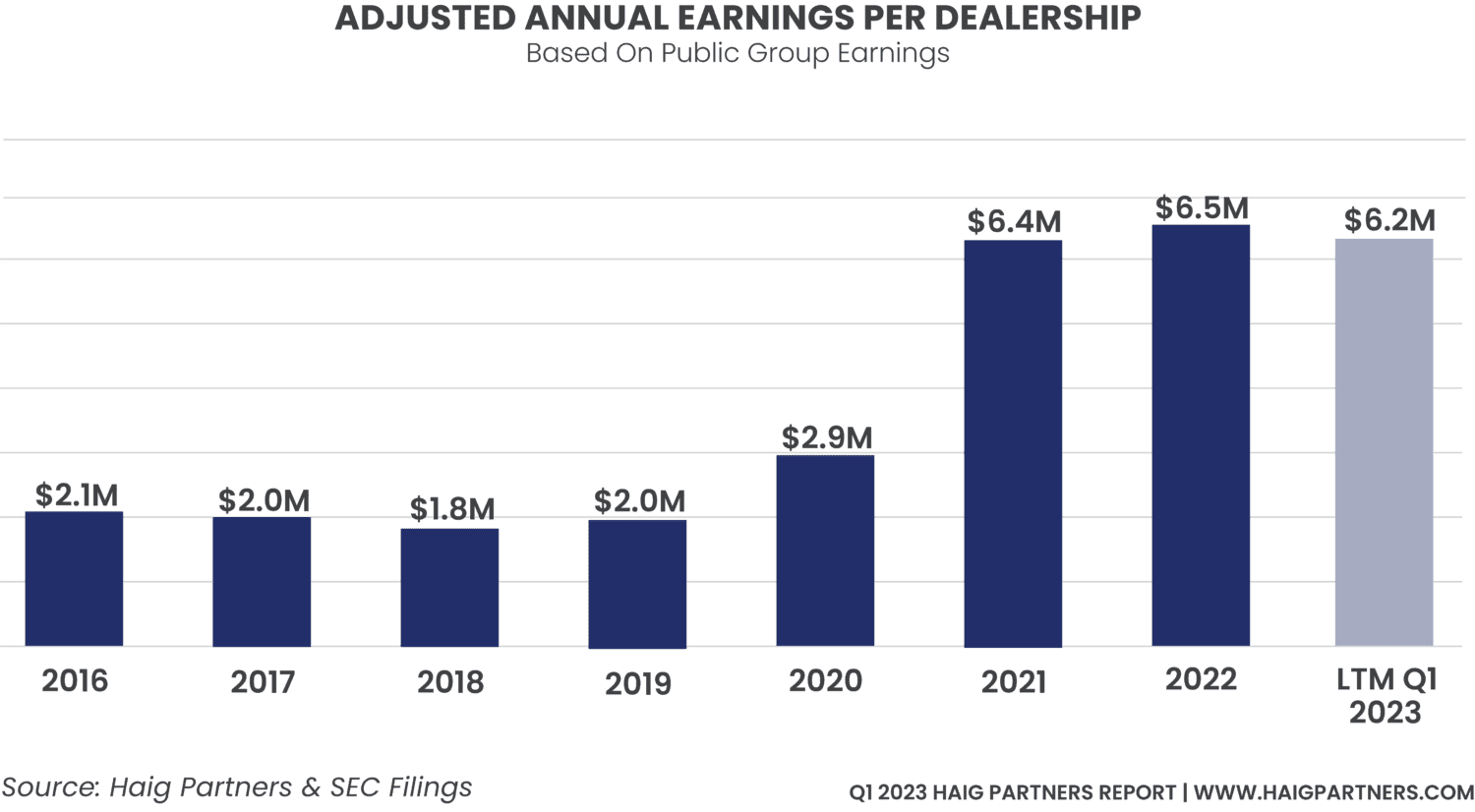 While the trends influencing the vehicle market have changed rapidly from the year before, automakers and dealers have demonstrated their aptitude for handling fluctuations in supply and demand. These strengths are likely to bring out even more activity in the buy-sell sector as investors see profits continue to pour in. To read the full Q1 2023 Haig Report and learn even more about the status of the automotive industry, visit Haig Partners to request access.