Welcome to another edition of
The Future of Automotive,
with Steve Greenfield, Founder, and CEO of
Automotive Ventures
, where I put recent automotive and mobility news items into context, in terms of the broader thematic areas that will potentially impact the industry.
I'm glad that you could join us.
So, I have to admit that I'm a bit confused.
We started off the year with a study from J.D. Power that noted that 21% of EV owners who attempted to charge at a public EV charging station were unable to do so, up from 15% in 2021.
The failure rate stemmed from a range of problems, such as broken displays, software bugs, severed power cords, or gas-guzzling drivers hogging charging spots.

Juxtapose this against the Tesla Supercharger network: Just 4% of Tesla owners reported a charging failure in the first three months of 2023. And there's a reason for this. Tesla has the only public charging network that's built, owned, and operated by a major automaker.
Tesla, which accounted for more than 60% of U.S. EV sales last year, has the largest current network of fast-chargers with almost 18,000 Superchargers in the United States. The Tesla EV charging network is fast, reliable and dead simple to use.
The legacy OEMs seem to have clued in that it's really hard and capital intensive to build out a charging network that works well.
As a result, we started to see the dominoes fall in quick succession.
GM, Ford, Volvo, Rivian, and Polestar have all recently announced that they'll conform to the Tesla charging standard. Hyundai and Stellantis are currently considering embracing the standard as well.
By all indications, the Tesla charging standard was well on its way to being the standard for the U.S. market.
Ok. Hopefully you've followed me so far. But, now for the confusing part.
The group includes General Motors, Stellantis, Hyundai, Kia, Honda, BMW and Mercedes Benz — brands representing about half of U.S. vehicle sales.
The goal is apparently to install at least 30,000 charge points in urban and highway locations accessible to nearly any EV by offering both the historical Combined Charging System (CCS) standard AND the Tesla-designed North American Charging Standard (NACS) connectors.
And note that this JV's planned 30,000 charging points would exceed Tesla's current 18,000.
A recent study by PwC forecasts that EV charging needs to grow tenfold to satisfy the charging needs of an estimated 27 million EVs on the road by 2030.
While I remain doubtful that we'll get to 50% of passenger cars by 2030, there IS no doubt that the existing charging infrastructure is going to be sufficient, no matter what number of EVs we end up selling. Especially when, as the J.D. Power survey pointed out, over one in five chargers isn't currently working.
As I've mentioned previously on this segment, it could prove dangerous if competing automakers concede 100% to the Tesla supercharger network. Tesla could very well give preference to their own Tesla drivers, and even charge non-Tesla drivers a higher rate, and/or throttle the performance of the chargers to slow them down. Not a good position to be in for a competing automaker to find themselves in only AFTER committing 100% to the Tesla standard.
Back to this new EV charging joint venture.
As with most things in life, the devil will be in the details. I don't know how on earth a new JV, jointly owned by seven of the largest – and competing – OEMs, are going to be able to agree on anything. But we'll see how this one plays out.
In any event, I will continue to track and report out on this segment how the charging landscape is evolving. I expect we're going to continue to see a number of announcements over the remainder of the year, as the various automakers strategically position themselves and start to take Tesla as a more serious strategic threat.
Companies To Watch
Every week we highlight interesting companies in the automotive technology space to keep an eye on. If you read my weekly industry Intel Report, I showcase a few companies, and we take the opportunity here on this segment to share those companies with you.
Today, we have two new companies to watch: Yendo and FINN.
Yendo
Yendo is on a mission to provide broader access to affordable credit so everyone has the opportunity to achieve their financial goals, and as a result, has created the first-ever vehicle-secured credit card.Yendo provides a prime credit offering to the millions of Americans who previously lacked access to the financial system because of their credit score.
With Yendo, consumers who own their car can tap into the value of their vehicle to gain access to up to $10,000 in revolving credit at a fixed, affordable rate, agnostic of their credit score.
The company determines a person's credit limit based on factors including their income and expenses, as well as the value of their vehicle. This provides equal opportunity to people who have historically been excluded from the traditional credit system and gives them the ability to establish and build credit.
This is important to Yendo's customers, as 90% cite building credit as a significant driver for applying for the product.
I really like Yendo, because in less than 10 minutes, consumers can get up to $10,000 in revolving credit at a fixed, affordable rate, agnostic of their credit score.
You can check out Yendo at www.Yendo.com.
FINN
FINN offers subscriptions for electric, hybrid, and gas cars — allowing consumers to log in to the website or app, select their vehicle and choose a subscription term.
FINN's subscriptions are for six- or 12-month terms and range from $570 to $1,399 per month based on term, vehicle type, and state tax.
The consumer's monthly payments cover maintenance, registration, and roadside assistance.
And FINN makes it really easy by delivering the vehicle to the consumer.
The reason that I love FINN is that the business model is dealership-friendly, and the company in fact looks at dealers as partners.
FINN actually purchases its cars from dealerships, and then sells those cars back to the same dealership as a lightly used six- to 12-month-old used car, when FINN retires them.
You can check out FINN at www.FINN.com.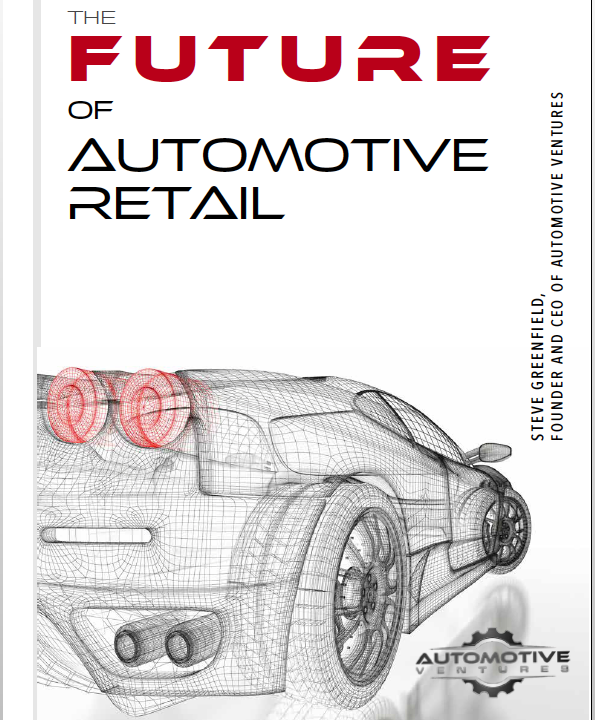 If you're an AutoTech entrepreneur working on a solution that helps car dealerships, we want to hear from you. We are actively investing out of our new DealerFund.
If you're a dealer who wants to invest in early-stage AutoTech companies that benefit your business, let me know. We are still accepting new investors into the DealerFund.
If you're interested in joining our Investment Club to make direct investments into AutoTech and Mobility startups with small checks, join the Club. There is no obligation to start seeing our deal flow.
And don't forget to check out my book, The Future of Automotive Retail, on Amazon.com.
Thank you for tuning into CBT News for this week's Future of Automotive segment, and we'll see you next week!