In regard to the automotive industry, 2018 has been a year of continued innovation and various technological advancements. The year has also been a setting of changing attitudes related to how consumers purchase vehicles, their preferences, and what they expect the future to hold regarding car ownership. Over the past few years, there have been many predictions regarding the rise of autonomous and electric vehicles, car ownership, and overall car sales as we arrive at 2020. This year seems to be a significant benchmark for analyst wondering if these conjectures will ring true. So, here are some of the biggest stories and trends from 2018 and we move into 2019.
The Impact of Trade Wars and Tariffs
During the middle of 2018, the automotive industry was defined by the Trump Administration's establishment of tariffs on raw materials that significantly affected automobile sales. Tariffs on aluminum and steel caused significant and lasting increases in automobile prices and caused major automakers like GM, Ford, and Fiat Chrysler to take a significant hit to stocks and sales. In November, Trump warned of possible tariffs on foreign vehicles —especially European models—to bolster trade negotiations. However, these threats have seemed to ease going into December.

An Emergence of Blockchain Technology
This year has seen the gradual rise of blockchain in various industries. However, 2018 was one of the first years where many analyst and automakers began to look at the possibilities of blockchain technology. The rise of Big Data and the connectivity of today's modern vehicles makes it easy for cars to share data, and for drivers to make purchases and obtain valuable automobile information on-the-go. Automakers like BMW, Ford, General Motors, and Renault have seen the possibilities and formed the Mobility Open Blockchain Initiative in May, a consortium that find ways to best apply blockchain technology to the automobile industry.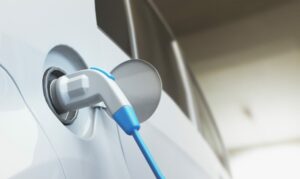 The Push for Electric Vehicles
While legislation has been slow to catch up, the rise of electric vehicles (EV) has experienced increased attention and popularity in 2018. For the first half of this year, EV sales rose 35 percent when compared to the same time in 2017. The decreasing costs of EV batteries have made it easier for automakers to offer affordable EV models. Tesla has led the charge with over 22,000 registrations for its Model 3, a more affordable EV model. Jaguar, Porsche, Audi, Honda, and many other automakers have also gotten into the EV market. Currently, legislative efforts to
preserve the EV tax credit are still hung up in Congress, but Tesla, GM, and Nissan are working together to remove the cap on the credit.
The Continued Popularity of SUVs and Crossovers
A favorable economy, low gas prices, and a sentiment that "bigger is better" had led to the
continued rise of consumers choosing SUVS and crossovers over smaller passenger vehicles.The demand for larger vehicles has had a significant impact on one of the country's largest automakers. This year, Ford decided to phase out their passenger car division and primarily sell SUVs, crossover vehicles, and pick-up trucks within the next couple of years. Automakers whose fleet includes a majority of larger models have experienced most of the success this year. Jeep and Subaru have taken top honors for consistently seeing some of the highest sales of the year. Results in November seem to indicate this development will continue into 2019.
Growing Flexibility in Car Ownership
Rising transaction prices and monthly payments have added to the popularity of car subscription services. In recent years, Ford, BMW, Porsche, Volvo, Cadillac, and Mercedes have all begun to allow consumers to use their vehicles for a monthly subscription fee.Most fees cover limited warranties, maintenance, roadside assistance, and in some cases, short-term insurance. The popularity seems to be growing as Flexdrive, a car subscription service based in Atlanta gains between 600 and 800 new subscribers each month and is planning to expand nationally next year. While the trend is still in its infancy, the popularity of this service has seemed to  catch on this year.
As 2018 comes to a close, it is very likely that many of the trends above will continue on into 2019. In many ways they are all intertwined, if tariffs and trade ways continue to take center stage next year, then it could significantly impact the desire and demand for larger vehicles. As a result, consumers may start to seek more alternative options like electric cars or vehicle subscriptions. This year was the start of many trends that will depend on the economic outlook of 2019.