More than ever before, consumers want to feel they have a relationship with companies before they make a purchase. They want to know what they stand for, and if they are as genuine as they say they are. Buying a car is one of the most significant purchases a customer can make, so it would make sense that they would look for dealers who they connect with.
One of the main ways companies are connecting with customers today is through content marketing. Content marketing is merely the creation and sharing of online material to stimulate interest in a good or service. How important is content marketing?
   According to Key Difference Media,

78 percent

of consumers believe that organizations providing custom content are interested in building good relationships.

   Another marketing firm, Dragon Search Marketing, found that

61 percent

of a consumer's buying decision is influenced by custom content.
So, there is something to be said for integrating content marketing into a comprehensive marketing strategy. If you are not sure how to get started, don't fret! Read on for five excellent examples of dealership content marketing.
Tell Customers What the Dealership is Up to
You may not think anything interesting is going on behind the scenes, but you would be surprised what you can point out on social media. Galpin Lincoln in Los Angeles, California have become masters at engaging customers on social media. In late February, the dealership announced the installation of one of the first retail digital license plates in the US on one of their Lincolns. It shows their dedication to innovation and that the dealership is staying busy behind the scenes.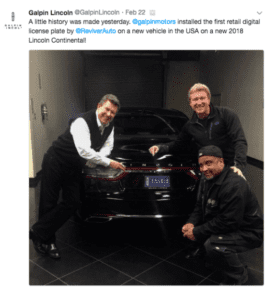 Provide a Forum for Customers to Share Their Experiences
While electric vehicles may need additional clarification by many, this is a good strategy to use with traditional cars. The Nissan Leaf has a Q&A page where customers can answer common questions about the vehicles. The inquiries allow buyers to share about their time with the car concerning various topics covering the customer's driving experiences. This is an excellent way to gain customer reviews for viewers and to allow buyers to engage with the company.
Use Video to Inform
Sterling McCall Collision North is a vehicle service location connected with the Group 1 Automotive group. Since they focus on providing repairs, vehicle servicing, towing, and roadside assistance, the team put together videos that detail each part of the vehicle repair process in their service center. The videos include accident statistics, their role in helping customers, and how they work with insurance companies for payment. Informational videos that show customers how to handle something challenging are a great way to build relationships before they step into the door.
Show Them What They Can Expect
Sonic Automotive does an exemplary job of taking customers through their buying journey once they step into one of their dealerships. The group lays out a step-by-step experience that shows potential buyers who they can expect to see upon walking in, how long the process will take, and their method of pricing. This content is used to keep potential buyers from having to guess about their dealership experience.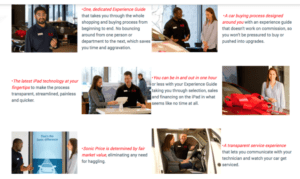 Congratulate and Acknowledge Buyers
Customers should always be front and center, and this example from Galpin Lincoln in Los Angeles, California was too good to pass up. The dealership took a photo of a couple who purchased a Lincoln MKZ from the dealership and posted it to their Twitter account with a congratulations message. This act personalizes the experience and displays the appreciation dealers have for their customers.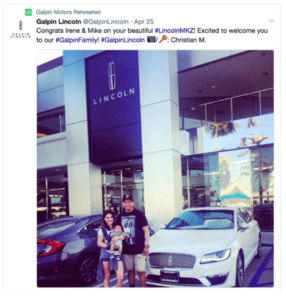 It does not take a lot of effort to create influential content. Dealers have a lot to work with in developing material that will attract and appeal to potential buyers. The key is to make it authentic, genuine, and appropriately personal. Dealers can share information about the latest fundraiser they participated in or a profile on a new hire. The material is there if dealers commit to creating compelling content.