Welcome to another edition of The Friday 5 with Steve Greenfield, Founder and CEO of Automotive Ventures, an auto technology advisory firm that helps entrepreneurs raise money and maximize the value of their companies.
The COVID-19 pandemic, coupled with a contentious U.S. presidential election, made 2020 a year of uncertainty, an environment, equity markets generally don't like. 
With the presidential election more or less decided, coupled with positive news this week from Pfizer about its under-development COVID-19 vaccine, investors are feeling much more confident about an economic recovery next year, pushing markets to near-record highs. This means we'll likely see a robust lineup of venture-backed companies going public in the final two months of this year and into early next year.
The IPO market has been busy this year, despite the COVID-19 pandemic. To date, there have been 371 IPOs this year, a record that was only bested by the 397 IPOs back in 2000, the height of the dot.com era. 
Many are saying that the first quarter of 2021 could set a new record for tech IPOs, if markets hold, seeing a lot of activity because of the low-interest rate environment, businesses benefiting from digital transformation, and a pipeline of strong venture-backed businesses that have been built over the last decade.
There's a lot of capital sitting on the sidelines waiting to get deployed, and for much of 2021 the holders of this capital have been cautious. We could see that changing as investors sitting on piles of cash get more bullish. 
Automotive Space
Combined, General Motors, Ford and FCA delivered a total of more than $10 billion dollars in earnings in North America during the latest quarter, and each company achieved a double-digit margin in the region, versus losing a combined $1 billion dollars in the same quarter a year before.
Coupled with strong performance from the automakers, the public dealer groups have also all reported record profitability. Despite the virus, high unemployment, and the financial downturn, it's turned out to be a great year to be in automotive retail.  
When we have healthy dealers and OEMs, we have happy vendors. And we tend to also have strong interest in physical dealership buy/sell activity. 
This week we saw one of the industry's largest transactions ever, as Lithia Motors acquired nine marquee locations from Keyes Automotive Group. The nine stores are estimated to generate $1.4 billion dollars in annual revenue, as the nation's third-largest new-vehicle retailer continues to grow.
Keyes Automotive Group is owned by Howard Keyes and Howard Tenenbaum. 
You'll recall that Lithia recently communicated their ambitious five-year plan to nearly quadruple revenue by 2025. As part of that plan to reach $50 billion in annual revenue, Lithia has said it intends to acquire dealerships generating about $4 billion dollars in annual revenue this year and in each of the next four years. They seem to be putting their money where their mouth is.
This week's sale encompassed some of the highest volume auto dealerships in the US, including Keyes European Mercedes-Benz, ranked #2 in the nation, Keyes Lexus, ranked #9, Keyes Audi, ranked #5, Keyes Hyundai, ranked #3, as well as an additional five high volume dealerships, Keyes Toyota, Lexus of Valencia, Audi Valencia, Mission Hills Hyundai all in Los Angeles, and Bell Road Toyota, located in Phoenix.
It's one of the industry's largest transactions in recent years, based on dealership revenue. Keyes is ranked No. 20 on Automotive News' list of the top 150 dealership groups based in the U.S., retailing over 33k new vehicles in 2019 and generating more than $2 billion dollars in revenue.
Technology Transactions
B2B Dealer Transaction Platforms continue to be hot.
Between KAR Global's acquisition of BackLot Cars, which should close this week, the rumors around ACV Auctions going public early next year, and KAR Global's involvement in CarLotz' public offering, there's a lot of investor interest in the online dealer wholesale transaction space. 
This week, dealer trading platform Signal Automotive announced a $20 million dollar investment, led investment led by Kayne Partners Fund, the growth private equity group of Kayne Anderson Capital Advisors.
Formed in 2017, Signal Automotive is a technology-enabled automotive wholesale platform that utilizes data to optimize wholesale dealer trades. They claim that their platform has a combination of proprietary software and managed services that can optimize the buying, selling and inventory allocation processes for dealers. Vehicles are then delivered front-line ready to dealers' lots, with all logistics and transportation included in the price.
Electric Vehicle Technology  
Volkswagen Group CEO Herbert Diess said the automaker will pursue a sweeping transition to electric cars, declaring it a matter of survival. VW is pressing ahead with aggressive investment in new technology to avoid falling behind as the auto industry fundamentally changes.
Diess said "If you are not fast enough, you are not going to survive. In the long run, climate change will be the biggest challenge mankind is facing."
Electric vehicles have been hot this year with investors, with a number of companies going public via special purpose acquisition corporations, or SPACs, including Fisker, Nikola, Lordstown Motors, and Canoe.
Investment into electric vehicle technology by OEMs will continue F as automakers look to outsource research and development, as well as hedge risk by trying to bet on the winners. 
This week, Lightico announced a $13 million dollar investment led by Oxx, with participation from Capital One Ventures and Harmony Partners, to accelerate adoption of its digital customer interaction platform and bringing its total amount raised to $27 million.
Lightico is a 'contract management' solution that solves the entire 'last mile' problem, allowing all the processes involved in customer transactions to be fulfilled completely digitally, in a frictionless and very user-friendly way. 
COVID-19 has heightened the need for digitization in financial services and Lightico provides an agile and seamless platform to quickly digitize servicing workflows.
Lightico helps its clients improve customer experience and efficiency, through faster turnaround times, higher completion rates, and a higher net promoter score.
Lightico will be a company to watch, as they grow their automotive business lines.  
Aeva a Silicon Valley firm developing a lidar sensor for self-driving cars to perceive their surroundings, has agreed to go public through a merger with SPAC InterPrivate Acquisition Corporation.

The deal makes Aeva the third lidar technology developer to agree to go public this year through a deal with a SPAC, following Velodyne Lidar and Luminar Technologies.
Nuro, the autonomous delivery startup founded by two former Google engineers, just raised $500 million dollars. Nuro now has a post-money valuation of $5 billion.
Unlike many other startups in the autonomous vehicle industry, Nuro has focused its effort on designing a low-speed, electric, self-driving vehicle that transports packages, not people. 
Some of Nuro's first tests and pilots were with Toyota Prius vehicles equipped with its self-driving system. Nuro partnered in 2018 with Kroger to pilot a delivery service in Arizona. 
Nuro has also partnered with companies like CVS, Domino's and Walmart
Nuro's latest delivery bot, which is designed for local delivery service for restaurants, grocery stores and other businesses, received an exemption from the federal government earlier this year that allows it to operate as a driverless vehicle.
StoneEagle F&I, one of the leading and most respected technology providers in the automotive industry, announced that it has received a majority investment by Battery Ventures.
StoneEagle has spent decades understanding the key habits that drive both auto dealers' profitability and creating positive experiences for consumers shopping for automotive finance-and-insurance products. Common F&I products include vehicle service contracts, guaranteed asset protection plans and ancillary products such as prepaid maintenance offerings, dent and ding protection, and wheel and tire coverage.
The company's cutting-edge technology suite, focused on sales, service and reporting technologies as well as third party administration solutions, touches most players in the F&I space, including dealerships, general agents, third-party administrators, OEMs and associated services providers. 
StoneEagle's footprint provides everything customers and providers need to buy, protect and service vehicles throughout the entire vehicle ownership lifecycle. 
This week we found out that Kingsway Financial Services will acquire Preferred Warranties Incorporated. from KAR Global for $24.5 million dollars. 
PWI markets, sells and administers vehicle service contracts in all fifty states, primarily through a network of automobile dealer partners.
It's interesting to see KAR Global divesting certain assets while simultaneously making bets on BackLot Cars and CarLotz. 
Provizio, a combination hardware and software startup with technology to improve car safety, has closed a seed investment round of $6.2 million dollars.  Investors include Bobby Hambrick, the founder of Autonomous Stuff; the founders of Movidius; the European Innovation Council; and ACT Venture Capital.
Provizio has a so-called "five-dimensional" sensory platform that perceives, predicts and prevents car accidents in real time and beyond the line-of-sight. Its "Accident Prevention Technology Platform" combines proprietary vision sensors, machine learning and radar with ultra-long range and foresight capabilities to prevent collisions at high speed and in ALL weather conditions.
Pony.ai, the Chinese autonomous vehicle startup, is now valued at $5.3 billion dollars following a fresh injection of $267 million in funding.

Pony is building what it describes as an agnostic virtual driver for all sizes of vehicles, from small cars to large trucks, and to operate on both ridesharing and logistics, or delivery, service networks. The company said back in 2019 that it was working with OEMs and suppliers to apply its automated technology to the long-haul trucking market. But it's perhaps best known for its effort around robotaxis.
Companies to Watch
We continue to highlight interesting companies in the automotive technology space to keep an eye on. If you read my monthly newsletter, I showcase a few companies each month, and we take the opportunity here on the Friday Five to share some of those companies each week with you.
Today, we'll look at three very interesting automotive technology companies, Fluency, Work Truck Solutions and GettaCar.
Our first company to watch, Fluency, was founded in 2017 in Burlington Vermont, by Dealer.com alumni Eric Mayhew, Brian McVey, Scott Gale and Mike Lane.
Fluency is a business-to-business digital advertising platform provider, whose clients are industry-focused digital marketing companies. 
Fluency manages large digital media portfolios; typically tens of millions of dollars across thousands of accounts. 
Fluency provides an enterprise-level technology platform that automates critical, necessary, but repetitive and time-consuming tasks associated with digital advertising management. Fluency's platform allows users to operate with the highest level of efficiency, enabling them to focus on strategic business objectives that deliver cost-effective, optimized advertising campaigns. This results in easily scalable advertising strategies that increase competitive advantage and optimize market share growth opportunities.
Founded in 2012, Work Truck Solutions is headquartered in Chico, California, and is led by CEO and Founder Kathryn Schifferle. 
Work Truck Solutions provides website inventory solutions for commercial vehicle dealerships, and helps buyers like plumbers, florists and contractors quickly identify the right commercial truck or van for their specific business needs, which helps dealerships sell more inventory. 
Work Truck Solutions allows dealers to connect their customers to the right vehicle quickly, making it easier to keep track of commercial inventory and vehicle features. 
Work Truck Solutions provides more than 902 commercial truck dealerships an effective inventory management system to enable them to sell more trucks faster.
Founded in 2018 in Philadelphia by Yossi Levi, Gettacar is a direct-to-your-door, online platform that enables users to trade, finance, and buy used cars. 
Gettacar aims to enable buying a car to be as simple as buying a pair of shoes and as trustworthy as online banking. By controlling the process from beginning to end, Gettacar allows customers to shop a wide inventory of cars, choose their terms, and have the car delivered right to their door. They even provide the consumer with 7 days to decide if they want to keep it. 
It's an exciting time to be in the automotive space. I'll keep my fingers on the pulse of deals being done, so tune in each week so I can share updates with you.
Please feel free to contact me anytime, I always look forward to catching up to discuss the industry.
---
Did you miss last week's episode of The Friday 5? Watch it here now! And don't forget to share your questions and comments with Jim Fitzpatrick at jfitzpatrick@cbtnews.com.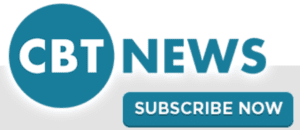 Be sure to follow us on Facebook and Twitter to stay up to date or catch-up on all of our podcasts on demand.
While you're here, don't forget to subscribe to our email newsletter for all the latest auto industry news from CBT News.