President Donald Trump has certainly shaken up the automotive industry with his proposed 20% tariffs on automobiles assembled in the European Union (EU) if the group does not remove "barriers" to United States goods. According to Richard Bravo of Bloomberg, the EU has provided warnings of "severe disruption" should Trump carry out his tariff threats. Tim Worstall of City A.M. quoted the president of the European Commission, Jean-Claude Juncker, as saying the EU feels the "unilateral US tariffs are unjustified and at odds with World Trade Organization rules."
Reuters contributor Mathieu Rosemain noted that the EU imposes a 10% tariff on U.S. cars, whereas the U.S. imposes a 2.5% tariff on passenger cars and a 25% tariff on pickup trucks imported from the EU. Despite Trump's huge concern that the U.S. is being "used," the U.S. Chamber of Commerce released a statement stating that U.S. automobile production has doubled within the past ten years and the proposed tariffs would "deal a staggering blow" to the industry as well as have the potential to start a full trade war. In the past few months, some of the strongest allies of the United States such as France and Germany have also spoken out against the tariffs calling them "illegal," "unfair," "unjustified," and, in Canadian Prime Minister Justin Trudeau's own words, "a turning point in the Canada-U.S. relationship." Of course, burning bridges with these countries could be devastating.

Mike Murphy of MarketWatch reported that Jyrki Katainen, the Vice President of the EU Commission, took a jab at Trump's constant Twitter feuds by stating, "We don't want to fight (over trade) in public via Twitter. We should end the escalation." He also indicated that the EU will have "no choice but to react" if the tariffs are indeed imposed. This is causing a lot of fear, not only in the U.S. and EU, but also globally. However, Nikos Chrysoloras of Independent.ie said that some people and corporations believe that Trump's threats are "more of a negotiating tactic than a concrete plan of attack." Trump is, after all, a former businessman who worked on negotiating for decades.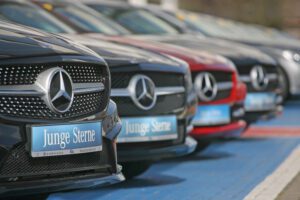 Despite some early optimism about imposing tariffs on other countries, the future is now more uncertain. German automaker Daimler issued warnings last week stating that its profits would be negatively impacted by Chinese tariffs on United States imports. Additionally, Harley Davidson has released a statement detailing how new tariffs would have an "immediate and lasting detrimental impact to business in the region" and therefore the corporation will be shifting production of EU-bound motorcycles to international facilities. Bravo's piece pointed out that the EU's memo stated that "upwards of 180,000 jobs" could be lost in the United States, which is 100 percent contrary to Trump's aspirations for gaining more jobs and job stability from the new tariffs.
A major part of the hold up regarding the tariffs, according to Rosemain, is the February 2019 deadline that the U.S. Commerce Department has to decide if automobile imports are a risk to national security in the U.S. The Department is aiming to complete the investigation before September of 2018; however, based on past investigations it seems they may not reach that goal and it may take several more months. The back-and-forth threats will eventually need to end, and whether or not the United States will benefit from any decision remains a complete mystery.