Welcome to another edition of The Friday 5 with Steve Greenfield, Founder and CEO of Automotive Ventures, an auto technology advisory firm that helps entrepreneurs raise money and maximize the value of their companies. In this episode, Greenfield takes a look at Carvana's performance, the latest news out of California, and dramatic events from the makers of electric vehicles.
Carvana
There's no doubt that COVID-19 has accelerated more consumers to online car buying, and, in parallel, investors' interest in technologies that enable consumers to either buy or service their vehicles online. This week, we received a couple of interesting signals from Carvana, signals that have really buoyed their stock price.
In a rare move prior to the end of the third quarter, Carvana communicated that they expect a record third-quarter across several metrics, reflecting how well-positioned the online used-vehicle retailer has been vis-à-vis the coronavirus pandemic's impact.
Shares of Carvana closed Tuesday's trading up 30.6 percent to $226.83. Later that same day, Carvana said it planned to borrow an additional $1.1 billion. Only $600 million of this new debt will be used to retire existing debt. The additional $500 million raised will be put on their balance sheet for general purposes.
California and Electric Vehicles
Shifting gears, we got big news from California this week that will add even more momentum to electric vehicle manufacturers. On Wednesday, California announced plans to ban the sale of new gasoline-powered passenger cars and trucks starting in 2035 in a dramatic move to shift to EVs and reduce greenhouse gas emissions.
Newsom's order labeled the elimination of gasoline-powered vehicles a "goal" and a "target" after his office said earlier his order would require the sale of nothing but zero-emission passenger vehicles starting in 2035.
California is the largest U.S. auto market, accounting for about 11 percent of all U.S. vehicle sales, and many states choose to follow suit and adopt its green vehicle mandates. California said it was joining 15 countries that have made similar pledges, including Britain.
Electric Vehicles
Speaking of electric vehicles, it seems like just about every automotive company in the world is trying to catch up to Tesla.
During its "Battery Day" event on Tuesday, Tesla CEO Elon Musk announced that the automaker plans to build a $25,000 electric car, something that would make electric vehicles far more affordable for average Americans. Tesla's Model 3, its least expensive model, currently retails for just under $40 thousand.
Nikola
While we're on the topic of electric vehicles, there was more action this week from the ongoing saga of EV manufacturer Nikola.
Last week we reported that the Securities and Exchange Commission was examining Nikola Corporation to assess the merits of a short-seller's allegations that the electric truck maker deceived investors about its business prospects. We now understand that the Department of Justice has joined that investigation.
Just days before the allegation was made public, General Motors invested $2 billion into Nikola, taking an 11% equity position. The deal committed GM to manufacture the startup's debut electric pickup, called the Badger. This week, things seem to have gotten worse for Nikola.
First, Nikola's former executive chairman and founder Trevor Milton resigned Sunday. Nikola's shares sank 26% to $21.15 in the stock market on Wednesday. Shares are down 73% from their peak of almost $80 per share back in June of this year.
It's an exciting time for automotive technology companies, and we should see a lot of M&A activity over the remainder of the year. Tune in next week for another recap.
---
Did you miss last week's episode of The Friday 5? Watch it here now! And don't forget to share your questions and comments with Jim Fitzpatrick at jfitzpatrick@cbtnews.com.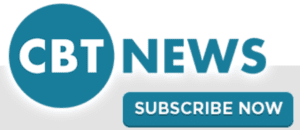 Be sure to follow us on Facebook and Twitter to stay up to date or catch-up on all of our podcasts on demand.
While you're here, don't forget to subscribe to our email newsletter for all the latest auto industry news from CBT News.