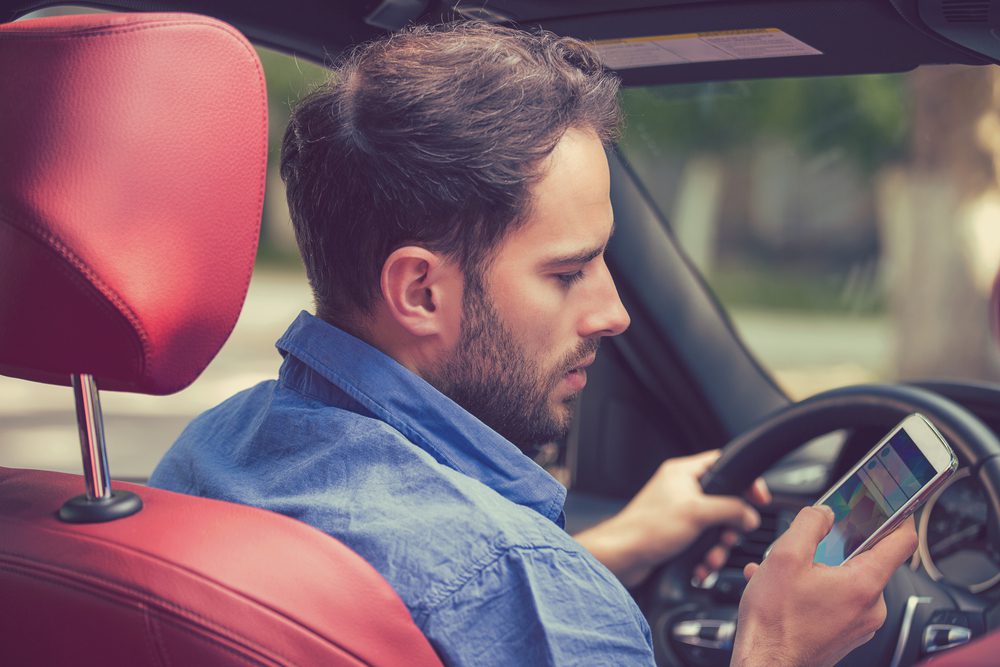 We are all told not to text and drive, and we should definitely wait to pick up whatever we dropped on the floors of our cars while we're driving, but how many of us actually follow these rules? Not many, according to a survey conducted by Selective Insurance Group. In fact, almost 90% of respondents reported that they had engaged in distracted driving within the last 90 days, which is a staggering statistic.
The online survey, conducted by The Harris Poll, found that 87% of the respondents, who were all drivers in the United States, have "engaged in various distracted driving behaviors while operating a vehicle for personal reasons" within the past three months. The number is still shockingly high when it comes to minors being in the vehicle. In fact, 80% of parents who have children younger than 18 admitted to driving distracted in some way while their children were in the car.
Perhaps unsurprisingly, even though the majority of US drivers engage in distracted driving, 81% of respondents reported being concerned about their safety due to distracted driving and 38% of these furthermore reported being "very" concerned. Respondents reported that even though they consider behaviors like texting and talking on the phone while driving "distracted driving," they have still engaged in them.
More specifically, most respondents stated they have driven distracted because they were talking to someone else in the car (57%) or drinking a beverage (57%). Other frequently reported activities included managing the music/entertainment system (49%), talking on a hands-free mobile device (44%), and eating food (44%).
Another unique finding from the study was that 75% of respondents stated they do not view hands-free mobile calling as "distracted" driving. Also, respondents who drive for a living reported they tend to engage in distracted driving more when they are driving for personal reasons (97%) than for professional reasons (93%).
Ultimately, the numbers of US drivers who drive distracted is quite significant and should be considered a "public safety crisis on our roadways," according to Selective Insurance's Executive Vice President, Brenda Hall. She added that, "anything that distracts the eyes, hands, or mind from the task at hand is considered a visual, mechanical, or cognitive distraction, and research shows that it can take multiple seconds to regain focus on the road after a distraction."
Auto retail's role in distracted driving
So, what can dealerships do to mitigate these dangerous behaviors?
While promoting newer, more expensive cars is often a logical strategy for dealerships for financial purposes, the sales team should truly push the newer technologies that promote safety. Of course, it's best to completely stay off the phone while driving. However, until reliable, self-driving cars that we can fully trust are on the roads, it is critical to make use of technologies such as hands-free phone calls when necessary. Most new vehicles (and many older ones) come with "talk" buttons and controls right on the steering wheel that can be reached without even having to look down.
Dealership staff can also teach drivers how to turn on the "Do Not Disturb" mode on their cell phones, as this would eliminate buzzing or ringing while driving, therefore allowing drivers to keep their eyes on the road. Most smartphones also have a feature that automatically responds to a text with some sort of an "I'm driving and will answer you later" message. Phone apps such as DriveSafe.ly can automatically read incoming text messages so drivers do not have to touch their phones.
Staff can also make sure customers understand how to use their vehicle's hands-free GPS systems (if applicable), as this eliminates the need to look at a phone.
A national campaign could also be launched, with dealerships having the option to join in. This was implemented by Canada, where 75% of drivers report driving distracted. The Canadian Auto Dealers Against Distracted Driving "aims to educate and encourage behavioral change with drivers at the community level," with each pledge contributing $1 "towards education and research on road safety." The organization has recruited hundreds of dealerships and obtained almost 30,000 pledges to date.
If the US were to conduct a campaign like this, it may raise awareness of the prevalence and dangers of distracted driving throughout the country. Simply spreading statistics of how prominent distracted driving is may (and should) deter many drivers from engaging in dangerous driving behaviors, therefore making our roads safer.
---
Did you enjoy this article from Kimberly Hurley? Read other articles on CBT News here. Please share your thoughts, comments, or questions regarding this topic by submitting a letter to the editor here, or connect with us at newsroom@cbtnews.com.
Be sure to follow us on Facebook and Twitter to stay up to date or catch-up on all of our podcasts on demand.
While you're here, don't forget to subscribe to our email newsletter for all the latest auto industry news from CBT News.