There is a "Technician Drought" that has been plaguing the car industry for decades, pretty severely for the past 5 years or so. Finding and keeping excellent quality techs has been as elusive as a rainstorm in the middle of the desert. Like a real drought, this ailment causes the rationing of your most precious resources; the people who actually produce the work you charge your customers for! As a result, productivity, profitability, retail growth, customer and employee satisfaction categorically suffer.
One symptom of the tech drought is Service Managers getting into bidding wars for technicians. The need for tech capacity in a certain specialty skill can be an emergency situation. Responding to fill the need this way can drive up the cost (and customer price) of labor and often the rate of technician attrition. Sometimes, techs get "stupid" offers from competitive dealerships of high dollar flat rate compensation that they either bite on, and leave their current homes, or end up getting a raise to stay at their present location. "Well, the candidate called back and thanked us for the offer but said he was presented with a lot more money to stay"…sound familiar?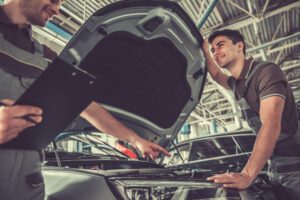 So how do we proactively prepare and posture ourselves to make the best of this situation and compensate for the lack of ready-trained technicians in the marketplace today?
The constants I see that dealers can affect when considering how to attract and retain top quality techs are three-fold.
Constantly recruiting and doing a great job at putting our best foot forward when searching for and enticing tech staff to our dealership to begin with.


"Building" our own technicians from entry level quick service candidates, tech school graduates or attendees and current employees wanting to move into being mechanic.

Tech retention strategies that will hopefully preempt a tech from searching elsewhere because of discontent.
The First Impressions
First of all this is a category that we should always be interviewing for and have our search engines bringing us candidates. Do not let your guard down. You never know when you are going to need another tech, in fact you probably need at least 2 right now! Position your dealership and department as a superior work environment with an employee focused management approach.
Dealerships have to step up and cater to technicians needs and desires to attract and retain a top-quality team. Of course, monetary gains are not the only focus a tech has when considering an employer. Sure cash is king, but let's face it there are a multitude of reasons that make being a technician rewarding….or the opposite. Here is just a short list of the issues a dealership may want to consider in their efforts to attract Techs:
An accommodating but authoritative Service Manager they like!!! (Yes they have to LIKE you!)

Liberal sign-on Bonuses after probationary period

Climate Controlled and/or comfortable work environment

Generous vacation considerations. Example; 2 weeks Paid Vacation after 2 years of service

Weekly paychecks and Spiff incentive programs

Medical, dental and vision insurance available

Car discounts for employees and family

Tuition reimbursement program for qualified technical institutes

Medical, dental and vision insurance availability

401K retirement plan with matching contribution

Supplemental life insurance availability

Short term and long term disability available

Paid training / Technician guild program

Employee and customer referral program

Wellness program (Gym membership, etc.)
Building the machine to build the machine
The most successful shops at retaining and growing technicians from scratch have mentoring programs that are a win, win, win situation.
The Mentor wins – He is compensated for trainee production ongoing based on the productivity of the trainee. This gives him "Skin in the game"

The Mentee wins – Obviously an effectively trained apprentice evolves into a highly desired well paid tech in the best scenarios.

The Dealership wins – Profitability and Customer Satisfaction soar with a stable and ever improving workforce.
There is another aspect that makes a big difference overall in the quality of production coverage you can provide. Lack of specialization. The strategy of employing well rounded techs and training apprentice and journeymen techs alike in EVERY aspect of just about EVERY specialty. A greater percentage of your technical staff being able to "clean a ticket" is a productivity "super-food"….Imagine all operations on a repair order being able to accommodated by the first person that pulls the car into the shop.
Cheaper to Keep 'Em
In reality, retaining top talent is an even more pressing use than recruiting and growing technicians. The same types of programs you are attracting new hires with should lavish seasoned techs with the "whats-in-it-for-me" that goes beyond a paycheck.
Consider your techs and what makes them respond positively.
Embellish your tech incentive and spiff programs, run quarterly or bi-annual contests.

Hold regular meetings and take employee surveys to listen to their input and make appropriate changes to their suggestions.

Allow senior staff special scheduling considerations and rewards for a job well done.

Create a "Brag Board" where accomplishments, anniversaries and special milestones can be displayed for peers to see.
Often what people really want is recognition for excellence. By keeping your focus on your top achiever's accomplishments, you give them both a jolt of motivation and at the same time align your up and coming staff with a prime role model and path to excellence.