According to a 2017 Corporate Social Responsibility Study by Cone Communications, 87 percent of respondents said they would purchase a product because a company advocated for an issue they care about. The Harvard Business School also found that employees who have the opportunity to give to charities through their employer are happier than those who do not. According to data, your dealership stands to benefit from doing good. Getting involved with a local charity is a great way to not only help the community but also gain visibility.
If you are looking for ways to use social media to support charitable causes and expand your customer reach take a look at the below examples for some inspiration.
Have Your Customers Vote on Charities to Donate To

This tactic is a great way to not only support the local community but to also allow your customers to have an active role in a campaign. Many corporate foundations will have campaigns where they allow users to vote on a charity to receive donations. Here, Fordham Toyota's Bronx Loyal campaign is doing the same. Selecting three charities gives your customers a choice, while also exposing your customer network to a nonprofit organization they may have not yet heard of and may decide to donate to again in the future.
Acknowledge a Group of Your Customers
During certain times of the year, it is customary to honor military personnel and individuals who hold other types of noble and service-driven professions. In the example above, Fuccillo Hyundai of Grand Island in New York is offering a $500 discount for active first responders in the area. This dealership can use this campaign to cultivate a long-term customer relationship with this group of professionals. They also show the community that they are willing to acknowledge a group of people who offers critical help in the local area.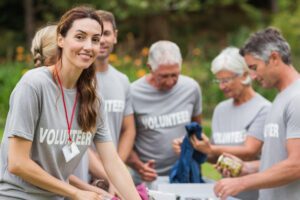 Create a Month-Long Campaign for a Charitable Cause
Throughout the year, there are a variety of causes that are acknowledged for the entirety of a month. For example, October is Breast Cancer Awareness month, while Arthritis is spotlighted in May. April is typically known for highlighting Autism. In honor of this cause, Hyundai on Perryville in Illinois partnered with Easterseals Serving Chicago and Rockford, to donate a portion of every car sold in April to TAP (The Autism Program) at Easterseals. The dealership even created a video to put a spotlight on the families impacted by the program. Donating a portion of every car sold allows customers to feel that they are giving back when they purchase from your dealership.
Run a Donation Campaign  
Platforms like Facebook make it easy to run a donation campaign. Why not take advantage of that? While it is great to tie a charity or cause directly to buying cars at your dealership, sometimes it is a great move not to involve sales at all. Two dealerships, supported by the dealership marketing company Dealer Authority, ran donation campaigns for humane societies in their community. This act shows a high level of empathy and compassion. While the dealership will benefit from the visibility, the nonprofit organization is front and center. This method can strengthen customer trust since the dealership is not seeking any immediate benefit.
Have or Participate in a Charity Event
Something is exciting about the combination of an event and corresponding live video. Over the past few years, video has proven to bring about higher levels of customer engagement, and adding in an event brings an extra layer of intrigue. Earlier this Spring, Ben Mynatt Nissan in North Carolina attended an Earth Day event and sent out a live video to their followers to invite them to attend. Not only did the video show that the dealership is willing to participate in community events, but it also showed that the dealership knows how to celebrate a cause in a fun way while also involving the community.
Final Thoughts
Supporting charitable causes is simply the right thing to do. If you are selling a good to a community, it is an excellent gesture to give back, and involve yourself in the causes that impact it. Whether you are running a donation campaign, or are honoring a monthly cause, there are many benefits to running a charity campaign or partnering with a nonprofit. If done well, a campaign can bring the bonuses of strengthened customer trust, expanding your brand, and bringing about long-term customer loyalty.