It's cold in Bloomington, Indiana in the winter.
In December, it averages a crisp 41 degrees as the high and a frigid 25 as the low.
So, why would motivational speaker and author Dave Anderson leave sunny California to devote four months to living in Bloomington?
Advertising Partner

Basketball.
In particular, legendary Indiana Hoosiers Basketball.
Early in the 2015-2016 basketball season, the Hoosiers were struggling. They were off to a rough start. They weren't mentally tough. They weren't winning games. On December 5, they suffered a blow-out loss to the Duke Blue Devils.
Then-Indiana Coach Tom Crean, who now coaches the UGA Bulldogs, had read books by Anderson. He thought not only espousing Anderson's ideas could aid his team, but having the presence of Anderson himself could help his team's mindset. A phone call was made. Anderson boarded a plane, landed in Bloomington and immersed himself with The Hoosiers. He watched the team practice. Attended games. He ate with the team and encouraged them, mentored them and addressed them in the film room.
Fast forward to February and the team had a winning record, clinched the Big Ten Conference Title and been invited to the NCAA Tournament.
During that period, they had also reeled off 12 wins in a row.
Coach Crean touted Anderson's impact as part of the team's ascension.
"I was a fan of Dave's before I ever met him and really could feel the inspiration from his work," he told Car Biz Today. "As much as you hope it will go well for your team with a different voice, you are never sure until you see your team's response. Dave's abilities to connect, inspire and bring a transferable connectivity was incredible. They knew he truly cared about them, and it made every one of us stronger."
And while the team had a great season, Anderson shared in their success off the court as well.
He wrote a book.
Unstoppable
The book is called, "Unstoppable."
As Anderson is quick to point out, while his last 13 books addressed such topics as tactics, strategies, and selling, "Unstoppable" deals with the most important point of success: Mental toughness.
"Unstoppable is the most applicable book I've written. It's for anybody who wants to excel in what they are doing," he said. "It's been a lot of fun with people who want to communicate that message and think more productively."
Anderson was inspired to write the book by his experience with the Indiana team. During that period, he saw a team succeed that did not have as much talent as some of its contemporaries. What they did have was mental fortitude.
"I believe toughness beats talent when talent isn't tough," he said.
Anderson also writes about a philosophy he developed of the four types of people: Undertakers, caretakers, playmakers and game changers and how each type of personality can play into your business decision making, motivation, and ultimately life goals. Everything ties back to mental toughness, he said.
"If you're thinking bad, it doesn't matter how much skills you have," he said.
Throughout the book, Anderson not only writes from his experience, but also provides candid insight and personal accounts from 34 other leaders from diverse industries.
Has the book and its message proved popular?
Yes. Not only has it sold well, but he has been asked to work with a variety of organizations including from The Los Angeles Police Department to banks and automotive retailers.
Salesrooms to Seminars
Anderson's first entry into the retail automotive business was at an auto dealership in Texas roughly 20 years ago.
A few years later, he moved to California to continue his work at various dealerships. In 1997, a dealership he worked at was bought by a national company. In the aftermath, Anderson decided to strike out on his own.
The decision was worth the gamble.
Over the last 20-plus years, he's carved his own path as a motivational speaker and an author. He is the president of Dave Anderson's LearnToLead, an international sales and leadership training and consulting company. His columns have appeared in hundreds of publications. He has been a featured speaker at the NADA Convention for ten years and he hosts a podcast that has been downloaded in over 60 countries.
He's also earned the praises of such experts as motivational guru Zig Ziglar who said, "Dave Anderson has 'been there, done that' and better than most ever dream of doing."
Outside of business, Anderson focuses on his nonprofit that he and his wife, Rhonda, founded. The foundation, Matthew 25:35, brings food, housing, clothing and healing to under-resourced and imprisoned people across the globe.
Back to where it all began
A few months ago, the fruits of Anderson's labor during that cold Indiana winter came home. Literally.
Twelve of the 15 members of that Indiana Hoosiers team traveled from throughout the nation to Anderson's home and learning center in California.
For a few days, they fellowshipped, shared stories and ate together.
Anderson said the group from that season still stays in touch.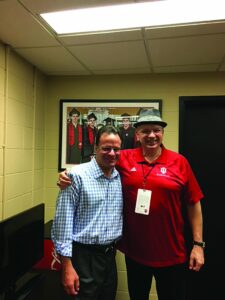 Text messages are exchanged regularly. 
Phone calls are made.
Emails sent.
The season is so memorable for the team that after they won the title, Anderson was given a ring as well as everyone else on the team.
"Dave moved the needle significantly for each of us. He helped us earn a ring, and he earned it for himself as well," Coach Crean said.
The next time you see Anderson, take a closer look at his right hand.
He still wears the ring.