All car buyers have a unique set of features they want in a new vehicle. Some shoppers enjoy the luxury of a convertible top, others a high-end stereo is a must, and many put a built-in vacuum to good use. The most popular feature among buyers, however, seems to be a built-in dashboard camera. Among the 1,000 participants in the annual Future Attribute Demand Study conducted by AutoPacifc, 70% listed the dash cam as a must in their new vehicle. 
Built-in dash cams topped the list while vehicle airbags, heads-up display (HUD), Over-the-air system updates, and exterior 360-degree security cameras rounded out the top 5 among consumers. Safety and security are becoming increasingly important to what car buyers want as three of the top five features on the list pertain to safety.
Dash-cams have been a popular aftermarket product for the past few years, but they are quickly gaining traction with new buyers as more manufacturers are starting to offer them as a built-in option.
"Features that promote safety, whether through improved driver visibility or collision avoidance, have been trending upwards in AutoPacific's Future Attribute Demand research for the past few years," said AutoPacific research analyst Deborah Grieb, "but security-focused features like a dash camera, have not historically shown the same demand."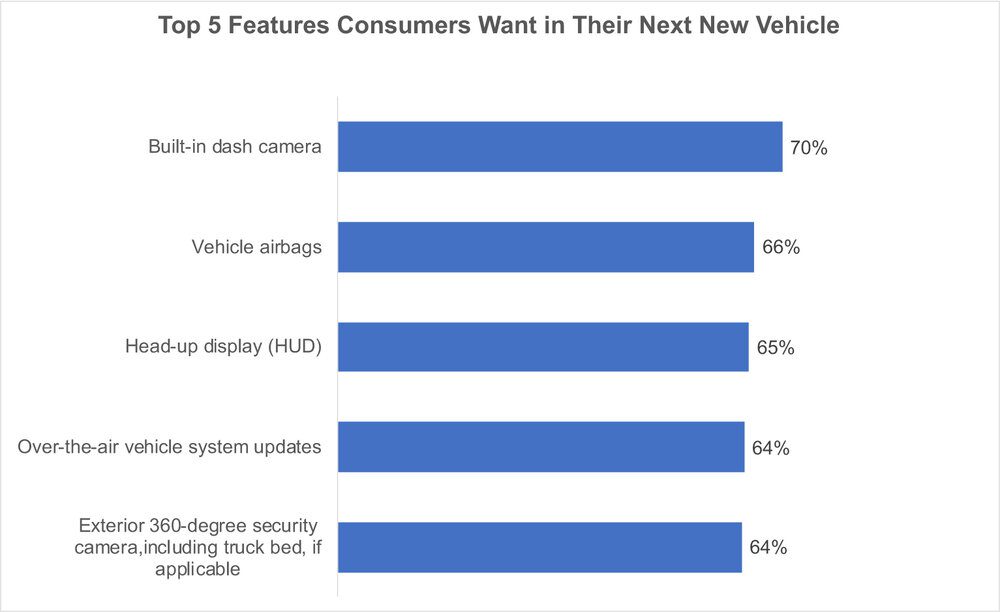 The emergence of the dash cam was slightly predictable based on recent social trends. Grieb adds, "Consumers have experienced an influx of personal video in social and news media in recent years and are very familiar with the potential security benefits of camera footage from dash cameras, body cameras, cell phones and doorbell cameras. It's really not surprising to see such high interest in an in-vehicle recording device."
Dash cams have become increasingly complex, doing more than just record the road. According to an article posted by T3, some devices have SOS features, parking and night modes, cloud capabilities, GPS, as well as built-in Alexa. 
The safety capabilities of the device could save a life by allowing emergency services to respond faster to accidents. Dash cams also provide necessary video footage to reveal the severity of both car on car collision and single car accidents.
An interesting find from the study revealed that dash cams were popular across all audience criteria. Despite differing ages and spending budgets, the majority of those surveyed said the dash cam was their top pick. Around 79% of the group planning to spend $79,000 wanted a dash cam in their next vehicle. However, that number doesn't drop entirely when looking at the opposite end of the spectrum. Among those looking for a vehicle under $30,000, 59% still said they wanted the dash cam.
It's entirely possible that these results could spark an uptick in built-in dashboard cameras in both luxury and standard vehicles. The industry is wide open for the implementation of the device as both a standard or optional feature, signaling to dealers the near opportunity to use the top-of-the line safety device as a crucial selling point.
---

Did you enjoy this article from Josh Isley? Read other articles from him here.

Be sure to follow us on Facebook and Twitter to stay up to date or catch-up on all of our podcasts on demand.
While you're here, don't forget to subscribe to our email newsletter for all the latest auto industry news from CBT News.