Welcome to another edition of The Friday 5 with Steve Greenfield, Founder and CEO of Automotive Ventures, an auto technology advisory firm that helps entrepreneurs raise money and maximize the value of their companies.
At the beginning of the pandemic, companies were suffering through a 'COVID Discount', due to the retraction of the economy, the uncertainty of how the rest of the year was going to play out, and how hard a reduction in consumer demand was going to affect revenue and earnings. 
Fast-forward eight months, and we're experiencing a 'COVID Premium', fueled by a resilient U.S. consumer, companies that made dramatic cost cuts, a buoyant stock market, a love affair for SaaS companies, over a billion dollars of 'dry powder' looking for a home, and a sense of urgency to get deals done. There's a shortage of good deals out there, and a lot of money chasing it. This is causing strong valuation premiums that we've seen in both the public markets and with private companies.
The automotive industry continues to perform strongly, and Carvana continues to be the poster child company of online retailers. Carvana delivered a strong Q3 with its first-ever positive EBITDA quarter, and more than $4,000 dollars Gross Profit Per Unit.
Carvana grew retail unit sales by 39% in Q3, to 64 thousand units. They're going continue to be limited by their ability to source vehicles, and remember that through the pandemic, for a multitude of reasons, dealers found that sourcing used vehicles was challenging. Having said that, Carvana hit another key milestone last quarter, acquiring more vehicles from consumers than they sold in Q3, which is a pretty incredible feat.
CDK Global reported their Q1 2021 results this last week. Highlights included the company achieving their highest first quarter sales ever, their 7th quarter in a row with year-over-year growth in dealer count – now with 8,957 dealer customers total in North America — , and strong EBITDA margins of 39.5%. These numbers imply that the average dealer spends $15,396 dollars per month with CDK.
As we mentioned on the Friday Five a month ago, CDK Global has launched a sales process for its international division. At 3- to 4-times revenue, a sale of that division might fetch $1.3 billion dollars for the company.
Congratulations to John Perez at CB Auto Group, who has signed a letter of intent for investment from the publicly-listed company, PowerBand Solutions.
Founded in 2016, CB Auto Group provides union members and their families access to the Union Auto Program, which offers car-buying services, free benefits, fair pricing and protective products, all designed to provide transparency and confidence when they purchase or lease a new or used vehicle.
CB Auto has access to more than 43 million union members and their families in its customer base. There are also more than 24 million "affinity" members from other associations, such as the alumni of Georgia Tech, the University of Tennessee, ADP, Nike and many others, bringing CB Auto's total consumer base to more than 67 million.
Under the terms of the Letter of Intent, PowerBand Solutions will acquire 15% of the outstanding securities of CB Auto Group for $5 million dollars.
More news this week on electric vehicle manufacturers going public via special purpose acquisition companies, or SPACs.
Fisker shares rose more than 11% on Friday, which was their debut on the New York Stock Exchange, getting a boost by heightened investor interest in electric vehicles and in SPACs in general. Fisker plans to start production of the Fisker Ocean SUV in 2022.
Corporations often create VC arms to help with innovation and diversification.
In recent years we've seen many companies set up Corporate VC arms, including BMW iVentures, GM Ventures and even in some cases dealer groups, a good example of which is Holman Automotive Group's Holman Growth Ventures.
Ryder System, commonly known as Ryder, is an American transportation and logistics company, especially known for its fleet of commercial rental trucks. Ryder specializes in fleet management, supply chain management, and dedicated transportation management.
Ryder System has launched RyderVentures, a new corporate venture capital fund to invest in and partner with start-up companies that are developing new technologies and business models that deliver advancements and automation in the logistics and transportation industries.
RyderVentures is targeting $50 million dollars in investments over the next five years.
Automobile insurance startup Root Insurance sold shares in its initial public offering on Tuesday at $27 apiece, to raise $724.4 million dollars.
Root's IPO is bigger than those of other technology-powered insurance providers that have gone public this year. In May, insurance comparison website SelectQuote Insurance Services raised $360 million dollars in a listing that valued the firm at $3.25 billion, while SoftBank Group-backed insurance provider Lemonade was valued at $1.6 billion in an IPO that raised $319 million dollars in July.
Founded in 2015, Root began by offering car insurance and now uses a smartphone-administered driving test and an algorithm to offer estimates.
Daimler AG's trucks division has invested in lidar developer Luminar Technologies as part of a broader partnership to produce autonomous trucks capable of navigating highways without a human driver behind the wheel.
The undisclosed investment by Daimler is in addition to the $170 million dollars that Luminar is raising as part of its merger with special purpose acquisition company Gores Metropoulos. Luminar will become a publicly-traded company through its merger with Gores, which is expected to close in late 2020.
Companies to Watch
We continue to highlight interesting companies in the automotive technology space to keep an eye on. Greenfield's monthly newsletter showcases a few companies each month, and we take the opportunity here on the Friday Five to share some of those companies each week with you.
Founded in 2010, and located in St. Louis, Missouri, by Co-Founders David Fultz and John Kohlmeyer, DriveCentric is a customer relationship management and internet marketing company that provides automotive dealerships with the tools they need to connect with customers in the ways modern consumers expect.
DriveCentric was founded with the goal of using rapidly evolving technology to deliver a cutting-edge suite of products that are simple enough to be used by anyone.
DriveCentric dramatically improves the most important aspects of CRM, yet is simple to use. DriveCentric aims to stand above the rest of its competition through its very intuitive user interface and clever workflows.
Founded in 2010, AsTech is headquartered in Plano, Texas, and focuses on providing OEM diagnostics to collision repair shops nationwide.
AsTech enables shops who may not have expert level electronics technicians to work on any vehicle, no matter how complex, and receive advice from a master technician.
---
Did you miss last week's episode of The Friday 5? Watch it here now! And don't forget to share your questions and comments with Jim Fitzpatrick at jfitzpatrick@cbtnews.com.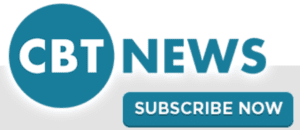 Be sure to follow us on Facebook and Twitter to stay up to date or catch-up on all of our podcasts on demand.
While you're here, don't forget to subscribe to our email newsletter for all the latest auto industry news from CBT News.