Cars.com has decided it's time to take a new approach in regard to car selling, and it's an
interesting one. By using "swipe" methods like the dating app Tinder, users are matched
with vehicles based on their preferences and subsequently can swipe right on the listings
to receive messages from the dealerships where the vehicles are located. According to
E.J. Schultz of Adage, the idea was also mirrored off of other startups such as Stitch Fix,
which matches users to fashion styles based on a "style quiz."

Nicknames for the new technology include "Tinder for Cars" and "We Met on
Cars.com." The company has decided to use artificial intelligence to target consumers
and provide an easy and possibly more entertaining way to shop for a new vehicle. An
article from The Drum published on August 6, 2018 reported that Brooke Ricketts, the
chief marketing officer of Cars.com, stated that surveys have found car shopping is one
of consumers' least favorite experiences. In fact, she noted, consumers have actually
reported they would prefer cleaning toilets over shopping for cars.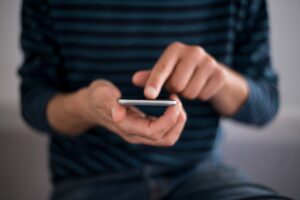 Now, not only are users able to pick which model of vehicle they want and narrow their
options down from there, but they are also able to start their car search with a quiz that
includes questions about car usage (e.g. "daily commuter" or "workhorse") and what
features they are looking for. This includes price range, technology preferences, and
lifestyle.
Robert Channick of the Chicago Tribune talked with Alex Vetter, the CEO of Cars.com,
who stated that there has been exponential growth since the company became a publicly
traded, independent company last year. Vetter said the new technology aims to "bring a
lot more power to users and a lot more data to the experience." Swiping right on "liked"
cars helps the system learn what features the user is looking for so that "better" matches
can be provided. The process is simple and quick, which tends to be the preference of
consumers in all industries today.
Other than providing consumers with a positive experience, the new technology also aims
to help dealerships by connecting them with the consumers. Cars.com brings in money
through charging dealerships that post vehicles on its website in the hopes that consumers
will swipe right on them and make visits to the dealerships. Vetter stated that Cars.com
can "track when someone is arriving at a dealership, what information they are looking
at, and then recommend to them products or services they weren't otherwise
considering."
Of course, individuals who are heavily concerned about privacy may be opposed to this
system and therefore deterred from using the app.
Despite being very easy to use, some consumers may also feel that the approach is a bit
too informal. Many people, especially those in the older generation, would prefer to go to
a dealership and speak to someone in person that they can feel comfortable with.
The app can provide consumers with excellent matches based on their preferences, but
many consumers don't know what they actually want and oftentimes don't know if they
are in need of the features. This can include features like a heads-up display and over-the-
air-updates in certain makes and models. Schultz also indicated that an AIM Group
consultant indicated the online car sales industry has become a "free for all" with so
many websites and companies available, so Cars.com will have to wait and see if the new
app will be beneficial to business and continue the company's growth.
Overall, there are high expectations that "Tinder for Cars" will be successful for
Cars.com and bring a lot of business to dealerships. Other companies have come out with
similar "Tinder-like" vehicle search apps, including Wyper, which recorded over 100,000
swipes within a week and a half of being available, according to its creator.