From pink key chains to custom Mustangs, car dealerships across the country pitched in to bring awareness to breast cancer this October. 
With one in eight women at risk of developing breast cancer, most people are touched by the illness at some point in some way. However, despite the increasing chances of full recovery with early detection, many don't take action until later stages. Breast cancer awareness month reminds everyone of the importance of screening, helps raise funds for research and treatments, and helps those battling the disease in a myriad of ways. 
Dealerships rose to the call this month. For many, the start was adding a dash of pink to their websites and showroom floors. Pink fonts online and large pink bows on cars helped signal October's focus, along with a change in uniform: several dealerships added pink ribbons to their shirts, or even switched to pink shirts entirely. 
Advertising Partner

In addition to aesthetic changes, a number of fundraising and community outreach programs worked to help those in need and build bridges with communities. Some of these efforts included donating a portion of proceeds from cars sold to local breast cancer organizations or fundraising through the sale of specialty items like pink keychains.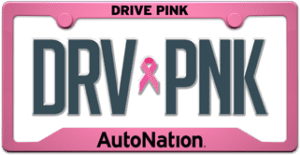 As one of the largest dealership groups in the country, AutoNation took on a significant role in driving out breast cancer awareness this month. Already famous for their Drive Pink initiative, which has raised over $20 million to the cause, they partnered once again with the Sun Belt Orange Bowl. To top it off, over seven hundred AutoNation associates donated gift bags to local cancer patients across the US. 
Chevrolet also faced the challenge head-on this year. Since 2011, Chevrolet and GM have raised over $12 million to battle breast cancer. This year Chevy Cares continued to do their part with their #IDriveFor Twitter campaign, donating $5 for every tweet with that hashtag. There was an outpouring of tweets dedicated to loved ones fighting and beating cancer. Additionally, racer Chase Elliot and Team Chevy gave pace car rides to cancer survivors at the Talladega Superspeedway.
Another notable contribution was that of Ford dealerships, who worked together to Quilt for the Cure, part of the company's Warriors in Pink program. Customers and volunteers decorated hundreds of squares with encouraging messages for cancer patients, which were then stitched into quilts and donated to hospitals. Adding to the excitement of awareness initiatives, Team Ford Lincoln in Steubenville, raffled off a 2010 Mustang V6 they titled "The Pink Pony." 
It didn't end there, of course. Throughout the month, dealerships in America joined Cancer Walks, visited hospitals, and collectively raised hundreds of thousands of dollars. They also found creative ways to show they genuinely care about beating cancer, like Speck Nissan in Washington, who provided free rides to breast and cervical screening events to those in need, and donated a free mammogram for every car sold this month. These efforts fostered community trust and unity, while at the same time bringing awareness to a disease that affects so many. All in all, it was a pretty spectacular automotive October.
To find out about last year's Breast Cancer Awareness Month initiatives in the automotive industry, click here.