Like most months in this business, April saw some losers and some winners. To provide us with some perspective on last month's sales figures, CBT Automotive Network is joined by Jessica Caldwell, of Edmunds.com, who helps us break down the auto sales numbers for you and shares some insight on where the SAAR may end up.
After coming off record-breaking numbers for March and the best first quarter we have ever seen at the beginning of 2018, it is a bit of a letdown to see the numbers drop across the industry. But Jessica tells Jim Fitzpatrick that this was something the industry should have been excepting.
"The SAAR came in around the high sixteens-seventeens, not too far off from what we expect the 2018 numbers to be. April is probably more reflective of what we will see in the coming months rather than what we saw in the first quarter".
Truck sales are still strong and doing well. As we reported, General Motors is no longer reporting on a monthly basis and now have opted to do so quarterly. Never the less, Jessica believes that Truck sales across all brands will continue to deliver strong numbers specifically mentioning the Chevy Silverado and GMC Sierra.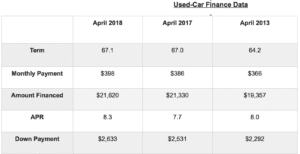 The industry is seeing across the board is a rise in Interest rates for both new and used vehicle. This comes around the same time that we are seeing a growth in used car inventory within the market. This could cause potential shoppers to think more before making a purchase as financing and numbers do not sound as friendly and cost-effective than before.
Another variable to factor into auto sales is subscription vehicles as it is building in popularity across the community. As this is still new and it's mostly a test run at this stage, Jessica does think that this gives dealerships and brands a way to attract new customers.
Read more about April sales and how it could become the industry new normal here.