Welcome to another edition of The Future of Automotive, with Steve Greenfield, Founder, and CEO of Automotive Ventures, where I put recent automotive and mobility news items into context, in terms of the broader thematic areas that will potentially impact the industry.
I'm glad that you could join us.
For this week's segment, I want to spend some time discussing the impact that artificial intelligence, or AI, will have on the automotive industry.
It distinctively feels as if the age of artificial intelligence, or AI, has arrived. ChatGPT has generated a lot of buzz for both its powerful ability to generate human-like responses to seemingly any question and regarding concerns that have emerged: bias and accuracy problems as well as how to deal with plagiarism, copyright infringement, and students using the technology to cheat. Not to mention the recent press about the existential threat that AI might have to the human race. Cue the Terminator music.
If you've played around with the technology at all, it seems pretty clear that AI will impact all areas of business.
I believe the automotive industry will benefit from dramatic improvements in efficiency and augmentation of the work humans can do. AI will allow us to collect, process, and analyze vast amounts of data, drawing insights at a faster rate than ever before.
Process automation is an area of AI where technology-enabled automation of complex business processes enables the accomplishment of defined organizational goals.
Process automation can streamline a business for simplicity, achieve digital transformation, increase service quality, improve service delivery, or help contain costs. A good example of this is a company that we've invested in, WarrCloud, which works with dealers to reduce warranty processing costs and improve gross margins by automating warranty processing. 
While robots are now commonplace on the vehicle production line, I expect that we'll see more robotics and automation in the maintenance and repair of the vehicle, including services like tire replacement and ADAS calibration.
In addition, I expect that technician knowledge will be augmented with enhanced data availability to speed decision-making with fewer errors. Just imagine if a tech was able to wear the new Apple Vision Pro goggles while they were conducting vehicle repairs. Real-time access to vehicle blueprints and YouTube videos could help them solve problems faster.
A survey this week from the company ProductBoard reported that 90% of startups have plans or have already released an AI feature and that 54% of those features will launch in 2023. 
AI has had a lot of promise in automotive dealer software, but up until now has largely under-delivered. But with this wave of new innovation, AI is about to become an essential product component for most software companies. 
I suspect that by the time next year's NADA conference rolls around, which takes place the first weekend in February 2024 back in Las Vegas, we're going to see a proliferation of companies with new AI-powered products. I am going to go out on a limb and proclaim that AI will be THE theme at NADA 2024. So get ready.
In a somewhat related article from the Washington Post this week, AI chatbots are losing money every time you use them. The cost of operating the systems, and the associated energy consumption, is so high that companies aren't deploying their best versions to the public. 
The enormous cost of running today's so-called large language models, which underpin tools like ChatGPT and Bard, is ironically limiting their quality and threatening to throttle the global AI boom they've sparked. Their expense, and the limited availability of the computer chips they require, are also constraining which companies can afford to run them. 
The intensive computing AI requires is why OpenAI has held back its powerful new language model, GPT-4, from the free version of ChatGPT, which is still running a weaker GPT-3.5 model. 
ChatGPT's underlying data set was last updated in September 2021, making it useless for researching or discussing recent events.
Even those who pay $20 per month for GPT-4 can send only 25 messages every three hours because it's so expensive to run. It's also much slower to respond.
And, as I mentioned, these tools' energy consumption is off the charts. Based on estimates of ChatGPT's usage and computing needs, the program may consume as much electricity as a midsize city.
In the short term, the tech giants seem to be willing to lose money in a bid to win market share with these new AI chatbots. But none of this sounds sustainable to me, in the long term. And definitely won't support a new wave of automotive tech companies that build new AI features based on this underlying technology.
Companies to watch
Every week we highlight interesting companies in the automotive technology space to keep an eye on. If you read my monthly industry Intel Report, which you can subscribe to for free, I showcase a few companies each month, and we take the opportunity here on this segment to share some of those companies each week with you.
Today, we have two companies to watch: Automotus & SmartVille.
Automotus
Automotus is focused on the emerging area that's called "curb management": which seeks to inventory, optimize, allocate, and manage the curb space in cities to maximize mobility, safety, and access for the wide variety of curb demands.
Automotus has built first-of-its-kind automated curb management solutions to help reduce emissions, congestion, and safety hazards in our communities.
How does it work? The company attaches their hardware to a city's existing streetlight poles, and they can then instantly automate data collection on parking space availability and parking enforcement.
Their technology blurs all faces, de-identifies data, and only captures relevant license plates for payment and enforcement.
I love Automotus, because they offer a solution to help drivers identify parking space availability, and also offer similar solutions for delivery drivers and at airports.
You can check out Automotus at www.automotus.co.
SmartVille
SmartVille is focused on sustainable and high-value stationary energy storage solutions from repurposed electric vehicle batteries.
We're going to have to find a use for EV batteries for their second life, and SmartVille provides that solution. 
The company's mission is to build the world's most sustainable and scalable electric vehicle battery repurposing platform and empower stationary energy storage on a global scale, one battery pack, one-kilowatt hour, at a time. 
The result? A safe, reliable, cost-effective, scalable, and sustainable way to deliver backup power to your operations.
I encourage you to check out SmartVille at smartville.io.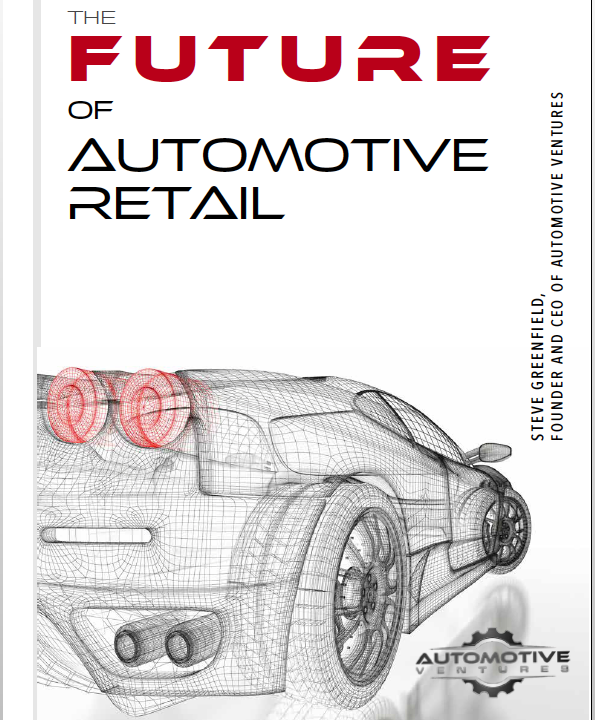 If you're an AutoTech entrepreneur working on a solution that helps car dealerships, we want to hear from you. We are actively investing out of our new DealerFund.
If you're a dealer who wants to invest in early-stage AutoTech companies that benefit your business, let me know. We are still accepting new investors into the DealerFund.
If you're interested in joining our Investment Club to make direct investments into AutoTech and Mobility startups with small checks, join the Club. There is no obligation to start seeing our deal flow.
And don't forget to check out my book, The Future of Automotive Retail, on Amazon.com.
Thank you for tuning into CBT News for this week's Future of Automotive segment, and we'll see you next week!