Welcome back to the latest episode of The Future of Automotive, with Steve Greenfield, Founder and CEO of Automotive Ventures, where we put recent automotive and mobility news into the context of the broader themes impacting the industry.
This week, I'm very excited to announce Automotive Ventures' first space-related investment. Out of the Automotive Ventures Mobility Fund, we've invested in Auriga Space.
As a reminder, the way we define mobility at Automotive Ventures is how we move humans and cargo across the modalities of ground transport, on the water in the air, and through space. While most of our investments so far out of the Mobility Fund have been in the ground-transport area, we're very excited to have made our first Space-related investment with Auriga.
Auriga Space is a startup with a novel electromagnetic launch system that has raised $5 million for prototyping and expanding its Los Angeles facility. The company's investor group includes Trucks Ventures Capital, Seraphim Space, Possible Ventures, Unlock Ventures, DNX Ventures, Monte Carlo Capital, Vermillion Ventures, Heuristic Capital, and Syndicate 708.
We're very excited to be backing dynamic entrepreneur Winnie Lai, who founded Auriga in 2022, naming the company after the constellation depicting a chariot rider in Greek mythology. Lai previously served as a VP at SpinLaunch, a startup using a spin accelerator to fling projectiles, before she started her kinetic space launch system, this time using electromagnetism. 
Auriga Space was founded in 2022 to build the next generation of launch infrastructure for significantly higher cadence and cheaper launch. The LA-based business has a bold mission: reduce launch costs while introducing a clean energy alternative into the launch market.
The company's launch system relies on a ground-based electromagnetic track that uses electricity to create a powerful magnetic field. The energy from the magnets accelerates a projectile down the track at incredible speed — think of it as a similar technology to a high-speed maglev train.
Then, aiming the accelerator upwards, Auriga will shoot the vehicle out into the atmosphere. After reaching a high altitude using just kinetic energy from the launch, the vehicle will then fire up its engines to complete the less intensive last leg to orbit. 
Just to be clear, the electromagnetic launch system takes the place of a first-stage rocket. A second-stage rocket will still be needed to reach orbit. 
The electromagnetic ground launch system uses a fully reusable track, reducing costs by eliminating valves, expensive rocket engines, fuel, and expendable systems. 
The majority of fuel in the traditional launch is used by the first-stage rocket, during the first two to three minutes of flight. Auriga's electromagnetic ground launch system is powered by electricity, saving all this weight, and protecting the upper atmosphere from hydrocarbons. 
Rocket launch solutions are inherently inefficient – only 2% of the total mass is payload – and new rocket solutions up until now have resulted in only very modest improvements to cost. 
Auriga Space is developing a kinetic launch system that leverages magnets to levitate and propel payloads to very quick velocities to escape Earth's gravity. By overcoming the inefficiency of rockets, Auriga can achieve significantly cheaper launches and can launch multiple times a day.
While Auriga is Automotive Ventures' first foray into the Space segment, it certainly won't be our last. We're honored to have an opportunity to work closely with Winnie and her team at Auriga Space, and thrilled to be on this journey with them.
Companies to Watch
Every week we highlight interesting companies in the automotive technology space to keep an eye on. If you read my weekly Intel Report, delivered to your email inbox at 7:00 AM on Mondays, I showcase a couple of companies to watch, and we take the opportunity here on this segment to share those companies with you.
KIT-AR
KIT-AR is focused on leveraging augmented reality to improve manufacturing quality.
They are on a mission to accelerate human-centered manufacturing companies through digital transformation.
KIT-AR develops industrial-strength products for a wide range of manufacturing segments, like automotive, aerospace, and electronics.
KIT-AR believes that humans are at the center of the manufacturing industry and that technology exists to help humans grow. As a result, their main purpose is to enable augmented workers in every manufacturing organization.
Human operators can see and interact with step-by-step instructions overlaid on shopfloor equipment through the power of augmented reality. Complex processes and difficult procedures become digital and easy to follow, while production quality and traceability increases. 
For manufacturing executives, their KIT-INSIGHT product provides a process X-ray of your workers' processes and enables you to see how they were executed by your team. As a result, you can then trace and compare them with your plan to continuously improve your operations.
If you want to learn more, you can check out their website at www.kit-ar.com.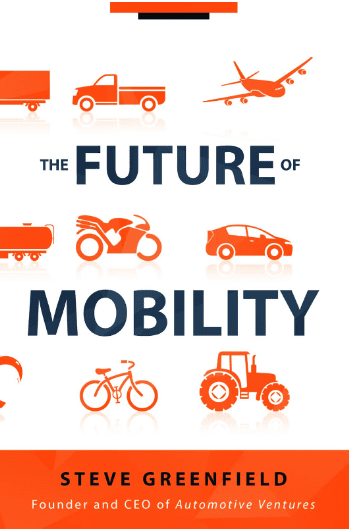 If you're an AutoTech entrepreneur working on a solution that helps car dealerships, we want to hear from you. We are actively investing out of our new DealerFund.
If you're interested in joining our Investment Club to make direct investments into AutoTech and Mobility startups, please join. There is no obligation to start seeing our deal flow, and we continue to have attractive investment deals available to our members.
Don't forget to check out my book, "The Future of Automotive Retail," which is available on Amazon.com. And keep an eye out for my new book, "The Future of Mobility", which will be out at the end of the year.
Thanks (as always) for your ongoing support, and we look forward to working closely together with you to create the future of this industry.
Thank you for tuning into CBT News for this week's Future of Automotive segment, and we'll see you next week!