Welcome to another edition of The Friday 5 with Steve Greenfield, Founder and CEO of Automotive Ventures, an auto technology advisory firm that helps entrepreneurs raise money and maximize the value of their companies.
Last week, we received great vaccine news from Pfizer and BioNTech. This week, it was from Moderna.
Moderna's coronavirus vaccine was shown to be 94.5 percent effective in a large, late-stage clinical trial. It, as well as Pfizer's vaccine, could receive initial government approval next month, but will probably not be widely available until the spring.
The Dow Jones Industrial Average and the S&P 500 closed at all-time highs on the news, with the Dow approaching 30-thousand points. But, despite buoyant public markets, there are headwinds forming.
U.S. retail sales rose in October at their slowest pace since the spring, another sign the nation's economic recovery is losing steam as coronavirus cases surge across the country.
What makes October's retail sales slowdown especially worrisome is that it largely happened before the surge in Covid cases now engulfing the nation. States, including California, Ohio, Michigan, New Mexico and North Dakota are imposing restrictions in an attempt to stem the tide. Many Americans appear to be ratcheting up their wariness as well, with grocers reporting renewed demand for paper products and frozen foods.
Fingers crossed that we can start to control some of these Coronavirus outbreaks, get the vaccine distributed widely, and ensure we can support consumer confidence to continue to strengthen the economy's growth.
Automotive Technology Transactions
It seems like we can't get through a week without another electric vehicle manufacturer announcing plans to go public via a special purpose acquisition company, or SPAC.
A SPAC is a business that raises money on the stock market to buy an operating company, and in the process provides a fast-path for a private company to become public.
This week, British electric van startup Arrival, which is backed by Hyundai and BlackRock, has agreed to merge with SPAC CIIG Merger Corporation to get a U.S. listing at a market valuation of about $5.4 billion dollars.
Arrival, which is developing electric delivery vans and buses, will trade on Nasdaq under the ticker symbol "ARVL" and use the funds to expand production capacity.
Arrival, which is also developing self-driving technologies, has an order for 10,000 electric delivery vans from UPS, with an option for an additional 10,000 units.
On the theme of electric vehicles, investment continues to pour into the infrastructure needed to support electrification.
This week, Nuvve Corporation, the San Diego-based company that's spent the past decade pioneering electric-vehicle-to-grid projects around the world, announced plans to go public via a SPAC. It's the latest example of an EV-related company seeking public financing as the sector prepares for a coming global boom in electric-powered transportation.
On the heels of its acquisition of CuneXus last month, CUNA Mutual Group announced the acquisiton of ForeverCar. The Chicago-based start-up protects vehicle owners from expensive car repairs with Mechanical Repair Coverage policies delivered through online channels.
CMFG Ventures, the venture capital entity of CUNA Mutual Group, was an early-stage investor in ForeverCar in October 2016. Combined with the acquisition of CuneXus, adding ForeverCar's digital platform and marketing capabilities further enhances CUNA Mutual Group's lending and insurance product portfolio and its ability to reach and protect more consumers digitally.
Congratulations to the ForeverCar team.
And, congratulations go out to Tyler Hall and Andrew Sweet from Drivably, who just announced an investment from Porsche Ventures. Drivably helps dealers acquire private party inventory from the right markets at the right price. This latest investment is designed to help Drivably further develop its technology and expand its footprint.
We continue to highlight interesting companies in the automotive technology space to keep an eye on. If you read my monthly newsletter, I showcase a few companies each month, and we take the opportunity here on the Friday Five to share some of those companies each week with you.
Today, we'll look at two very interesting automotive technology companies, Revolution Parts, and Carleton.
Our first company to watch, Revolution Parts, was founded in 2013 in Phoenix, Arizona, by co-founders Ibrahim Mesbah and Andreas Ronneseth.
RevolutionParts accelerates part and accessory sales for automotive dealers.
The company is focused on making it simple and affordable to sell across multiple channels, including eCommerce, online marketplaces, and wholesale.
The RevolutionParts platform powers more than $210 million dollars in sales, and reaches millions of unique buyers globally.
RevolutionParts makes it easy for dealers and manufacturers to sell parts and accessories online with their catalog and eCommerce solutions.
Our second company to watch is Carleton, located in South Bend, Indiana, and founded in 1965.
Carleton is the country's leading provider of financial calculation, loan origination compliance support, and document delivery software. Carleton has been the source for mathematical computations to the financial and credit insurance communities for over 50 years.
Carleton provides innovative financial solutions that save valuable time, help close loans, and ensure regulatory compliance and accuracy.
Carleton's client list includes most of the major financial and credit insurance institutions in the United States.
It's an exciting time to be in the automotive space. I'll keep my fingers on the pulse of deals being done, so tune in each week so I can share updates with you.
Please feel free to contact me anytime, I always look forward to catching up to discuss the industry.
---
Did you miss last week's episode of The Friday 5? Watch it here now! And don't forget to share your questions and comments with Jim Fitzpatrick at jfitzpatrick@cbtnews.com.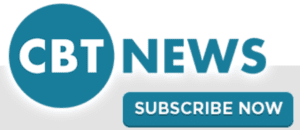 Be sure to follow us on Facebook and Twitter to stay up to date or catch-up on all of our podcasts on demand.
While you're here, don't forget to subscribe to our email newsletter for all the latest auto industry news from CBT News.