Welcome to another edition of The Future of Automotive, with Steve Greenfield, Founder, and CEO of Automotive Ventures, where I put recent automotive and mobility news items into context, in terms of the broader thematic areas that will potentially impact the industry.
I'm glad that you could join us.
This week let's spend some time examining the background of the founder of the latest publicly traded automaker, VinFast.

I love founder origin stories, and the background of VinFast founder Pham Nhat Vuong doesn't disappoint.
VinFast has made a lot of news recently, as their stock price skyrocketed after being publicly listed last month.
As of this week, the company's market cap is still just shy of GM and Ford's. This is for a company that only sold 24,000 vehicles last year!
VinFast founder Pham Nhat Vuong was Vietnam's richest man even before listing his electric car company. And because Vuong owns a whopping 99% of the Vietnam-based electric vehicle maker, his fortune has soared, on paper at least. 
But if we rewind the clock, Vuong graduated from school in Russia back in 1993. Sensing opportunity in the post-Soviet Union world, he moved to Ukraine, borrowed $10,000 from friends and family, and opened up a Vietnamese restaurant.
While the restaurant concept didn't work out, he found near-instant success in making and selling instant noodles, which were a new concept in Ukraine and proved to be incredibly popular.
By the time Vuong sold the business to Nestle in 2010 for $150 million, the company had reached annual revenues of more than $100 million. That's a lot of instant noodles.
He took the $150 million and headed home just as Vietnam's government was accelerating the transition from a centralized to a market economy.
At home, Vuong invested in property — his first project was a resort called Vinpearl — and went on to develop everything from office towers and shopping malls to housing projects.
He later expanded into entertainment, retail, healthcare, education, and technology, businesses with names including Vinhomes, Vinschool, VinAI, and VinBrain.
Last year Vingroup reported revenue of $5.4 billion. It is the largest private corporate employer in the country with over 51,000 employees.
Vuong's story is truly inspirational to any entrepreneur out there.
It's yet to be determined if VinFast can make inroads into the hyper-competitive automotive market here in the U.S., but in any case, it's a fascinating backstory on Vietnam's most successful and wealthy entrepreneur.
Companies to Watch
Every week we highlight interesting companies in the automotive technology space to keep an eye on. If you read my weekly Intel Report, delivered to your email inbox at 7:00 AM on Mondays, I showcase a couple of companies to watch, and we take the opportunity here on this segment to share those companies with you.
Ascento Robotics
Like in many industries, there's an acute shortage of security guards.
This means guards still on the job have to work extra hours and are more likely to make mistakes because of fatigue.
Ascento is stepping into the gap with autonomous security patrolling robots called Ascento Guards.
Distinguished by their wheel-leg design that can cover a variety of terrain, Ascent's security patrolling robots are currently deployed on large industrial sites and perform repetitive tasks like perimeter checks, and sending alerts to human security guards when needed.
Ascento's robots move at a walking pace and perform tedious but important tasks like verifying perimeters, checking for holes or openings in fences, recording property lights, making sure parking lots are clear, and detecting floods or fires.
If they sense a security threat, like an intruder, an alert is sent to human security guards through the Ascento App, which also integrates with existing video management systems and has end-to-end encrypted communication.
I imagine that it won't be long until we see robotics creep into the automotive dealership world. For example, we've recently invested in companies that use robots to change tires and conduct vehicle ADAS calibrations.
Maybe it's just a matter of time before the dealership security guard is an Ascento unit that works 24/7 and doesn't take smoke breaks or holidays.
If you're interested in learning more, you can check out Ascento Robotics at www.Ascento.ai.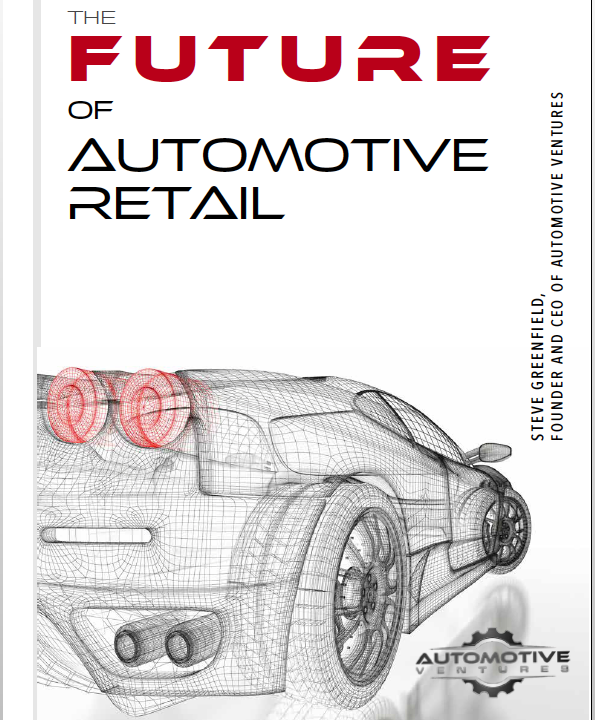 If you're an AutoTech entrepreneur working on a solution that helps car dealerships, we want to hear from you. We are actively investing out of our new DealerFund.
If you're a dealer who wants to invest in early-stage AutoTech companies that benefit your business, let me know. We are still accepting new investors into the DealerFund.
If you're interested in joining our Investment Club to make direct investments into AutoTech and Mobility startups with small checks, join the Club. There is no obligation to start seeing our deal flow.
And don't forget to check out my book, The Future of Automotive Retail, on Amazon.com. And keep an eye out for my new book, The Future of Mobility, which will be out at the end of the year.
Thanks as always for your ongoing support, and we look forward to working closely together with you to create the future of this industry.
Thank you for tuning into CBT News for this week's Future of Automotive segment, and we'll see you next week!