Much has been written about and analyzed when it comes to comparing all of the major population demographics. How Boomers prefer to buy a car. How Gen X-ers handle their money. What the newest entrants in the car buying segment, Gen Z, view car ownership in general.
It keeps sociologists busier than ever. Some would say we are on analysis overload. Agreed.
However, Millennials are proving to be the most interesting group to observe. In the dealership environment, we have already taken a look at how to appeal to the Millennial car buyer and how to effectively approach them in F&I.
But for those dealerships who have employed Millennial F&I managers, how do keep them happy as employees? What can a dealership do to retain this employee in an era of 'job-hopping'?
Here are a few tips on how to retain your Millennial F&I managers and why you must approach them differently than employees of other generations…
Opportunities to Grow
In an age when most Millennials only last at a job an average of 3-4 years, it's important to let them know they are valued and that your store invests in professional development. Lack of career development and training opportunities are often cited as the biggest reason why they move on.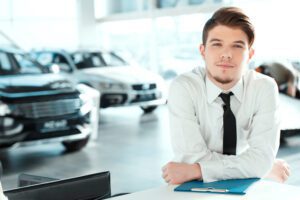 Ongoing training is important to any employee but with the layers of regulatory issues surrounding F&I, it's a must. The Millennial employee wants to keep learning and making sure their skills are top-notch whereas many Boomers or Gen X-ers in the F&I game may feel that there is little more than CAN learn to make a good living.
Offer any training provided by your F&I providers, send them to conferences or workshops if close by…anything to make sure they understand that your store is willing to make this investment in keeping them at the top of their game. It also has the bonus effect of showing that your dealership wants them to stay and excel.
Realistic Compensation
F&I managers generally have the highest compensation in the dealership (outside of GM's and other department heads). It's important to make sure that, in the mind of a Millennial, that how their pay is structured makes sense and is fair. This generation is just coming into its highest earning years and compensation plans that heavily lean on commission on PRU can set them up for failure right from the start. Before car 'vets' get too upset, let me explain…
Obviously, there must be an incentive to push the PRU as high as you can…that's how the dealership makes the most profit. Your older F&I managers may be able to balance that with a decent amount of success, but they may already be programmed for that type of plan from years and years in the business. Millennials are not.
Many successful dealer groups have transitioned to a salary/commission format so that the F&I manager doesn't have the added worry of paying back a draw (worst comp plans ever) or a low or non-existent salary that can't take care of their basic needs. Keep in mind that Millennials hit the job market right at the beginning of the Great Recession and their view of financial security has been shaped by it. They have an increased sense of economic worry that previous generations don't have. You will keep them if they feel they can excel in sales while still being able to pay their rent.
Be a Dealership with a Heart
Millennials often cite 'corporate giving' or 'corporate responsibility' as a reason why they would stay at their job. Dealerships are generally known for being involved in their communities at some level but think about how much your store really does. How dialed in are they to local charitable causes? Beyond just giving a giant check to a local charitable group, how much community giving is there?
Your store can easily involve Millennial employees (in all departments) in community outreach and offer a paid day each month to spend in service within the community. It could be anything from helping at the local food pantry to spending the day at the local animal shelter organizing an adoption event or even volunteering as a reading mentor at a local school.
Establishing your dealership as a place where community service is applauded and encouraged will make a positive impact on all employees but especially your Millennials staff. Giving back means something to them (and that's a good thing!).
Every dealership or any business for that matter is always looking for new ways to retain top talent and with the Millennials comprising the largest working demographic, it's important to appeal to the things that matter to them. Yes, profit is everything and without it there are no jobs for anyone…but these are your future managers, owners, and GM's and if you want them to stick around and be a part of your continued growth, you need to think of ways to make it easy for them to stay.
None of these suggestions would be that difficult to implement but the benefits to morale and retention for your F&I staff would be immeasurable.