November, once inhabited only by Thanksgiving, is now home to a host of retail holidays. You may already be gearing up for traditional Thanksgiving sales, and planning a strategy for Black Friday, but what about Small Business Saturday?
Small Business Saturday as an annual holiday has been around for eight years, originating back in 2010. At the time, American Express teamed up with the National Trust for Historic Preservation, Roslindale Villiage Mainstreet, and Boston's Mayor Menino. They drew upon the hashtag #SmallBusinessSaturday that had been growing in popularity and took it from being a floating event to a fixed date.
Small Business Saturday was positioned between Black Friday and Cyber Monday to give small businesses a chance to cash in on the holiday shopping season Until then, small businesses had been struggling to stand out against big box stores and e-commerce competitors. Eight years later, the day has become such a success that it's celebrated yearly by thousands of small businesses, and has even been adopted overseas by English businesses.
As a dealership, Small Business Saturday can be a pivotal day for you. It's easy to get passed over on the other retail holidays where the emphasis is on other forms of shopping, and where you're competing against the advertising campaigns of multibillion-dollar corporations. While that doesn't mean you should give up on those other days, it does mean you shouldn't let the opportunity presented by Small Business Saturday's level playing field pass you by.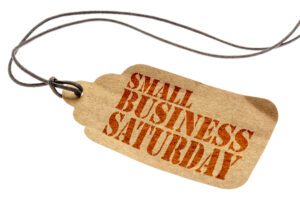 Prepare for the day by letting your social media followers know you'll be participating, teasing them with the deals they can get when they come in. Spread the word in your regular advertising streams as well, so that people in your neighborhood can add you to their Saturday shopping lists.
You might also want to consider partnering with other small businesses. Invite entrepreneurs to set up booths on site, creating a carnival atmosphere. You'll draw more attention and crowds this way, and everyone involved wins.
Another way to utilize Small Business Saturday is to use it as a springboard to launch any exciting initiatives and programs you've had waiting up your sleeve. Since the day is all about you, you should do your best to harness that attention so that you can keep customers engaged.
Finally, use Small Business Friday to promote you. You and your team, the personal faces of your dealership, are your most important asset. On Small Business Saturday, the people coming in are there because they want to support you and what your business represents regarding values. Making yourself available on Small Business Friday allows you to meet with customers who wish to engage with you on a human level. Even if you don't make any significant sales, the time spent with people who come in on that day is an investment in your dealership's brand and image. This Small Business Saturday, take the day to foster a stronger connection between your dealership and your community at large.