Welcome to another edition of The Friday 5 with Steve Greenfield, Founder and CEO of Automotive Ventures, an auto technology advisory firm that helps entrepreneurs raise money and maximize the value of their companies.
I hope everyone has been enjoying the Automotive Ventures March Madness contest on LinkedIn, where you get to vote for which automotive technology company is most likely to achieve a $1 billion dollar exit someday.
Beyond bragging rights, I'll have the winning company join us right here on the Friday Five.
Advertising Partner

We're down to the final match, and we have Digital Retailing provider CarNow facing off against connected car player Spireon.
Both companies have rallied a tremendous amount of support throughout the contest to get them this far. This is going to be a close match that could go down to the wire.
Make sure you make your vote count on LinkedIn, and tune in next week to meet the winner of the contest.
Enough about March Madness. Let's dive into this week's technology deals.
This week, an automotive FinTech company, closed a $20 million credit line with Medalist Partners. This transaction gives Car Capital access to capital to expand their business, fund deals, and ultimately get consumers into cars.
Car Capital's proprietary, web-based platform, Dealer Electronic Auto Loan System ( or DEALS for short) allows franchise and independent dealers to make 24/7 immediate auto loan decisions for 100% of their customers.
Car Capital allows their dealer partners to make immediate modifications to deal terms in real-time based on the economics of each unique car and consumer. Dealers make back-end profit off their sales based on performance, instead of requiring them to reach a minimum portfolio size. Car Capital takes pride in how they work together with their dealer partners to ensure everyone in the car-buying process succeeds.
In international news, more interest in online car selling platforms.
Driverama, a new online used-car dealership, is launching half a year early to capitalize on consumers' shift from analog to digital when buying their next automobile.
Part of Prague-based pre-owned vehicle dealer AURES Holdings, Driverama plans to launch in Germany with more than 5,000 of its own inspected cars before expanding to 11 countries by 2025.
Online car sales have surged during Covid-19 lockdowns as traditional dealerships have been forced to shut. Among the companies to have benefited are Cazoo, the British used car platform that in March agreed to sell itself to special purpose acquisition company Ajax I in a $7 billion dollar deal, and AUTO1 Group, which raised $2.1 billion dollars in an initial public offering in February.
The online retailing trend continues to be a global phenomenon.
AxleHire, a logistics innovation leader for last-mile delivery, announced $20 million dollars in new funding, enhancing the company's capabilities to deliver a more seamless same-day and next-day experience through new sortation technology, an expanded network of locations, and additional talent. Ajax Strategies led the Series B financing with additional participation from Eclipse Ventures, Quiet Logistics, Bee Partners, and ACORN PACIFIC VENTURES, LLC.
Powered by proprietary technology, AxleHire provides last-mile delivery solutions with a higher level of predictability, reliability, and responsiveness for various shippers, from retail and e-commerce to fresh foods and perishables. The Company leverages an asset-light transportation network to right-size capacity based on demand. AxleHire also utilizes algorithms to optimize real-time decisions around customer experience and positions sortation hubs near major metropolitan areas to minimize transit times, blurring the line between same- and next-day delivery.
Nearly one year after announcing it had raised a $5.3 million dollar seed round, Nuvocargo, a digital logistics platform for cross-border trade, has closed on a $12 million dollar Series A funding led by QED Investors and with injections from FJ Labs and Clocktower. Existing investors Nuvocargo, a digital logistics platform for cross-border trade, and ALLVP also participated.
Despite hundreds of billions of dollars' worth of goods flowing across the U.S.-Mexican border each year, the freight industry has remained analog — each side of the border offering up its own maze of bureaucracy.
Nuvocargo is trying to modernize the process. The company offers an all-in-one service that rolls freight forwarding, customs brokerage, cargo insurance and even trade financing into one UI-friendly software and app. Housing all of these services under one app makes it easier for companies to track their supply chain and gives customs and logistics teams access to more centralized information.
In SPAC news, Electric vehicle manufacturer Karma Automotive has been in talks with multiple special purpose acquisition companies about a merger to take the company public.
Karma, the Chinese-owned carmaker which was once part of an earlier incarnation of Fisker Inc., is developing a pickup truck and a high-end SUV at its factory in Southern California.
Chinese auto-parts maker Wanxiang Group bought Fisker out of bankruptcy in 2014 and provided the financial backing to restart the business as Karma, the name of its plug-in sports sedan.
TuSimple Holdings, which is developing autonomous trucks now on the road in Texas and Arizona, has raised $1.35 billion dollars through an initial public offering, valuing the self-driving truck startup at nearly $8.5 billion dollars.
The San Diego-based company and an existing investor sold 33.8 million shares at $40 each.
At $40 a share, TuSimple would have a market value of $8.5 billion based on the outstanding stock listed in its filings. The company's revenue has remained nominal while its losses have mounted as it has built and tested its technology and network. Last year, it had a net loss of $178 million on revenue of $1.8 million dollars.
Electric-vehicle maker Polestar has raised $550 million from a group of Asian financial investors to accelerate its product development and sales as the Volvo Cars subsidiary prepares to expand its lineup beyond its first two models.
The private placement of newly issued shares marks the first time the 3-year-old brand has gotten the backing of external investors, which include the Chongqing Chengxing Equity Investment Fund Partnership, Zibo Financial Holding and Zibo Hightech Industrial Investment in China.
Those three local Chinese government investment agencies have been joined by I Cube Capital, an arm of South Korean global conglomerate SK, and a range of other investors.
Companies to Watch
Every week we highlight interesting companies in the automotive technology space to keep an eye on. If you read my monthly industry intel report, I showcase a few companies each month, and we take the opportunity here on the Friday Five to share some of those companies each week with you.
Today, our company to watch is TapClassifieds, which helps dealers turn online shoppers into paying customers.
TapClassifieds is a technology company that provides marketing and advertising solutions to dealerships to be the best at their car-selling game, by helping dealers reach, engage and convert online shoppers.
The TapClassifieds platform advertises dealership inventory on a variety of digital platforms, including Craigslist, Facebook, Facebook Marketplace, Offerup, and Letgo.
The key to engaging modern online shoppers within marketplaces is strategic inventory promotion and proper customer communication tools. Understanding media spend attribution by campaign, device, publisher and solution is critical for dealers to generate impactful ROI on marketing spend.
TapClassifieds collects attribution data from calls, chats, emails, and text messages by each campaign and website. Their machine learning algorithms continuously optimize these campaigns to provide the best ROI for your marketing dollars.
You simply give TapClassifieds your vehicle inventory, and they automate your marketing across their network to generate deep-in-the-funnel leads in the form of calls, chats, emails and texts.
——————-
So that's your weekly Friday 5, a quick wrap-up of the big deals in automotive technology over the past week.
It's an exciting time to be in the automotive space, with a ton of deals going on. Make sure you stay tuned in each week to stay up to date on the auto industry's technology M&A activity. I'll keep my fingers on the pulse of deals being done, so I can share updates with you.
If you're an early-stage automotive technology entrepreneur looking to raise money, or an entrepreneur who wants to chat about the best timing and process to sell your company to achieve the best outcome, I'd love to discuss it with you at steve@automotive.ventures.
——————-
People often ask me why I'm affiliated with CBT News.
Besides having an outstanding, extremely talented, and hardworking team up here at the studio, I greatly appreciate the valuable role that CBT News plays in the automotive industry.
Every day, I eagerly look forward to my morning email from CBT News to ensure I'm getting the most up-to-date and relevant information on the industry.
I encourage you to tune in to CBT News to ensure that you're getting the automotive news that matters.
---
Did you miss enjoy this week's episode of The Friday 5? Please share your thoughts, comments, or questions regarding this topic at newsroom@cbtnews.com.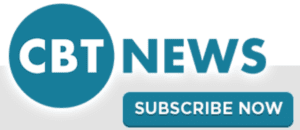 Be sure to follow us on Facebook and Twitter to stay up to date or catch-up on all of our podcasts on demand.
While you're here, don't forget to subscribe to our email newsletter for all the latest auto industry news from CBT News.