The 2019 fourth-quarter Experian Automotive Quarterly Briefing has been released. Its pages detail numerous segments in auto retail from used car ownership changes to new vehicles in service, and broken down into segments. One enlightening section highlights data regarding a growing customer base, the electric vehicle buyer. 
Where are Electrics Vehicles Most Frequently Purchased?
A map in the quarterly briefing indicates where EV buyers are located by hotspots. Not surprisingly, the most intense areas, indicating the highest number of buyers, are located on the two coasts – largely in California and Washington to the west, and states on the eastern seaboard including New York, New Jersey, Connecticut, and Florida to the east.
Unquestionably, these are some of the most densely populated areas of the United States and have the infrastructure in place to support charging. 
What are they Buying?
In the race to capture the largest market share of EV's, Tesla remains the leader of the pack. More than 75 percent of electric vehicles, whether fully-electric or hybrid-electric, are from Tesla. Interestingly, that's down 4 percent since 2018. It can probably be attributed to more an increase in nameplates available to consumers. Chevrolet and Ford are second and third place, both in the single digits of sales.
More than 80 percent of the EVs sold in 2019 are considered luxury cars. That makes sense, taking into account the premium price tag associated with EVs in today's market. 
What Demographic Markers are Most Prevalent?
Understanding the clientele for electric vehicles can aid dealers in targeting the correct customers for this ever-growing segment. It shouldn't be a shock to learn that nearly 90 percent of EV buyers have household earnings above $250,000 per year. However, those with household incomes greater than $450,000 per year accounted for over 68 percent of all electric cars purchased in the United States. It seems like the customers you might classify as the 'one percenters' are your EV buyers.

Other demographic markers factor into EV purchases. 72.9 percent are identify as married, 7.5 percent are single, and 19.6 percent are unknown. Ove 80 percent have achieved education levels greater than a high school diploma.

Sales of EVs were relatively evenly spread between Gen X (37.6%), Millennial (27.6%), and Baby Boomer (27.4%) buyers. 
What Did They Used to Own?
What's really intriguing about the report are details about vehicles previously owned by EV purchasers. 
The prior brand owned in 78.2 percent of cases was an import brand. 

The buyers came out of a non-luxury car 59.5 percent of the time and 40.4 percent owned a luxury brand prior.

23 percent said they had an electric or hybrid vehicle previously while 3 of 4 had a gas-powered car. 

Subsequent to buying an electric car, more than half purchased another electric vehicle.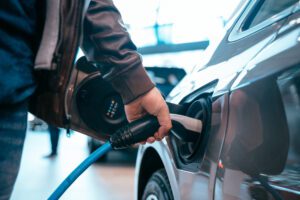 How Does the Data Help?
For dealers and OEMs, knowing trends for EV buyers should steer the marketing ship. Hundreds of electrified models are expected to be unveiled by carmakers worldwide in the next five years. As it stands today, the EV market is still in the fledgling state but it's ripe for the picking if dealers can start campaigning to the right customers today.
As EVs become more accessible pricewise, the demographic to target will also change. Household values for buyers will begin to drop, gradually at first, but will likely remain in the realm of premium or luxury car buyers in the immediate future.