Welcome to another edition of The Future of Automotive, with Steve Greenfield, Founder, and CEO of Automotive Ventures, where I put recent automotive and mobility news items into context, in terms of the broader thematic areas that will potentially impact the industry.
I'm glad that you could join us.
This week, I'm excited to announce another investment out of our new DealerFund.

It's amazing to think that it's been 13 years since I had the opportunity to oversee AutoTrader.com's acquisition of vAuto. Boy, how time does fly. 
At that time, vAuto was just getting initial traction, and I had the honor to spend a ton of time with vAuto founder Dale Pollak, who helped educate me both on the importance of used vehicle inventory management, but also schooled me on how he was architecting an incredible company: focusing on generating demand through his industry thought leadership, coupled with a maniacal focus on customer success, and surrounding himself with an A+ team of operational executives.
Since that time, I've had the chance to dig into dealership expense structures and found it amazing that the average franchise store spends about $30k per month on software products. The largest of these are their DMS spend, but not too far behind are the CRM, the dealer website, and a dealer's inventory management tool.
Stocking the correct inventory is the lifeblood of a dealership. Ensuring that you don't overpay for that inventory, and can make dynamic price changes as local supply and demand changes in your market, can literally mean the difference between the top and bottom performers in a market. 
I mention all of this as a precursor to the announcement of the latest investment out of our new DealerFund.
This week it was announced that Automotive Ventures invested in VinCue's Series B financing round, alongside Holman Growth Ventures and AutoTech Ventures. We're very honored to have a chance to invest in this amazing, Kansas City-based company.
VinCue is a revolutionary end-to-end inventory lifecycle solution for retail automotive dealerships.
Through its unified platform, VinCue offers a comprehensive suite of solutions and capabilities to manage every step of the inventory lifecycle including buying plans, multi-channel acquisition sourcing, market pricing and appraisal, merchandising and syndication, and digital marketing.
The goal of VinCue's unified platform is to help dealers unlock prevailing strategies that increase gross and turn – by providing real-time market and competitor data to make better buying and merchandising decisions – ultimately allowing them to outperform the market. 
VinCue provides the data intelligence and tools necessary to make impactful decisions, measure success, and ultimately, outperform the rest of the market in real time.
We created the Automotive Ventures DealerFund to enable car dealers to invest in technology solutions, like VinCue, that help improve their operations.
I honestly can't think of a better company for the new fund than VinCue, which will deliver a dramatic impact on both driving incremental revenue for dealers, while also finding and realizing efficiencies in their cost structures. 
As you can tell, I'm simultaneously both honored and extremely excited to be an investor in VinCue.
You can check out the company at www.VinCue.com.
Companies To Watch
Every week we highlight interesting companies in the automotive technology space to keep an eye on. If you read my weekly Intel Report, delivered to your email inbox at 7:00 AM on Mondays, I showcase a couple of companies to watch, and we take the opportunity here on this segment to share those companies with you.
Today, we have two new companies to watch: Moonware & CivRobotics.
Moonware
Moonware uses technology to automate a number of processes at your local airport.
Moonware has built an integrated ecosystem of AI software and smart vehicles that optimally connect ground crew, aircraft, and ground support equipment to efficiently service flights.
Their long-term vision is to handle aircraft autonomously from touchdown to takeoff, providing seamless aircraft turnarounds for a streamlined airport experience.
Airports are still stuck with many old, manual processes. Aircraft get prepared for their next flight by ground handlers, and these operations have remained technologically stagnant. Ground handling services manage everything from baggage loading to aircraft fueling, cleaning the cabin, and filling it with snacks.
Despite their importance, ground operations have historically received very little attention. Aircraft turnarounds (or the process of servicing aircraft between flights) are still largely coordinated through walkie-talkies and paper, believe it or not. 
Ramp agents increasingly use the internet and open-source tools to track flights, where last-minute changes disorient teams and timesheets complicate real-time scheduling. 
Contrast this with Moonware's approach: they are leveraging advances in software to depart from outdated turnaround procedures and dramatically improve the passenger experience. 
Automated ground handling workflows can reduce turnaround times and delays. Migrating time-sensitive decision-making (such as crew dispatching & vehicle allocation) over to digital infrastructures that can process large amounts of information in real-time will go a long way in addressing operations that frequently break down.
In the future, if your flight is on time and you're finding your plane gets turned around faster than usual, you may very well have Moonware to thank.
If you're interested in learning more, you can check out Moonware at www.moonware.com.
CivRobotics
There continue to be billions of dollars spent on the quest for fully autonomous robotaxis, and companies like GM's Cruise and Google's Waymo continue to burn gobs of money in the quest for that holy grail.
Yet, a lot of interesting autonomous use cases are being fulfilled in the areas of agriculture, mining, and construction.
With that, this week's second Company to Watch is CivRobotics.
CivRobotics provides autonomous layout solutions for land surveying. Think about those guys in hard hats and vests that come down your street and mark underlying pipes or wires with spray paint. 
The CivRobotics robots, called CivDots, allow you to lay out a construction site eight times faster, with only one operator.
You really have to see these robots to believe them.
The nice thing is that no training is needed. Anyone can operate the company's CivDot robot.
No prior surveying experience or special license is required to operate CivDot. CivPlan, their intuitive software, is super simple to use for data prep and field operations.
Their user interface is simple to navigate. The operator simply uploads a set of coordinates, chooses the route, and sends the CivDot on its marking mission.
Detailed reports of what was marked (including the ground elevation measurements) are generated in real time and sent to your email.
CivDots are an excellent addition to land surveying tools as they offer unparalleled accuracy, efficiency, and simplicity.
CivRobotics significantly increases productivity on heavy civil projects by completing tasks faster, with greater accuracy, and enabling teams to operate at peak performance levels.
I believe we're going to continue to see more evidence of the convergence of robotics and autonomy in many applications across construction, mining, agriculture, and even on boats on the water. 
Automotive Ventures will continue to search for innovative companies in these areas as potential investment candidates. 
If you want to see more on CivRobotics, you can check out their website at www.civrobotics.com.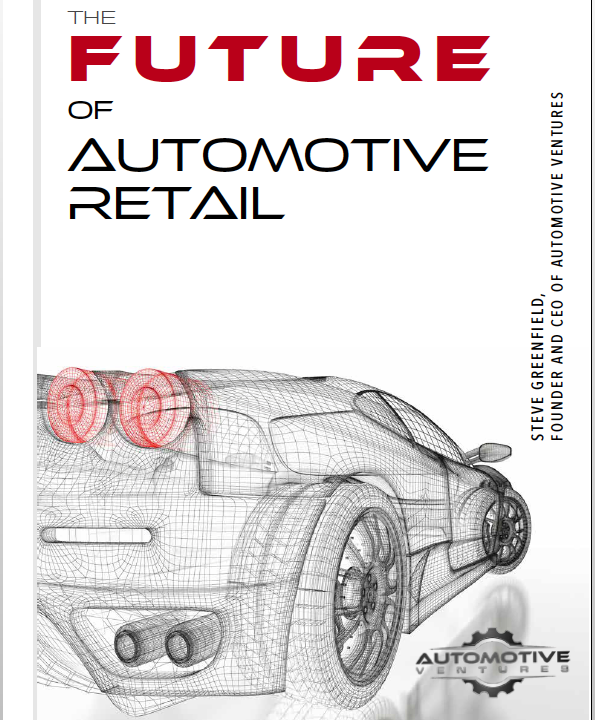 If you're an AutoTech entrepreneur working on a solution that helps car dealerships, we want to hear from you. We are actively investing out of our new DealerFund.
If you're a dealer who wants to invest in early-stage AutoTech companies that benefit your business, let me know. We are still accepting new investors into the DealerFund.
If you're interested in joining our Investment Club to make direct investments into AutoTech and Mobility startups with small checks, join the Club. There is no obligation to start seeing our deal flow.
And don't forget to check out my book, The Future of Automotive Retail, on Amazon.com. And keep an eye out for my new book, The Future of Mobility, which will be out at the end of the year.
Thanks as always for your ongoing support, and we look forward to working closely together with you to create the future of this industry.
Thank you for tuning into CBT News for this week's Future of Automotive segment, and we'll see you next week!