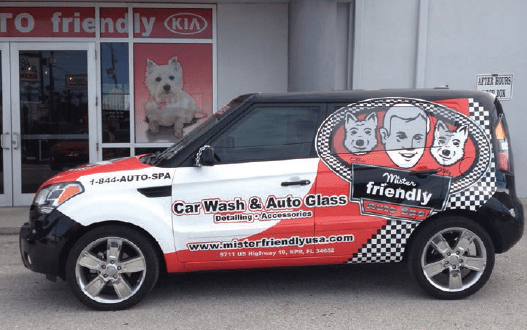 Think of your loaner cars and service trucks as mobile brand-marketing messengers. BY CHUCK DE MARTIGNY
Have you considered your dealership's vehicles as valuable media assets? Whether you have a single courtesy van or a fleet of loaner cars, parts trucks, roadside assistance vehicles and demonstrators, those vehicles provide an ideal way to deliver brand messaging in your dealership's territory.
High-resolution vehicle wraps (large, vinyl graphics or decals) can transform any vehicle to constantly present low-cost, but high-impact, advertising that offers substantial brand awareness and sales and business growth.
According to numerous studies by 3M, the American Trucking Association, RYP and Becker Group, vehicle graphics offer the single-most cost effective advertising of any major ad medium. The total cost to wrap an average courtesy van is less than one month's typical billboard rental fee, yet often these ads will last for five years or longer. More importantly, a wrap can generate 30,000 to 70,000 impressions per day.
The surveys confirm that:
97 percent of respondents will recall an ad on a vehicle.
Ÿ98 percent believe vehicle ads create a positive image of the advertiser.
Ÿ96 percent believe vehicle graphics have more impact than billboards.
Most importantly:
ŸMore than 30 percent will make a purchase decision based on a vehicle ad.
Your wrapped vehicle reaches both pedestrian and other vehicle traffic, including your potential new customers sitting in traffic or driving down the street and onlookers from surrounding homes and buildings. Even when parked, your vehicle continues to generate valuable visual impressions for you. Is it any wonder that according to the Cox Communications/Eagle Research:
Ÿ48% of those polled viewed car wraps as the most unique advertising medium available.
ŸCar wraps and TV ads were viewed as the two most memorable media.
Ÿ47 percent of 18-34 year olds (millennials) surveyed found car wraps especially memorable.
ŸCar wraps rank highly among advertising media for positive associations.
ŸOf the target population, 61 percent spend more than one hour per day on the road, and 33% spend over two hours.
Graphic Types
Full-Wrap Sales Team Vehicle
This vehicle is fully wrapped using 3M Performance wrapping film with a vehicle surface warranty of up to 10 years. Matching windows are produced on 50-50 view-through window film with optically clear overlaminate.
Professional Design Brings Vehicle To Life
This vehicle reflects the look and feel of this Kia store's car wash and auto glass facility adjoining the main dealership. Used primarily for auto glass sales and estimating, when not on sales calls it is parked on the grass in front of the car wash to attract customers from a busy highway.
Partial Race-Inspired Wrap, For Daytona (Of Course)
This is similar to a full wrap except that only strategic areas of the vehicle are actually covered. 3M Performance wrapping film with clear gloss overlaminate gives the vehicle a lustrous, brilliant finish. Matching eyebrows and side window numbers were produced on 50-50 view-through window film with optically clear overlaminate. Partial wraps generate the same excitement as do full wraps, but are easier on the budget.
Themed Events Draw Attention to Vehicle And Dealer
Two different versions of this C class race-inspired beauty were produced as loaner cars and promotional vehicles for this high-profile Mercedes-Benz dealership in Daytona Beach Fla., creating quite a buzz around town. When the event ended, the clean-removable graphics were removed, and the cars were sold as good as new.
Simple Cut Lettering And Striping
Black, baby blue and navy cut vinyl was all that was needed to bring this design to life. Creative use of the design elements makes the vehicle stand out and look its official best. Cut lettering and striping is by far the least expensive way to brand your vehicles, and with a really good design it will still generate the returns for which you're looking. Although this graphic should last for five years or more, it's a great choice for short-term branding because of the low cost.
Brand Compliant Meets OEM Requirement
This design mirrors a more expensive full wrap kit available from the factory, replicating all the key elements but eliminating a subtle background print. This roadside vehicle meets the franchise requirement in every way at less than half the cost.
Partial-Combination Courtesy Vans
This pair of AutoNation transit connect courtesy vans features print cut and print view-through logos and service attribute graphics, in combination with cut vinyl striping and lettering. This is a cost effective solution that has the look and appeal of a wrap, at significantly lower cost. It is a good choice to brand your dealership's parts trucks, too, with your selection of products and services.
OEM And Dealership Co-Branding Design
It is important to always remain compliant to your store brand and to the OEM brand of the products and services you offer. The attributes incorporated in this design are also used in service drive signage and on the corporate website.