In another push for fair trade, President Donald Trump is encouraging his team to "slap 25 percent tariffs on foreign cars" as a part of his strategy to gain support and have the Republican party come out on top in this year's midterm elections. The president has been adamant about fair trade since taking office, and just within the last few weeks he has shaken things up (as promised) and implemented tariffs on other countries who are, in his opinion, unfair to the United States.
During the presidential campaign, Trump discussed the economy at great length and vowed to take action that would help the U.S. He has already imposed tariffs on steel and aluminum imports and now says that tariffs on cars, trucks, and automotive parts that come from other countries are necessary because they could bring more local jobs and boost the U.S. economy. In addition to typical push back from his opposition, however, another obstacle is that Trump must now convince the Commerce Department to "declare vehicles like Toyotas and Audis a security threat." A hearing is not scheduled until July 19, which is farther out than Trump would like because it could take months and the report may not be released until after midterm elections, meaning he may not gain supporters that the Republican party is looking for.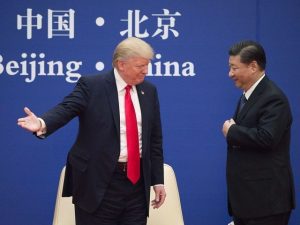 Just within the past week, Trump has criticized several other countries for their unfair trade practices, including Canada and its prime minister Justin Trudeau, who Trump referred to as "dishonest and weak." A 2018 Bloomberg article reported that Trump's threatened tariffs "would devastate the car industry in Canada and lead to higher U.S. prices." Mexico, Canada, and Japan are the sources of most U.S. automobiles, so increasing tensions with those countries are causing many people to strongly oppose the imposed tariffs. Also, the United Steelworkers organization has spoken out in support of the tariffs, but other organizations like the United Automobile Workers have yet to take a stance, which clearly demonstrates hesitance and uncertainty.
Advertising Partner

In addition to auto tariffs, there are also new 25% tariffs that were imposed on $50 billion worth of Chinese goods as of June 15, 2018. To put this into perspective, a BBC News article reported that these tariffs will "affect more than 800 products worth $34 billion." According to Evelyn Chang of CNBC, China has swiftly responded by indicating that all previous trade negotiations were off and stating that the country will retaliate to protect their "fair, legitimate rights" if necessary. Regarding the tariffs on China, President Trump's supporters agree that China is using the U.S. and needs reform, but his opponents are worried about the potential trade war that could impact the entire world.
As Geert De Clercq of Reuters indicated in a March 7, 2018 report, Christine Lagarde, the director of the International Monetary Fund, stated that "no one emerges victorious from a trade war," leading many to urge the president to lessen or eliminate some of the new tariffs. However, Trump is not overly concerned about it and has said that the U.S. could win a trade war "since it was running such a large trade deficit." It does not seem like President Trump plans on stepping back a bit, as he is determined to fulfill his campaign promise of bringing more fair trade to the U.S. instead of sitting back and letting other countries impose "unfair tariffs" on goods.
Trump's intentions are understandable to many, as they could help the U.S. economy if everything goes as he hopes it will, but it is unclear whether or not the imposed tariffs will burn bridges with China, Canada, and other U.S. allies. Retaliation from other countries could be very costly and have an extensive impact on U.S. consumers, and it is yet to be seen if other countries will follow through with their threats. In the meantime, the U.S. will have to sit back and see how other countries react.