Automotive is getting smarter about applying a traditional approach to retail: scarcity marketing. Both dealers and customers stand to benefit.
Retailers have relied on scarcity marketing for decades to attract customers, whether a dealership promotes a sale for a limited time or a clothing store offers limited-edition products. In both cases, shoppers are motivated to act before they miss an opportunity. In the digital age, businesses have become more sophisticated with scarcity marketing thanks to their access to myriad data about their own inventory and their customers.
For example:
Amazon practices scarcity marketing all the time with its "Only x left in stock – order soon" notices next to products whose inventory is running low.
TeeFury sells limited-edition pop culture T-shirts with an inventory that changes every 24 hours, giving its customers extra motivation to make a purchase before an appealing design is taken out of rotation.
Now, thanks to machine learning, businesses are taking scarcity marketing to a whole new level. Let's take a look at the real estate industry, where acting quickly when a home becomes available has always been essential to the buying process. If you've bought a home lately, you know about Redfin, the online marketplace for connecting buyers and sellers of homes. The key to Redfin's success is applying machine learning to guide buyers through its inventory of homes, leading to a better match that suits the interests of each buyer. For example:
Redfin Matchmaker recommends unexpected listings to clients. With machine learning, Redfin can make more personalized recommendations based on each shopper's activity on the site. With Matchmaker, Redfin may recommend a home or location that a buyer might not have thought about but that Redfin figured out based on factors such as a buyer's interest in a neighborhood, home type, and price.
Redfin's Hot Home badge employs machine learning to identify which homes are likely to sell quickly in an area where shoppers are looking. The Redfin algorithm analyzes hundreds of factors ranging from a home's price to its neighborhood to flag homes that are more likely to go under contract with a buyer within its first two weeks on the market. Redfin flags these high-demand properties with the badge.
With Hot Home, Redfin has applied the same kind of algorithmic approach from Matchmaker and factored in the element of scarcity. Obviously the seller benefits from the likelihood that shoppers are more likely to act sooner to make a bid on their home. Shoppers benefit because they are armed with knowledge that will give them an edge to pounce on a deal before someone else does.
In automotive, we're applying lessons from other industries to create a sense of urgency, too. For example, at Cars.com, we recently rolled out a product feature, Hot Car, which identifies the vehicles that are most likely to sell quickly.
The Hot Car technology uses a proprietary machine learning algorithm that considers more than 50 factors such as price, demand, and supply that contribute to how quickly a vehicle will sell. A Hot Car indicator is featured on used vehicles that have a 70 percent chance of being sold within seven days from the day it was added or modified on Cars.com. New vehicles earn a Hot Car badge when they have a 70 percent chance of being sold within 20 days from the day it was added or modified on the site. Here is an example of how the technology appears to a Cars.com visitor: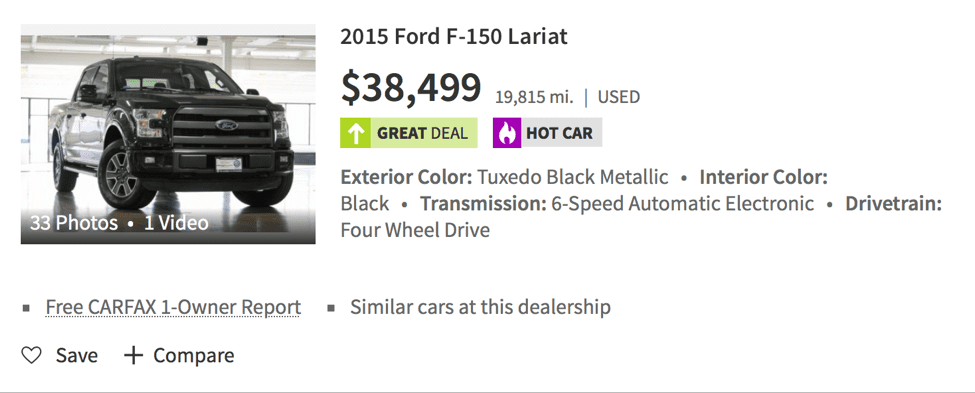 Hot Car creates a sense of urgency for consumers, which also benefits dealerships by increasing inventory views and lead conversion. Dealerships get valuable data-driven insights on which cars will move quickly so that they can turn inventory faster.
With Hot Car, we're using forms of artificial intelligence to make shopping more personal and selling more effective. The new badge joins our Great Deal, Good Deal, Fair Price, and Well-Equipped badges that we launched in October 2017.
We've always believed that information transparency removes friction in the buying process. But transparency means more than sharing pricing details about the product. Transparency also means delving into dimensions such as when a vehicle is likely going to sell and why a vehicle is priced the way it is. Hot Car offers transparency that creates urgency.