There is no question the Trump administration's auto tariff threats have been looming over consumers and the auto industry for months. In March, Toyota Motor North America's CEO Jim Lentz reported that as long as the administration takes production, employment, and sales into account, he is "confident" it will make the right decision.
According to Melissa Repko of Dallas News, Lentz had said back in January that tariffs were the biggest threat to the automotive industry – even more than technology changes such as ridesharing services. He expanded his statements further last week, singling out the U.S. tariff threats on Japan and claiming that the implementation of tariffs on Japan "threatens to derail an otherwise healthy U.S. auto market."
As with other countries, the trade dispute with Japan is being closely watched. Though the U.S.-Japan relationship is still amicable, any tariffs implemented on Japanese autos could cause widespread issues which, according to Lentz, includes the reduction of vehicle sales by 2 million units and a detrimental loss of jobs in the U.S. He added that he believes Toyota and its Japanese parent are "on board" with the Trump administration's push to have more production and jobs in the U.S., so tariffs might derail that mutual agreement as well.
A Reuters article from September 2018 reported that the U.S. had decided to hold off on tariffs last Fall because President Trump and Japanese Prime Minister Shinzo Abe had agreed to start discussions regarding the increase of jobs and production in the U.S., but the clock has been ticking on a definitive trade deal. At the time, Abe said that Japan stands by the concept of free trade and that "any measures to restrict trade would be harmful."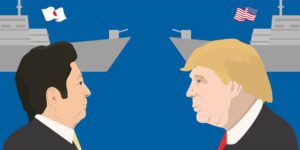 A study conducted by the Daiwa Institute of Research detailed that "auto tariffs are life or death for Japan" and that the impact of tariffs on Japan would be more risky than the potential U.S.-China trade war. The Japan Automobile Manufacturers Association also released a statement that denounced tariffs and included that "adverse effects on the U.S. economy and American jobs should be avoided."
There has been much speculation about the currently unreleased report that the Department of Commerce submitted to Trump regarding its findings into whether or not imported cars and auto parts pose a threat to national security, but Katie Lobosco of CNN reported that Trump stated the report is "just really a study that's underway" and made it appear that it may not influence his decision at all. Instead, he is more interested in making fair deals with other countries regardless what the report shows.
Overall, Lentz is among many auto experts, manufacturers, dealers, and consumers who oppose tariffs and think they could do great harm to the U.S. However, Lobosco noted it's still possible that the Trump administration will just use tariffs as "a threat to gain some ground with trading partners" and won't actually end up implementing any.
Lentz stated that he ultimately believes "rational decisions will be made" in the end.
Many members of the American International Automobile Dealers Association plan on protesting against the tariffs in Washington, D.C. on April 9th; however, whether or not this will sway the administration's decision is yet to be determined.