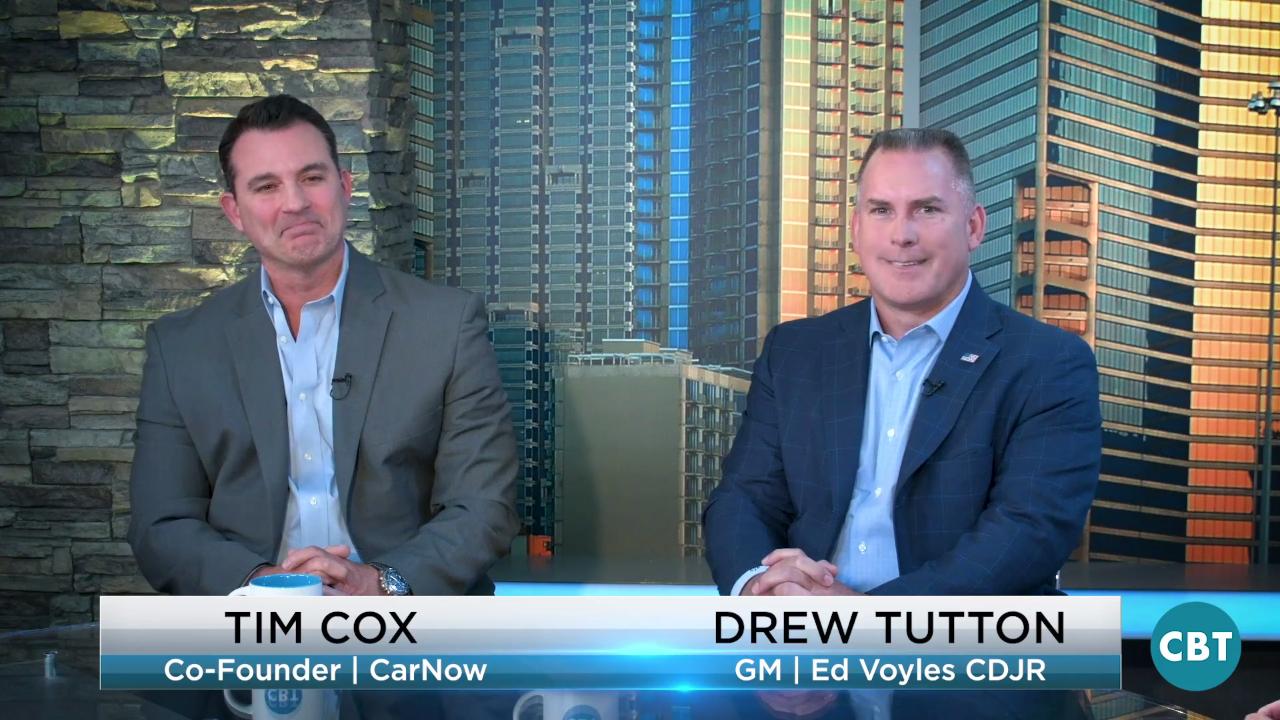 Today on CBT News, we welcome back Tim Cox, co-founder of CarNow, and Drew Tutton, General Manager at Ed Voyles Chrysler, Dodge, and Jeep, to discuss the ongoing topic of digital retailing. With approximately 70 to 80 percent of customers beginning their car buying process online, Drew shares what the consumer expects from the dealership when they hear 'digital retail' and how the digital world has helped them sell cars. Additionally, Tim states how every dealership's process is going to be different which is why CarNow's process includes sitting down with a dealer and looking at their process and their staff in order to determine the methods that are going to be best for their dealership.
To hear more from Tim Cox and Drew Tutton on digital retailing check out the full interview above.
VIDEO TRANSCRIPT:

Jim Fitzpatrick:
Hello, everyone. I'm Jim Fitzpatrick. Thanks so much for joining us on another edition of CBT News. So happy to have with us in the studio today Mr. Drew Tutton who's the general manager at Ed Voyles Chrysler Dodge Jeep, and Mr. Tim Cox who is the co-founder of CarNow. You probably know both of these individuals because they've been on CBT News in the past.
Jim Fitzpatrick:
So welcome back, gentleman.
Drew Tutton:
Thank you.
Tim Cox:
Thank you, Jim.
Jim Fitzpatrick:
Sure. So we brought you in today because this hot topic of digital retailing. Every dealer out there is trying to figure it out, and what's coming down the pike, what does the dealership have to do, what do the consumers really want? Drew, we'll start with you. You're a high volume dealer here in Atlanta. I mean, high volume. In fact, you do all the commercials here. We can't get away from your voice. For those of you that don't live in Atlanta, this guy's all over Atlanta. So he's like Mr. Car Guy. So kudos for you for that. But talk to us a little bit about from your perspective what you think consumers want to day when they hear the term digital retailing, and what do they want from the dealer?
Drew Tutton:
Well, I think what they're looking for is just the ease of doing business, and we have found in the digital world it has helped us sell more cars, obviously. And not all customers go down the same line every time. Right? They'll pull the piece that works best for them. You have some people that's concerned to credit. So they'll use the credit online and the credit app to make sure it's viable. And then you'll have other people that just don't want to negotiate a car deal.
Jim Fitzpatrick:
Right.
Drew Tutton:
And that they feel like it's easier to sit at their home to do that, agree upon price before they come into the dealership.
Jim Fitzpatrick:
And, Tim, talk to us from your perspective. With CarNow, you guys are all over the country, maybe outside the country as well. But what is that you will bring to the table for dealers because they're trying to navigate down this digital river.
Tim Cox:
Sure. I think the most important thing is just to echo what Drew said is every dealer's different. I mean, Drew's in charge of several dealerships, and those dealerships react differently and have different staff. So being able to serve, we call it serving our dealers, knowing it's just people, process, and the product. So no matter what software, whether it's our digital retailing solution or another one. At least with us we really sit down with a dealer, we look at their process, look at their staff, and then wrap our tool around that process. And that process might look totally different at Drew's store than another store, but they need to make sure and Drew needs to make sure that it's working and at the end of the day, selling more automobiles, which we are.
Jim Fitzpatrick:
That's right. What percentage, Drew, of the vehicles that you sell did the process or did the customer start out online?
Drew Tutton:
Oh, start out online. I believe it's now 70-80%. Most of our customers are starting off before they ever come to the dealership.
Drew Tutton:
When they land on the dealership, our closing ratios are really high, and it's not because we're that much better. I think we are better, but it's really because the customer's already initiated the contact. They already kind of know what they're looking for. They know the direction they're wanting to go.
Jim Fitzpatrick:
Yeah, for sure. So, Tim, with CarNow, obviously it's a product that is, as you mentioned earlier, you've got the flexibility to provide the dealer with the services that they need rather than going in as some vendors do. I know when I was a dealer and they said, "Nope. Here's everything you need. It's in a box. Forget all of the others. You got to go with us." It was like, eh. There was some pieces that I wanted, some that I didn't. So talk to us about the importance of that.
Tim Cox:
I think it's key. I think it's key to success. I think that's why some dealers have got into the world of digital retailing, had a bad experience, and canceled whatever product and then not gone back because there was a one size fits all mentality. And those products work amazing with some dealers. But you have to be able to serve your dealer whether that dealer's selling 50 a month or whether that dealer, like some of our dealers, sell over 1000 a month every single month. They have different processes that we have to customize. Maybe they have a strong BDC and maybe a weaker sales force, or maybe… Depending on what that is, we need to access that and wrap our tool around that process to where the proper people, we're creating champions in that store, and the proper people are getting that information, that lead, and then making sure they serve the customer that gets that customer from the keyboard to front door.
Jim Fitzpatrick:
That's right. That's right. Speaking about sales force, technology has played such a big part of today's car sale, right? It has now for probably the last 10 or 15 or maybe 20 years even. When you look for salespeople to come join your organization, are you looking for a different skillset today than you did maybe 10 years ago with regard to technology? Talk to us about that.
Drew Tutton:
Absolutely. Yeah, we're looking really for the younger techy type salesperson, and one is the reason, the car sells itself, right? Pricing is so competitive online anymore. You can kind of get to the price before you ever get to the store. So you need somebody that can communicate well with the customer digitally most of the time, and when you mention the staff and having champions or what have you, we focused on our staff understanding the products we have to offer. And then we do have a handful of real champions. Meaning they know what in and out, they know how to respond each and every situation, and that's what the CarNow product done for us.
Drew Tutton:
We really thought it was going to take us down this online and the customers going to go, and they're going to do everything. And they're going to end up just doing the car and us delivering the paperwork and the car to them. It really didn't go that way. We found that our champions would start communicating with the customer realizing that customer had different pieces of that product that made their life easier or made the transaction more transparent.
Jim Fitzpatrick:
Okay. So do you run in all of the stores that you're over, are you running a BDC in these stores?
Drew Tutton:
We do our BDC a little bit different. Our BDC is our salespeople. So if you will, our product specialists do time in the BDC every day. So they'll do a minimum of two hours a day. We shifted to that many years ago just because we felt like the $10 to $12 an hour person back in that day did not know the product, and it's back to having fun and getting the customer to what they're looking for. So when the customer calls in, "Do you have the red one," or, "Does it have this equipment," you need somebody that can truly answer that and not just say, "When's a good time for you to be here?" So we shifted to that. We have seen that work exceptionally well for us. It made our team step up their game. It made them learn the products that we have. Got them involved in the products so that we can make sure we champion it.
Jim Fitzpatrick:
Does that person on the phone stay with that customer when they come in?
Drew Tutton:
Yes.
Jim Fitzpatrick:
So that's nice because that truly is seamless.
Drew Tutton:
Yes.
Jim Fitzpatrick:
Usually it's, "Well, ask for Mr. Sale or Mr. Gree or whoever." Maybe the sales manager, and then you lose that-
Drew Tutton:
Personal touch. You normally lose all that information. They stress they got to have leather, and then it never got put back to that original salesperson.
Jim Fitzpatrick:
That's right.
Drew Tutton:
Again for us about customer satisfaction and seamless.
Jim Fitzpatrick:
Yeah, for sure. And also accountability. I know that you guys have tools that will allow the dealer to see what's been happening on their showroom floor, right? Talk to us about that and also the importance of having that capability for accountability.
Tim Cox:
Well, I think it's huge because you have to understand what the customer is doing on their site. Obviously you have a Google Analytics account or a tool like that, but we spend the first, goodness, five months of this year doing nothing but beefing our backend reporting up. Be able to tell that a customer spent three minutes and 28 seconds on the calculator. Being able to tell that they spent a minute and 42 seconds on the credit app. Being able to tell that they spent four minutes on the trade-in, trying to figure out their trade. So giving the dealers as much information as possible so they in turn can flip around and say, "Hey, Mr. Customer. I see that you have that 2012 325i. We'd love to have that." And then again it's just reciprocal. Once people understand that, "Wow, you did pay attention to what I was inputting in, and you didn't just get a name and a number." And that's why our lead to close rate is as high as it is because we equip dealers with the information and show them exactly how much time, what customers are doing, their champions take that over, and then of course their process gets them in the front door.
Jim Fitzpatrick:
Yeah. That's a beautiful situation right there. And the technology is supposed to help the dealer, but it's also supposed to help the customer. Right? I mean, at the end of the day, it's really about helping that customer to trade vehicles, right? And that's really where the industry has been for a while and that's going to be the future of the industry, right?
Drew Tutton:
I believe so.
Jim Fitzpatrick:
Yeah. Tim, I know that you're company CarNow does a phenomenal job with the support mechanism. Talk to us about that because a dealer, as you know, will get a vendor in there, and then after the sale is done, it's like they're gone. You're stuck with a contract, and you're going, "I can't get these people on the phone." It's a very hot topic and an important one for dealers when they're about to bring a vendor in.
Tim Cox:
Yeah. Obviously you have to sell the dealer, but it's more important than selling. Because everybody comes in. I was sales manger at a dealership here in Atlanta, and I had vendors. And I had one vendor that stood out head and shoulders above the rest. That person that I know I could call and they were there, and if they weren't there, they told me when they would get there. So we literally build our entire company around that serve mentality. That's why we have almost four times as many people and client success and performance managers and support than we do ever in sales because it's very important.
Tim Cox:
Look, we're car guys, and we're 950 mile an hour. And sometimes it's out of sight, out of mind. If we're not in front of dealers and encouraging dealers and saying, "Hey, look…" The great thing about what I do and that's great about my job is I have the ability to come to great dealerships like Drew, share what Drew's doing with his BDC and the two hour time, and a dealer I have in Costa Mesa. That aren't competing with each other, but truly serving our dealers.
Tim Cox:
Let's talk about best practices because dealers are tired of… I had a conversation with a dealer literally while I was in your parking lot talking about because vendors are always going to say, "Well, we a have this feature and we have this feature and we have this feature." At the end of the day, all we're trying to do, my job as a vendor, our job as a company is to serve our dealers. Two things, well three. Sale, service automobiles, and make that are customers are taken care of. That's it. When you blow all the water out of the pot-
Jim Fitzpatrick:
That's pretty simple stuff.
Tim Cox:
That's pretty simple stuff, and if we're not doing that… And all vendors, their job is to differentiate their partner dealership and make sure they go to their dealership versus the rest of the competition. And it's really that simple. That's why we truly focus on service, and we truly focus on performance and making sure that… And we operate strictly by cell phone. I mean, yes, there's email. But we don't own a landline in our whole company. It's all cell phones because we want guys like Drew to have-
Jim Fitzpatrick:
So it's direct to the person you need.
Tim Cox:
Six, seven, eight different cell phone numbers. Obviously people are traveling. "Hey, listen…" and then we call. Because again hot points. There are some times that I couldn't get my people, my vendors when things would break or things would fall down.
Jim Fitzpatrick:
It's the worst.
Tim Cox:
It's the worst. So that's why we truly… Yes, we have to email people. But we really want to drive home that serve mentality with our team.
Jim Fitzpatrick:
That's right. And today, that's the way everybody wants to be communicated is either cell phone, text message-
Tim Cox:
Text my cell. Let's go.
Jim Fitzpatrick:
Give me an answer. I'm looking for it right now.
Tim Cox:
Yeah.
Jim Fitzpatrick:
It's funny. You'll text somebody and if they don't text you back within maybe 20 seconds, you're mad.
Tim Cox:
Yeah.
Jim Fitzpatrick:
Did you lose your phone? What's going on?
Tim Cox:
Yeah. Question mark, question mark.
Jim Fitzpatrick:
That's right. Don't make me call you. But that's the world we live in, and that's the world that our consumers live in. So when they reach out to a dealership via text or via a chat or whatever, they want that instantaneous, right? I mean, they want that information back yesterday. It's crazy.
Jim Fitzpatrick:
Well, Drew Tutton, GM at Ed Voyles Chrysler Dodge Jeep right here in Atlanta. One of the number one, if not the number one, right? You guys got to be number one. You have been for years.
Drew Tutton:
Well, we are in Georgia. Number two in Georgia in the city.
Jim Fitzpatrick:
Okay.
Drew Tutton:
In the top five normally in the southeast.
Jim Fitzpatrick:
Wow. That's phenomenal. Keep up the great work. And of course Tim Cox, you know him from CBT News. You've been on a number of times. We love it when you come on. We get great comments and feedback. So thanks so much gentlemen for joining us on CBT News.
Drew Tutton:
Thank you, sir.
Tim Cox:
Thanks so much. Appreciate it.
Drew Tutton:
Thank you.
CBT Automotive Network, the number one most watched network in retail automotive. This has been a JBF Business Media production.