Dealership Internet managers have two primary goals. The first obviously is to sell cars. The second goal (not to be confused as a secondary goal) is to collect leads in order to build better customer relationships, so that you can sell more cars. One of the main ways dealers try to attain these leads is by setting up a form for consumers to schedule test drives, get price alerts and learn about upcoming sales events.
The biggest issue dealers run into with these forms is that consumers often regard them as a trap. They think to themselves, "After I submit my contact information, I'm not gonna stop hearing from them about buying something." Let's face it, you probably don't like being badgered, either. No one does!

While they have some successes, static form leads increasingly have become a problem as car shoppers caught on to the "mousetrap" strategy of controlling access to information by requiring that customer contact data be submitted.
In lieu of these static forms, many businesses over the last decade have adopted different methods of interactive lead capture. AutoTrader, Kelley Blue Book and Edmunds.com are just a few of them. Your dealership may well have worked interactive lead capture into its own online marketing strategy. These lead-generation tools have changed the way consumers shop for vehicles, and they've improved the way buyers interact with dealerships.
Unrealistic Fears Of Interactive Forms
The most common concern about interactive lead capture that I've heard from dealers is that they're afraid consumers won't engage long enough to completely share information and generate a real lead; resulting in low conversion rates. They worry consumers will lack the patience to even begin filling out the tool.
In reality, the static forms make consumers feel like they are being lured into a mousetrap, because dealers aren't asking for information that could help the consumer. In contrast, along with the standard request for contact information, many interactive tools will pose questions like "What car are you currently driving?" "Are you looking for a new or used vehicle?" "What is the condition of your current vehicle?" or "What type of car are you looking for?"
Rather than creating a "trap," you'd be creating a participatory experience that essentially lets consumers create the type of profile that highlights the majority of their wants and needs. Their mindset becomes that the information they provide will help the dealership's guys help THEM with their purchasing decisions. This is why it's called interactive lead capture – the interactive content being the multiple choice questions, drop-down menus and so on. By extending the amount of time a customer spends interacting with you on your website, you are actually "warming up" the lead and helping drive the consumer to your dealership to buy.
According to Demand Metric survey benchmarks, interactive content is 94.4 percent more effective than static content at generating conversions. In a nutshell, trust is built simply by giving attention to the customer's needs.
Related: Five Ways to Optimize Voicemails and Convert Leads for Your Dealership
Steps A Dealer Can Take
So, what can your dealership specifically do to move beyond cookie-cutter lead generation tools and static forms? There are a few key principles that I feel every dealer should take into deep consideration before committing to a lead strategy.
Principle No. 1: Never Overlook Design
In developing a lead-generation strategy, the first thing a dealership will want to take into consideration is overall platform design. Because your website should directly reflect what a consumer would experience at the dealership, you'll want to be as sleek and professional looking as possible. Thus, a consumer will regard your business as more trustworthy and legitimate.
I have seen many dealers apply this principle but not carry it all the way through into lead generation. The improvements I'm seeing in dealership home page design, branding and content-interactivity (e.g., video or savvy animation) can and should be applied to the actual lead capture form or tools.
Along with use of your own logos and color schemes, multimedia elements such as animated GIFs, videos, audio files and other media can help your dealership stand out from the crowd – especially if they tell consumers more about your dealership and why they should share information.
Principle No. 2: Ask Questions that Make Sense
What questions could a dealership ask that would directly benefit the consumer? If you really want to dive deep and learn more about your customer, you might consider customizing some of the questions. You'll actually have a better chance of getting a response.
Here are some examples of the types of questions I mean:
"What best describes where you are in the buying process?"
Beginning; I'm still researching to find out what I want

Middle; I've narrowed my search to what I want but I'm still comparing options

End; I know what I want and am ready to make a purchase
"What else can we help you with?"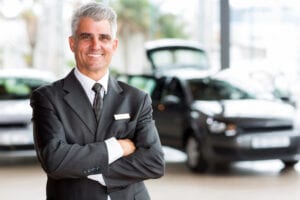 Financing

Deciding which vehicle is right for me

I have very little spare time

The vehicle I want is not in inventory
"What is the next best step for you?"
Continue browsing inventory

Schedule a test drive

Get pre-approved

General research
Additionally, consumers like to feel like they're in control of their purchasing decisions, and letting them set up their own questions encourages that feeling. A good example is asking them how they'd prefer to be contacted. Simply letting someone choose from among "E-Mail," "Phone," "Text" or "Mail" makes him or her feel better about filling out a form.
Principle No. 3: Consider Creating Your Own Tool
You might consider customizing your lead tool beyond the basics, although that might seem a little intimidating at first. I'm talking about going beyond basic configuration to develop features or enhancements specific to your dealership's strategy.
When was the last time you wished your current leads included some insights into what your customer is not getting, or had some other feature? Today's technology allows for cost-effective product development. What use to take weeks or months to build now can be done in less than a day, and it's only getting easier. If your current provider doesn't offer the features you want, ask the company to create them.
What do consumers experience in the showroom that could be experienced on your website? What special steps do you take for your showroom visitors that could be tied into your website, using technology? This might mean enhancing your website to with a new functionality, integration or targeting capability. Think about your pricing, sales, financing or delivery process and properly reflect it online in your lead generation strategy.
Related: Effectively Manage Your Internet Leads with These Proven Strategies
You Have Lots Of Options
As you continue your hunt for the perfect interactive lead generation strategy, recognize that you have a nearly infinite number of options from which to choose. There's no need to rush when it comes to implementing a lead generation tool onto your website. Whether you choose to leverage a third-party tool or seek the help of a coder or website designer to create one, you need to make sure it suits your dealership's current needs.
---
Did you enjoy this article from Russ Chandler? Read other articles from him here.
Car Biz Today, the official resource of the retail automotive industry.
Be sure to follow us on Facebook and Twitter to stay up to date or catch-up on all of our podcasts on demand.
While you're here, don't forget to subscribe to our email newsletter for all the latest auto industry news from CBT News.