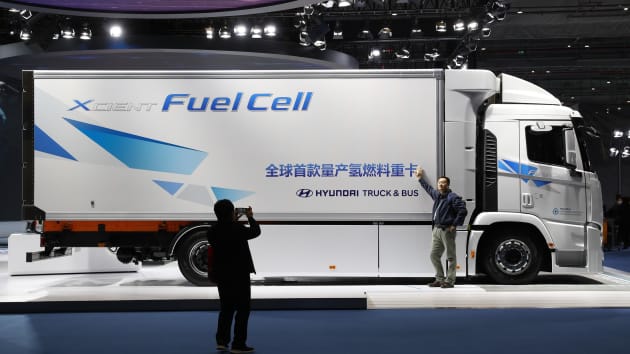 While almost all carmakers are steering the auto industry towards being all-electric, Hyundai has taken a sharp left-hand turn. At the Hydrogen Wave global online forum, Hyundai Motor Group unveiled their intentions of popularizing hydrogen power by 2040 across their vehicle lineup worldwide.
The shift in Hyundai's vision isn't completely out of the blue, however, as the Hyundai NEXO Fuel Cell vehicle has been available in California since the 2018 model year. Its modest performance is overshadowed by a 380-mile range. But the long-range outlook for Hyundai goes much further, adding hydrogen fuel cells to commercial fleets with hydrogen-powered trucks, city buses, and drones as well. A 670-hp hydrogen hybrid sports car called the Hyundai Vision FK has also been announced.
At the Hydrogen Wave forum, Chairman Euisun Chung said, "Hyundai Motor Group's vision is to apply hydrogen energy in all areas of life and industry such as our homes, workplaces, and factories. The goal is to make hydrogen readily used for everyone, everything, and everywhere. We want to offer practical solutions for the sustainable development of humanity and with these breakthroughs, we aim to help foster a worldwide Hydrogen Society by 2040."
Although the vision for popularizing Hydrogen has a target of 2040, all commercial models in the Hyundai lineup will have hydrogen fuel cell variants by 2028. Passenger vehicle targets were not announced at the forum. The target will put the Korean carmaker at the "vanguard of the commercial vehicle sector, in the process helping to reshape the industry and realize a sustainable clean future".
Why hydrogen?
The question that many in the auto industry – as well as consumers – might be asking is, "Why hydrogen?" The accepted evolution in recent years has been solely focused on battery electric vehicles (BEVs) that can be charged at home or at high-capacity charging stations. But BEVs aren't quite as efficient as they appear at first glance since electricity supplying the charging stations can still be generated by coal-powered plants. And complaints have been increasing about the length of charging times, especially as battery packs grow in kWh size.
Hydrogen-powered vehicles are still electric vehicles, but the power is generated onboard in a fuel cell that converts hydrogen and oxygen into electricity to replenish the battery's stores. Not only does it require smaller battery packs but the process remains virtually silent.
Hydrogen fuel cell vehicles are viewed as even more efficient than BEVs since hydrogen is so easily captured and renewable, reducing the strain on procurement for some of the most difficult resources for BEVs. Chairman Chung said, "By developing advanced technologies and innovative systems – as well as encouraging close collaboration between public and private sectors across the globe – it is possible to make this sustainable vision a reality for all."
The same challenges face hydrogen fuel cell vehicles as BEVs: consumer adoption, fuel station infrastructure, and dealer integration. It requires customers to understand and trust hydrogen power as many still relate the gas to the Hindenburg disaster. Hydrogen fuel stations would need to be widespread across the continent to ensure range anxiety wasn't as prevalent as it was for early EVs. And dealerships would need to embrace the technology, purchasing the necessary equipment to sell and service the units safely.
Toyota has been hesitant to get into the electric car game and has also tested the waters with the Mirai FCV. With more than one mainstream carmaker on board with hydrogen fuel cells, it may be the option customers need to transition to an alternative fuel.
---
Did you enjoy this article from Jason Unrau? Please share your thoughts, comments, or questions regarding this topic by submitting a letter to the editor here, or connect with us at newsroom@cbtnews.com.
Be sure to follow us on Facebook and Twitter to stay up to date or catch-up on all of our podcasts on demand.
While you're here, don't forget to subscribe to our email newsletter for all the latest auto industry news from CBT News.