Preparing for millennials has been the focus of most companies out there, and with good reason. These individuals are 30 percent of the population, and by 2020 they are projected to have a spending power of 1.4 trillion. The individualistic generation that loves mobile shopping and made social media a powerful marketing tool are more than worth the preparation. However, a new group is on the horizon.
Generation Z is the new heir-apparent to this attention, and while the millennials have had their time to shine, it is time to begin understanding how Generation Z is unique regarding how they may respond to car dealerships. Because there is almost some slight overlap with younger millennials and older Generation Z shoppers, it is easy to have a similar approach to car buying.
However, a few years can make a world of difference when it comes to shaping personalities and experiences. These individuals have $44 billion in spending power and are expected to account for 40 percent of consumers by 2020. So, take a look at how Generation Z is different from their millennial counterparts and how this can impact your dealership.
Frugal Bargain-Hunters
While millennials tended to be a bit more frugal than previous generations, Generation Z seems to take it a step further. They are seemingly willing to take on less debt, and one third already have bank accounts. They are bargain-hunters that are looking for the best deal. As a dealer, you should make every effort to promote incentives and any zero-down deals with this community. They will likely be interested in talking down prices and seeing where you can give a bit on the overall price of the car. So, get ready to either institute a "fair-pricing strategy" where you can easily explain why the cost of the car is what it is or be prepared to negotiate.
Face-to-Face Interactions When It Comes to Shopping
Millennials have led the charge when it comes to online shopping, and because Generation Z has grown up with technology, it would make sense for this group also to join in. However, Generation Z prefers face-to-face shopping. They are more open to doing their shopping at malls, and even prefer to interact with bank tellers when managing bank finances. This has the likelihood to translate to car buying. Dealerships should not assume that this generation's first interaction will be with the website. They may drop in, and need an explanation for any online-mentioned F&I products.
Concerns with Information Security
Many who are a part of the former generation are comfortable with sharing their information and preferences on permanent social media sites like Twitter, Facebook, and Instagram. Generation Z is a bit more concerned with security and privacy. This group enjoys using social media sites like Snapchat, which allow their information to disappear after a set amount of time. There are two things dealers can take from this. The first is that Snapchat can be used as a primary social media marketing tool by savvy dealers. The second is that dealers should make a practice to discuss how they handle the financial information of customers, and emphasize a commitment to security.
Customer Service Is Key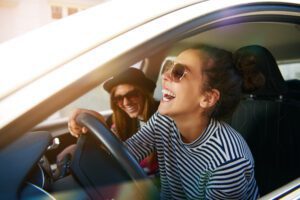 While everyone wants to be treated with patience and respect, Generation Z expects it a bit more than their millennial-counterparts. Because of interactions online and their penchant for being treated like adults at a younger age, this group expects to be treated with trust and respect. They have less tolerance for rudeness and being belittled. Therefore, regardless of their age, dealers and their staff should strive to treat them like any other customer. An excellent customer service experience will make it easier to solidify a sale with this group.
Final Thoughts
It would be perilous to approach Generation Z in the same way as millennials. This group has a persona independent of millennials. They are even more individualistic, frugal, and sensitive to customer service approaches than millennials. While much of the attention is still on the previous generation, dealers who begin to prepare for this group will be ahead of the competition in attracting Generation Z customers.