Every dealer knows that the auto industry has its cycles. As we approach the end of the year, car sales usually see a slump in the winter with things picking back up in the spring. On today's show, Jim Fitzpatrick speaks with Mark Tewart, president of Tewart Enterprises and host of On The Mark right here on the CBT Automotive Network, to discuss the greatest challenges that salespeople and sales managers are facing in the dealership today and how to overcome them.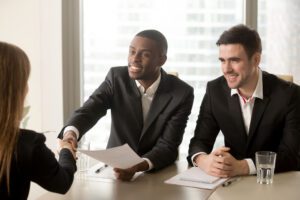 We first talk to Mark about the greatest challenges he sees in dealerships today as he crisscrosses the country to dispense sales and management training. From good or bads dealerships, Mark says that one of the biggest challenges is people. How do dealerships recruit the right people? When should they recruit?
Mark recommends that dealers start recruiting year round from as many different avenues and channels as they can. Keep in mind though, you will need to work harder and spend more time recruiting top talent for your dealership.
Mark recognizes that even though the sales department has fallout, the old adage of hiring ten salespeople in order to get two good ones is false. When your strategy involves having an 80 percent loss ratio, it's safe to say it's not a good strategy.
We then ask Mark how long he would train a new hire to be showroom ready. For Mark, it wouldn't be any sooner than 30 to 60 days. Mark recommends a very stringent and effective onboarding process, so the hire understands their responsibilities and the standard that is expected of them. This will ensure that the new hire will feel comfortable in their new role.
In most industries, extensive training is a required standard and the automotive industry has to up its game in that regard.
It's Wednesday, so don't forget to check out this week's episode of On the Mark with Mark Tewart right here on CBT News.