Recruitment has evolved tremendously over the years. It no longer just involves recruiters caring about ideas like the person-organizational fit, talent acquisition, and organizational fit. Senior management is now also heavily involved in the recruitment process. Through the easy access to information on the Internet, organizations and recruiters can make better-informed decisions.
Nowadays, through the use of social media, it's become easier to find quality candidates with employers and candidates flocking to social media for career opportunities. With companies vying for talent online and offering flexible work options, there is an increased number of options for candidates. With many, if not all, companies doing so, organizations have to collectively step up their game to attract the best of the best.
As more and more people continue to join social networks and use them for job searching, social recruiting is becoming an important aspect for companies in their recruitment processes. Dealerships can use social networks, such as LinkedIn and Facebook, to attract potential candidates.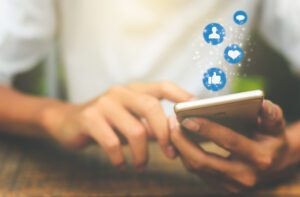 7 Benefits of Using Social Media For Talent Pooling
There are a number of benefits when it comes to using social media properly to build your talent tool. Below is a list of the top benefits.
Building Your Employment Brand
Social media is a great tool for conveying your company's culture to attract new staff by simply branding your social media channels, hosting videos, and post photos. Dealers and their customers should be encouraged to take part in discussions with dealers and sales staff promptly addressing comments and questions.
By doing so, your allowing potential recruits to get a feel for how the dealership is before they even join or apply. Through getting to know the organizational culture, you'll ensure that only those candidates that are the right fit will apply.
Reaching Passive Candidates
Many that are not currently looking for a job are still on social networks and using it fairly regularly. Some of those professionals are great fits for the role you're currently looking to fit. These individuals might be tempted to apply if they know you have a vacancy.
Even if nothing comes from that and they simply do not have a current interest, you can build a relationship with that individual before they decide the time to look for a new job. Social media is great for expanding your talent pool by allowing passive candidates to see the current vacancies right in front of them.
Supplementing Your Employee Referral Program
Employee Referral Programs are a highly effective tool used in recruiting. Studies by SHRM have shown that more than eighty percent of organizations rank Employee Referral Programs as their number one source of gaining high-quality candidates.
Social media can be a great tool for engaging current employees in the hiring process. Through educating your managers and employees on how they can use social networks for professional purposes and encouraging them to be involved, potential candidates are more likely to be interested.
Learning About Candidates Background
Social networks such as LinkedIn can really be great at letting recruiters understand more about a person simply by evaluating the content posted on an individual's LinkedIn profile.
For example, a typical LinkedIn member will have their resume of current and past jobs posted on their page, along with recommendations from colleagues, managers, and peers. Recruiters can just as easily see what groups the individual has joined. From there on, you can determine whether you have any second or third-degree connections to gain a more personal referral.
Accounts set up on social networks, such as LinkedIn, facebook, and twitter, are all free of cost. One of the biggest advantages of social media is the lowered recruitment costs that it provides.
Posting job openings through LinkedIn or Facebook will deliver higher results than a description on a job board, simply due to the fact that job sharing on social networks can be shared with others. Many dealerships have saved large sums of money simply by leveraging the power of social media, which allows them to cut back on expensive job boards and recruiting agencies.
Choose Social Media Channels
All social networking sites are different, therefore require different approaches for your strategies to be successful. Your first step should always be to decide who you're trying to attract to your dealership. After knowing that, you can tailor your strategy to best suit that particular group or segment.
It's recommended for you to start with one social networking site to allow yourself to familiarize yourself with it. You can then also grow your online presence gradually.
Many only consider the giants, Twitter, Facebook, and LinkedIn, but there are also niche communications available. For example, MyVetwork is a professional social networking site geared toward military veterans. Black Planet and MiGente gear more towards African American and Latino communities, respectively.
Measure Results
The overall goal of using social media for recruitment purposes is to build a high-quality, large sized talent pool. Some of your measurable goals with the use of social media can include traffic to job postings, increase follower count on Twitter, increase engagement of Facebook Fans, and increase traffic to the dealership career web page.
You can also measure how social media is directly impacting your bottom line by measuring cost per hire, time to fill, sources for high performers, and top sources of hire.
7 Tips To Properly Use Your Social Media To Build Your Talent Pool
After knowing all the benefits, how can you properly use your social media to build your talent pool? Here are our top seven tips to recruit through social media.
People mainly think of LinkedIn when referring to social recruiting as it is the largest professional network globally, but it's not the only place for you to source candidates from. Dealerships should be active on other channels as well and try to attract candidates on as many as possible. It might even be a good idea to find a nice channel that you're competitors haven't discovered or haven't used heavily yet.
Options include:
Instagram

Facebook groups

Twitter

Niche or local subreddit

Other online forums specific to the auto industry

Quora topics

Be Active
If you're using social media for recruiting then it's essential for you to be active on those networks. Create a plan to be active and then execute it effectively. When creating your page on the various networks, ensure that you fill in all the relevant fields to provide potential candidates with a complete profile.
Once everything is set up to your liking, create a schedule for posting content and keep with it regularly. Dedicate resources (money, time, etc) to ensure that your messaging remains clear and consistent.
Get Buy-In From All Stakeholders
To this day, social media still might seem like a fad to some, so there might be trouble getting everyone on the same page. Traditional managers still wish to rely on consultants and referrals as they believe that's what has always worked and will continue to do so.
So, you'll want to implement a social media recruiting strategy by first getting buy-in from all stakeholders (all the relevant department heads and decision makers). 80% of employers have claimed that social media recruiting has helped them find passive candidates. 70% of managers say that they have successfully hired using social networks.
Pay Attention To Analytics
For every post you're posting on any social networks, ensure that you continually measure the reach and engagement. For Instagram, take a look at the demographics of people currently engaging with your most. Over time, as you continue to post, you'll get a better sense on which posts are more effective and what you can do to improve the results.
You probably won't see results instantaneously and that is okay. Social recruiting is a long game that requires dealerships to give the effort to reap the fruits. Just continue to stick your plan as social recruitment pays big for those you make the effort.
Social media is not the place for you to be droll and formal. So, keep it an informal place where people engage with one another simply based on their individual interests. The posts people usually share on social media include pictures, opinions, personal life updates, various links, recommendation, new items, video clips, and more.
Social recruiting is not just about social media specialists of recruiters. If you want it to be successful, it involves everyone, including everyone from senior management to your sales staff. Who would be better to attract new potential candidates than your currently employed staff? Encourage your staff to make posts, interact with followers,  and start conversations to help build a good company reputation.
Social media is great for providing your dealership with a range of opportunities and helping your dealership find the best people out there. Investing your time and effort on social recruiting is sure to reap great fruits.