According to the NADA, over 50 percent of the average dealers' ad spend goes into digital. On today's show, we welcome guest host for CBT News, Brian Finkelmeyer, senior director of conquest at vAuto. Today Brian welcomes Adam Pavkov, director of product for Cox Automotive and Trace Przybylowicz, industry relation lead-automotive for Facebook, and they discuss how dealers can ad target the right person at the right time in order to move inventory.
Dealers are beginning to spend a lot more of their ad budgets on digital than they have in the past and Facebook is a huge part of the strategy which is helping dealers today. Dealers can witness a really strong return on ad spend compared to what they were seeing in traditional forms according to Trace. Even more so, now than ever, with Facebook's portfolio of ad product that is aligned to core dealer APIs.
Dealers can also set up effective targeting strategies with Cox Automotive as well. According to Adam, an appropriate audience targeting strategy online is comprised of three layers; activating first-party data that the dealer has, partnering with a third-party site to identify more market shoppers, and leveraging lookalike audiences in the predictive space.
As Adam mentioned, third-party websites really have a significant role in making dealers ad campaigns more effective. When we take a closer look at this Adam says, two unique things happen for the dealership which are the ability to identify in-market shoppers and how to message them early on when they are undecided during their shopping journey. Adam explains, "The third-party sites are the first digital touch point for a majority of shoppers. That's more than search, more than the OEM site, that's more than the dealership site."
Trace agrees, Facebook is such a powerful platform because if the third-party site is the customer's first touch point, then they come back to Facebook on average 15 to 25 times per day. This makes for a wonderful opportunity to catch the consumer in an environment that they spend an overwhelmingly large amount of time in.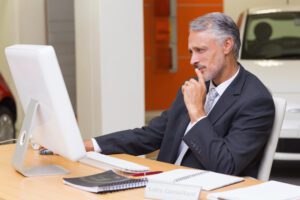 Dealers can also think of Facebook as an extension of their CRM platform. Facebook is truly a people first type of marketing with its authentic identity that is unique to the platform. It eliminates cookies-based tracking and other tracking features like it. It gives the marketer a great opportunity to leverage first and third-party data, which Adam earlier mentioned as the third layer to an appropriate audience targeting strategy. With that data, you can analyze loyalty and retention, and the service bay, just to name a few.
For dealers just starting out and trying to get established, Adam recommends first looking at the wealth of data that you already have at your disposal that you can use on a platform like Facebook. That's going to include digital touchpoints like your website and other personally identifiable information. Then, start to use the platform to align your overall strategy. Think about what APIs matter most to you, and bend the platform to optimize those goals.
All of these things in conjunction with one another can make up an audience targeting strategy that is appropriate for your dealership.