Welcome to another edition of The Future of Automotive, with Steve Greenfield, Founder, and CEO of Automotive Ventures, where I put recent automotive and mobility news items into context, in terms of the broader thematic areas that will potentially impact the industry.
I'm glad that you could join us.
This week, I'm excited to announce another investment out of our new DealerFund.

We've been spending a lot of time evaluating how we might help dealerships facilitate EV charger installations in customers' homes – at the time that they purchase an EV from the dealer.
As a result of a deep dive into this space, and after reviewing a number of companies, Automotive Ventures has invested in Treehouse, a startup that delivers turnkey installations for home EV charging. We had a chance to invest alongside CarMax, Assurant Ventures, and Holman Growth Ventures, among others.
One of the big challenges with dealers offering EV charging installs is the uncertainty about the cost of installation. I hear horror stories all the time about an installer quoting a customer a price, but then running into dramatic cost overruns once they get onsite and find out that they either need to run more electrical cable or install a brand-new fuse panel.
The consumer is left shocked and often blames the dealership that helped facilitate the installation.
In parallel, I've often wondered: How is our industry ever going to be able to roll the charger installation into the consumer's monthly payment (or create charger-based F&I products) without a guaranteed upfront price on the charger installation, without any risk of cost overruns once the electrician is onsite?
This is where Treehouse really differentiates, and is the only installer to provide a guaranteed upfront price that they stand behind.
Treehouse provides a home charging solution that allows EV owners to get an estimate in under two minutes and bundle home charging installation with the purchase of the best charger for each individual's budget and needs.
Treehouse's unique and proprietary pricing technology allows EV buyers to receive an instant, guaranteed quote for home charging installation at the point of sale in auto retail locations or via API while applying for vehicle financing.
Instant pricing allows home charging to be integrated directly into the vehicle loan, reducing barriers to affordability for home charging.
Treehouse also automates permit documentation and has a proprietary network of electricians, enabling the company to deliver an elevated experience by managing the customer journey from end to end.
We believe that the power of transparent charger installation pricing is going to change how consumers shop for and buy EVs. Treehouse is removing a barrier to EV ownership and will make it easier for millions of consumers across the country to switch to EVs.
Beyond charger installation, Treehouse is helping EV owners maximize incentives and rate plans by compiling every federal, state, and local incentive for home EV charging. This ensures that Treehouse's customers are able to claim available rebates and select the best utility plans for their needs.
Treehouse is partnering with dealerships across the country to offer turnkey EV charging solutions to vehicle buyers.
We're very excited to be an investor, and you can check out Treehouse at www.Treehouse.pro.
Companies To Watch
Every week we highlight interesting companies in the automotive technology space to keep an eye on. If you read my weekly industry Intel Report, I showcase a few companies, and we take the opportunity here on this segment to share those companies with you.
Today, we have two new companies to watch: LeadVantage.ai & Skyline Robotics.
LeadVantage.ai
As our regular viewers know, I've been on the lookout for software vendors that are leveraging AI to benefit dealers.
LeadVantage's software tools help car dealers convert more leads with less effort, powered by ChatGPT.
LeadVantage has two products that they offer dealers.
Their first product is called "LeadVantage Analyze", and is a mystery shopping platform powered by AI, simulating a real customer persona to analyze a car dealership's lead follow-up practices.
The company's second product, which is even more exciting, is its "LeadVantage Connect" product: a fully automated AI solution, nurturing leads via phone and text message to drive more live calls and appointments. This solution is also powered by Chat GPT.
I think we're just in the early innings of seeing innovative companies leveraging Generative AI engines like ChatGPT to automate processes at the dealership while creating superior consumer experiences.
If you're interested in learning more, you can check out LeadVantage at www.LeadVantage.ai.
Skyline Robotics
I believe the world of robotics is about to change a lot of manual labor tasks, and Skyline Robotics is focused on automating the task of window washing on skyscrapers.
You really have to see this one to believe it.
Their "Ozmo" robot optimizes the exterior window washing process and reduces costs.
With buildings becoming taller, more complex, and more valuable, the demand for convenient and proper facade maintenance is increasing as well.
With Ozmo, Skyline Robotics has designed a robot that serves as an essential tool for building facade maintenance, ensuring that the whole process is more practical than traditional methods – and about three times faster.
As an additional boost, Ozmo uses tried-and-tested machine learning capabilities that enable the robot to adapt to new settings while working. Ozmo can go to new heights, without humans having to take any risks.
You can check out Skyline Robotics at www.skylinerobotics.com.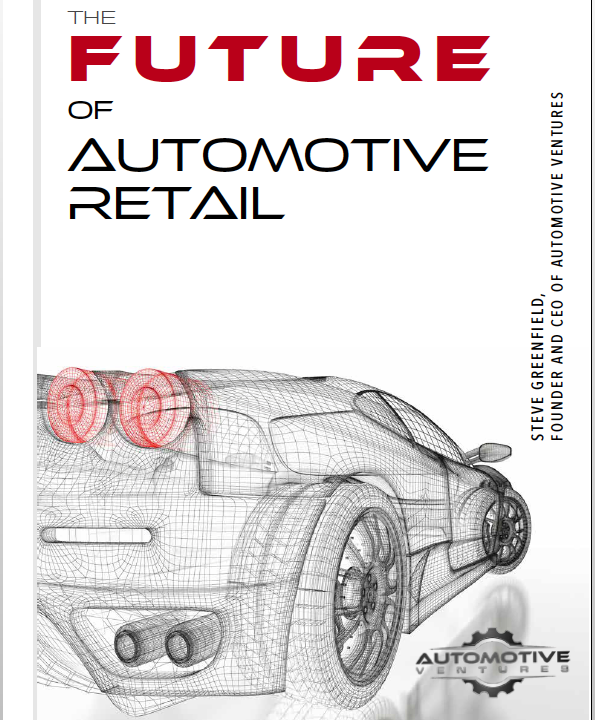 If you're an AutoTech entrepreneur working on a solution that helps car dealerships, we want to hear from you. We are actively investing out of our new DealerFund.
If you're a dealer who wants to invest in early-stage AutoTech companies that benefit your business, let me know. We are still accepting new investors into the DealerFund.
If you're interested in joining our Investment Club to make direct investments into AutoTech and Mobility startups with small checks, join the Club. There is no obligation to start seeing our deal flow.
And don't forget to check out my book, The Future of Automotive Retail, on Amazon.com.
Thank you for tuning into CBT News for this week's Future of Automotive segment, and we'll see you next week!