If you're looking to buy a Chevy from Mark Wahlberg, go ahead and make a visit to Columbus, Ohio, where he is now including automotive sales in his numerous business ventures. The auto sector is a far jump from Wahlberg's days as rapper "Marky Mark" in the early 1990's, but it's a smart move seeing as the buying and selling of dealerships is a hot trend lately.
Don Ray of Automotive Buy Sell Report wrote that buying dealerships is currently beneficial for many reasons, including "return on equity, reliability of sales, and diversity of earnings channels," as well as the impact it makes on communities due to job creation and the fact that many dealerships "give back" to their communities through volunteer opportunities. Despite what Ray refers to as "all the brain damage needed to own and operate a dealership," it seems as if purchasing dealerships is a worthwhile venture.
Auto dealer advisory firm Kerrigan Advisors released it's Q3 report for 2018 and noted that despite the then-looming government shutdown, "dealership buy/sell transactions increased 20 percent year-over-year." The report indicated that there were over 200 dealership buy-sell transactions last year, and that number is expected to rise this year. Kerrigan warned, however, that rising interest rates and the ever-changing auto industry (including tariffs) could affect this prediction.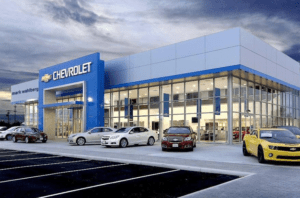 Advertising Partner

Despite the warning, Kerrigan also reported that many of today's investors and dealers are supportive of the changing industry and therefore it seems that many are willing to tweak business practices where necessary to accommodate these changes.
A Forbes article reported that Wahlberg isn't the only one getting in on the trend. Private equity firms are also joining in, following Warren Buffett's Berkshire Hathaway's $1 billion+ acquisition of the Van Tuyl Group, which was the largest privately-owned auto dealership group in the nation. This move influenced more private equity firms to get into the business, despite the fact that they used to shy away from auto retail due to difficult approval processes that include going through auto manufacturers themselves.
According to Cantin, it has also seemed to be extremely hard for a small or family-owned dealership to stay afloat, especially in the past few years. Despite many of these lacking a clear succession plan, he also noted that dealership acquisitions have increased significantly because it has become "easier to get institutional and private-equity money."
Therefore, as family-owned dealerships tend to fizzle out as they are passed down to the next generations, large auto groups keep acquiring them. Kerrigan reported that there are now 176 auto groups that run more than 10 dealerships, which is 65% more than 2009.
But what does this really mean? According to automotive M&A expert Dave Cantin, going from a slew of small, family-owned shops to more large auto groups can potentially "result in better deals and a more pleasant car-buying experience." During an interview with Wards Auto, Cantin also stated that in regards to succession plans for auto dealerships, "It's about what the next generation can do. They can either take it to the next level or sink the ship." If a family-owned dealership is struggling, it might be best to make the acquisition deal and sign on the dotted line.
As with most things in life, money is a driving factor in regards to dealership buy/sell transactions. Larger groups and firms typically have more of the financing available to acquire small dealerships and add to their lineup. In general, auto dealerships are profitable and viewed as a great investment. Smaller dealerships oftentimes don't mind being acquired either, as this sometimes means a nice payout and possibly early retirement.
The pressing question people oftentimes have is how this impacts consumers. The hope is that larger groups can afford to cut more deals during the car-buying process since they usually have more financial leeway than standalone dealerships. While the auto industry changes and the future is uncertain, it appears that dealerships are expected to retain value and therefore keep the industry alive.