There is no slowing down for Facebook and Instagram.
By 2019, Facebook, the world's largest social network with 2.2 billion monthly active users, will account for 11.3 percent of all U.S. ad spending (compared to 10 percent for print). Instagram recently zoomed past the 800 million monthly user mark, and by September 2017, the photo sharing network counted 2 million advertisers, up from 1 million in March.
Facebook bought Instagram in 2012, and since then, Instagram's public profile has increased, and Instagram has benefitted from a cross-platform sharing functionality on Facebook. The two platforms have something in common with automotive: combining both organic and paid media is essential for dealerships to build their brands and attract customers.
Building Loyalty through Organic Content
For many dealers, having a Facebook page is a check-the-box tactic. They create pages but don't necessarily use them to build loyalty. And many other dealers don't take advantage of Instagram at all.
And yet, having well maintained Facebook and Instagram pages can provide tremendous value in a number of ways. Here are a few:
Creating community

. Facebook especially is ideal for sharing organic content that shows you care about your community. On Facebook, dealerships can, for instance, provide an update on their community give-back activities, wish your local high school debate team a successful showing at the state tournament, and provide more insight into the people who comprise your dealership. Your brand is made up of people who are part of their communities. You can tell their stories through Facebook and, more visually, on Instagram.

Creating visual stories

. At a time when people upload

1.8 billion images a day

, Instagram is essential for showcasing a dealership's inventory and casting a spotlight on its people. The most effective dealers publish a mix of images and video content to humanize the on-the-lot experience and provide a glimpse of great inventory available. Some great in-store examples here are taking photos of happy customers at time of purchase, the cleanliness of your service department and videos of positive consumer testimonials. As noted, you can even get beyond your store and showcase how you've sponsored a local youth team or participated in community philanthropic events.  
And on Facebook and Instagram, you can update organic content quickly, making your brand nimble and responsive to local market needs.
Creating Awareness through Paid Social
But organic content does not create awareness. People do not go on to Facebook and Instagram to actively look for things to buy and places to visit. These are passive, laid-back environments where people hang out and share photos of their kids and pets. In fact, Facebook has been changing its algorithm to amplify users' organic content in each other's social feeds and to make organic content from brands less visible.
To build awareness, dealerships need to master the art of paid social. Fortunately, Facebook and Instagram both offer tools to help businesses do so, such as sponsored posts and display ads. As we noted in a recent CBT article, Facebook provides excellent ad targeting abilities by allowing you to segment your audience as well as create custom audiences, through retargeting.
In addition, a number of dealerships retarget visitors to their websites by serving up ads to the same audience on Facebook based on what they saw on the dealership's site. And I'm excited to share that Cars.com recently launched a new product, Cars Social, that offers ad retargeting on both Facebook and Instagram for Cars.com visitors.
Here's how Cars Social works for dealerships who buy the product:
Let's say a Cars.com visitor browses your inventory of Chevrolet Camaros.

The visitor hops on to Facebook or Instagram to hang out awhile and do all the things they normally do on either platform.

Within their Facebook and Instagram News Feeds, they are served up a Cars.com-branded ad with your dealership name alongside which showcases Chevrolet Camaros or similar vehicles on your lot.

When they click on the ad to learn more, they're taken to your VDP on Cars.com; keeping that consumer within a mobile optimized, low-funnel experience.  The consumer can then look at all your inventory without the ability to see cars from other dealerships; again ensuring your brand and vehicles remain the priority.  
Cars Social takes advantage of the valuable Cars.com audience and leverages that audience on the Facebook and Instagram platforms.  The only way you can leverage this audience on these platforms is directly through Cars.com.  And that audience is unique from the dealership website. Through testing we saw that Cars Social drives an 80 percent unique and new audience beyond those that came to the dealership's website beforehand.1 In addition, Cars Social pulls real-time inventory feeds and formats them into the unique Facebook technical requirements to ensure the vehicles you are viewing within the ad look just as good as they do when on Cars.com.
The ads look like this:
Facebook: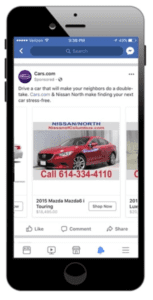 Instagram: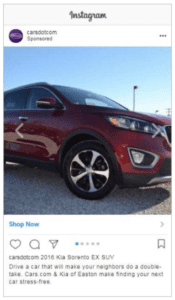 The dealership that has purchased Cars Social will exclusively have its vehicles appear within the ad unit. Those dealers realize a number of benefits such as:
Leverage turnkey social campaign creation and management through a team of dedicated Cars.com social media marketers.

Extend reach to more in-market shoppers by leveraging Cars.com's audience on Facebook and Instagram.  Dealers can

only

get access to this unique audience by working directly with Cars.com.

Make every social ad dollar count with real-time campaigns, leveraging consumer VIN and inventory search history from Cars.com, to display relevant product-level ads powered by the inventory feed.
Organic content creates authenticity. Paid content creates traffic. Twenty-five percent of people who see social ads respond to them by visiting a website or storefront, which is especially significant when you consider that 62 percent of adults use Facebook. Organic and paid content create a one-two punch that delivers customers to you.
1 Cars.com testing, 11/19/2017-12/31/2017