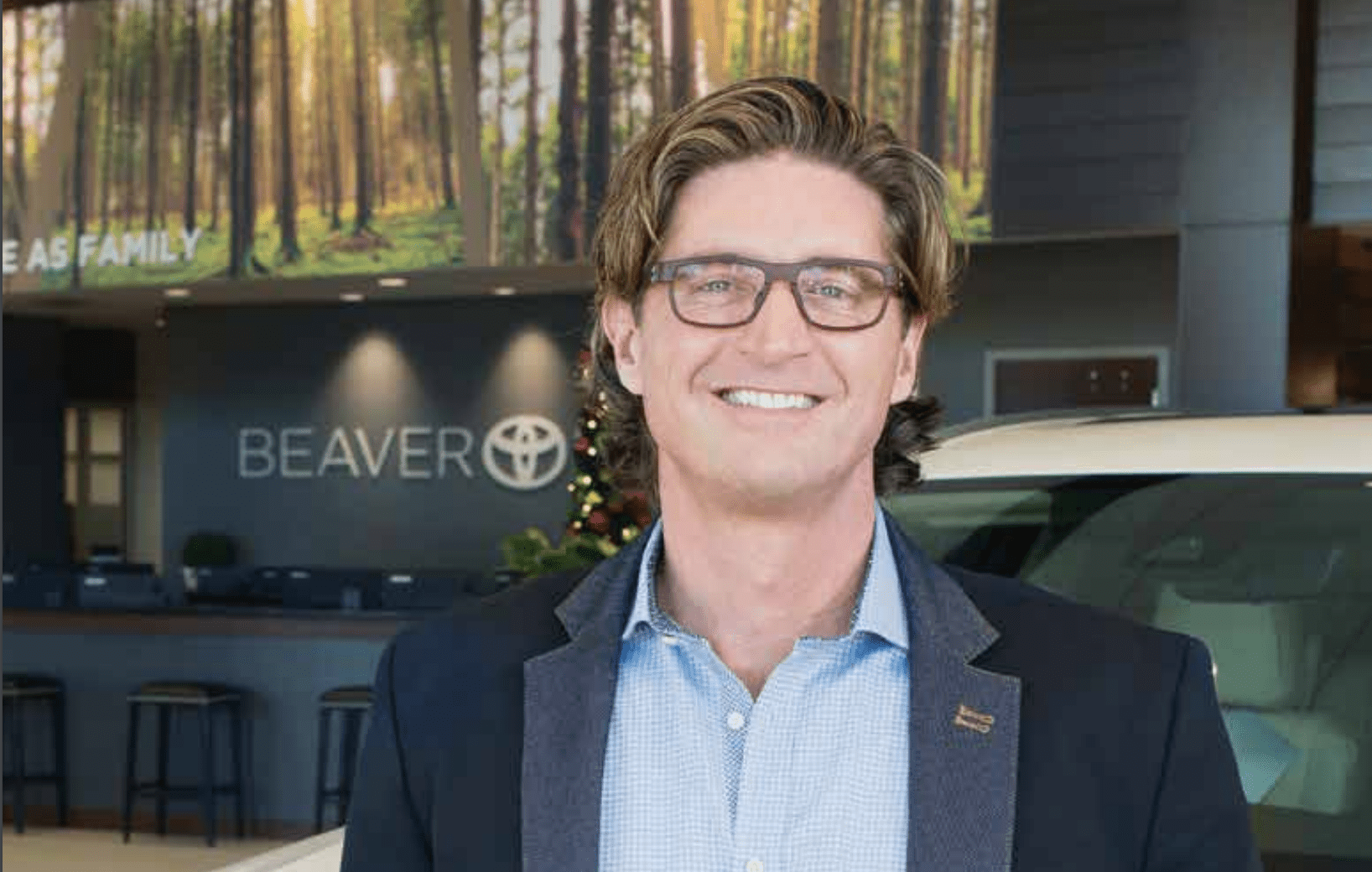 As any marketing manager will testify, it's all about creating a brand. No one knows that better than Beaver Toyota, which just opened a dealership in metro Atlanta. The family-owned business knows how it wants to be perceived in the marketplace as it  operates with a "Servant's heart and a warrior's attitude."
That warrior's attitude means they are coming into a competitive market with qualities of strength, courage and determination – and also with guns blazing.
"We believe in a strong brand and we will be number one in this marketplace," says Matt Calavan, vice president and managing partner.  "We know it takes time and money and we have a game plan that includes overspending on advertising like crazy."
But the "servant's heart" comes from not only putting the needs of employees and customers first but also acting with the right motivation and reasons.
"We want to make our dealership a place where people could come, get lunch and relax even if they aren't looking to buy a car. We are here to build trust and relationships. Creating relationships as quickly as possible is the most important thing that we do and we communicate that with everyone," he says.
A 25 Year Friendship and Partnership
The heart of the Beaver Toyota team goes back 25 years starting with Mike Beaver, the son of an auto dealer, who worked his way through the dealer business and bought his first Chevrolet dealership in Denison, TX. In 1986. He then bought Chevrolet dealership in Carrollton, TX. in 1988 and Lufkin, TX. In 1992 he switched sides and bought a Toyota dealership in Santa Fe., NM in 2002.
Meanwhile, Matt Calavan, vice president and managing partner, started in the car business at Sears Auto Service Centers and eventually managed the biggest center in the Dallas area overseeing 110 employees. He and Beaver got together when Calavan joined his Chevrolet dealership in Lufkin in 1992, eventually rising to the position of general sales manager and together they dominated the market, breaking all records until Beaver sold the dealership.
Calavan joined Beaver in Santa Fe as general sales manager and again ruled and its market share percentages grew by over 20 percent for many years. The dealership won the Toyota's President's Award every year since 2004 and awarded Toyota's Excellence Award in Parts, Service and Customer Satisfaction nine out of 10 years.
Turning Around a Bankrupt Dealership
In 2013 the friends purchased a bankrupt Toyota dealership in St. Augustine, Fl. and in two years grew it from the cellar to among the top 100 Toyota dealerships in the company. Those years building that dealership helped solidify the Beaver brand and attitude that they are bringing to Cumming, GA.
"This was a Toyota dealership that went through the whole bankruptcy process; we bought it from the bank and went through the whole court system," Calavan says. "How bad can it be that a Toyota dealership went bankrupt?"
Turns out, pretty bad. "We won the right to buy the store and we had all this experience and walked in and thought we could fix it right away. We had no idea how many horrible experiences customers have had for decades. Decades! People thought it was a cursed store and that no one could make it work."
They realized they had to overcome the reputation and needed to get the word out that there was a new sheriff in town. They went to the school district and asked what was needed to help the students. The dealership, located in one of St. Augustine's worst areas, offered $100,000. "You could see their eyes light up. It wasn't a marketing ploy. We wanted the money to go to kids and teachers specifically to make a difference."
In exchange the school district branded the dealership "like crazy." The teacher of the year got a well-publicized new car and they were included in sporting events and slowly the conversation about the dealership changed.
"The most important thing we did was building the perception of being reliable, trustworthy and delivering what the customer wanted and needed."
Hiring a New Team
Beaver Toyota of Cumming is not in a shabby part of metro Atlanta. Instead it is one of the fastest growing counties, not only in Georgia, but the country. Market studies showed Toyota needed a presence. Nissan and Kia and Hyundai had recently opened shining new dealerships and "Everyone's coming to the party."
The demographics shifted the last five years and it's a very diverse clientele. Opening a branch from scratch turned out to be  a very long journey. They ran into challenges in design and the country's overstretch resources caused things like licensing and inspections to be delayed.
There were also some emotional issues. "I had a lot of personal pride in that store [in St. Augustine] and it was difficult for me to release it. For the first time in 25 years I didn't have a team and I didn't know how much I needed a team for my emotional psyche," he says. "It was an extremely emotionally challenging year."
The team, which includes Linda Beaver, co-owner and spokesperson, and Katie Calavan, community outreach, are now focused on building the brand and promoting the Beaver philosophy.
Mike and Matt spent three days visiting 15 of the most advanced dealerships and took the best ideas from each. Some of those ideas are having a fully stocked gym for employees, a break room and a quiet room an outdoor fire pit, a community room, massive training room, a kid's area, a self-playing grand piano in the lobby and a café.
He's also excited about an indoor delivery bay area so that customers can pick up their car in a climate controlled elegant environment. "For us at the dealership, our euphoria comes when we close the deal; but to the customer, it's the delivery. That's the most important part o the experience."
They also took their time finding the right employees. Calavan says he interviewed about 500 people before settling on the 90 he hired. "We noticed that the turnover in Atlanta was quite high and we put a lot of importance on taking care of our team and paying them more than fairly compared to the market. We wanted to create an atmosphere and energy that allows them to succeed and want to stay."
How to Dominate
Admittedly part of the long hiring process was that Calavan was doing some market research with the applicants and wanted to learn about their experience in the Atlanta market as well as skills that were not on their resume. Seventy percent of the new sales team never sold cars before. "I noticed on a lot of the resumes that people hopped from dealership to dealership because they followed their manager. So, no ne from our leadership team is from this market. We wanted to get a different mindset."
Calavan also looked at the Atlanta market and its notorious traffic and has responded accordingly. "We do lots of video so that we connect immediately with customers; my life here now revolves around traffic patterns.  Same with customers. When a customer comes in, they will buy a car and we want to do it in as quick a time as possible. Everyone wants the best drive-out price now."
Still, he admitted he was surprised at the competitive Atlanta market "We were shocked to see some of the prices the dealers were will to sell product."
Now that the dealership is up and running, it is introducing itself to the community, starting with the school district. They also intend to get involved with local events, even marching in parades.  The key is to be authentic.
"We believe in being local and when we present our message of trustworthiness, it connects with customers regardless of demographics. We put our faith in our people to make good decisions and do the right thing. We empower our people to make these decisions on behalf of our customers without putting them through three manager interrogations," he says. And, if they make a wrong decision, "we coach and counsel and hopefully they'll make a better decision."
That philosophy even applies to the four principals. "There's a lot of family dynamics at work," he admits. "We deeply love and care for each other outside the dealership. But we're very honest and upfront and it's always about what's right for the dealership, not someone's opinion. We hold true to t Toyota's guidelines and NADA guidelines. All decisions are made with a strong discipline of doing what's right for the dealership."
The dealership has 450 vehicles on its 130,000 square foot lot with 120 used cars and 250 new ones. The dealership includes a full service collusion center, 14 bay detail shop, two full car washes, 56 service bays and an insurance company.
And, while the servant side is most evident in everything the team says and does, Calavan also keeps his sights on the warrior side. "Our goal is to be in the top 50 volume-wise in three years. We know we will own our market and once we do that, we'll just keep expanding. We want to pull from outside our market and grow the right way."
Adding, "Growing the right way is through relationships, and that's what we are doing."