Welcome back to the latest episode of The Future of Automotive on CBT News, where we put recent automotive and mobility news into the context of broader thematic areas impacting the industry. 
I'm Steve Greenfield from Automotive Ventures, and I'm glad that you could join us. This week we have two recent news articles that involve the Ford Motor Company.
First up, it seems like Ford may have unlocked the code on how to get customers to pay for features on a monthly subscription basis in their commercial vehicle division.
Ford reported that roughly 400,000 customers, or about 12% of its total connected-vehicle base, now pay for subscription services offered by Ford Pro, the automaker's commercial unit. That's 60% more than just a year ago, and Ford thinks it can triple that figure to 1.2 million customers by 2026.

In fact, by 2026, 20% percent of Ford Pro's earnings are expected to come from software services. The company projects that Ford Pro will generate $6 billion in earnings this year and by 2026 will have the highest profit margins in the company, at around 14%.
Remember that much of this software-related revenue is very high margin and recurring, both concepts that are of particular attractiveness to wall street analysts and shareholders.

Ford Pro's subscriptions mainly relate to telematics that monitor vehicle health and driver performance as well as EV charging management.

Among the offerings is their product called Viizr, a $39-per-month field service tool that helps users digitize work quotes and invoices. Ford Pro also offers a number of charging services – and has said it expects to generate $1 billion in revenue from commercial charging services by 2030.
Now if only they can convince consumers in their passenger vehicle division to pay by the month to unlock horsepower, EV range and rear heated seats?
Next, Ford CEO Jim Farley said that he believes that the Chinese are Ford's main competitor, not GM or Toyota.
Farley noted that the Chinese are going to be THE powerhouse to compete with in the future. To beat Chinese automakers, the CEO said that Ford will need either a strong, distinctive brand (which he believes they have) or lower costs. But, Farley noted that how can you possibly beat the Chinese on manufacturing cost if their manufacturing scale is five times the U.S. market's?
Additionally, Farley lamented that the Europeans have already let the Chinese automakers into their market, which has given them a lot of traction.
Beyond Farley's perspective on the Chinese competitive threat, we also heard last week that China is now the largest exporter of EVs, and its lead appears to be growing: in fact, around 35% of EVs exported globally came from China last year, compared with 25% in 2021, according to the International Energy Agency (or IEA).

Fast forward to this year, and China exported around 335,000 EV passenger vehicles, including plug-in hybrids, in the first four months — more than twice the number in the same period in 2022, according to the China Association of Automobile Manufacturers (or CAAM). That accounted for roughly 30% of passenger cars exported from China during the January to April 2023 period.
As we have discussed recently on this segment, in 2022, China had more battery production capacity than the rest of the world combined. With nearly 900 gigawatt-hours of manufacturing capacity or 77% of the global total, China is home to six of the world's 10 biggest battery makers.
Given China's dominance in battery manufacturing and EV supply, and their recently proven ability to produce dramatically cheaper EVs (which seems to be a gap in the U.S. market) I agree with Jim Farley that the industry should be keeping a very cautious eye on China's EV strategy, and anticipating the eventual impact on the U.S. market. 
Companies To Watch
So with that, let's transition To Our Companies To Watch. 
Every week we highlight interesting companies in the automotive technology space to keep an eye on. If you read my monthly industry Intel Report, which you can subscribe to for free, I showcase a few companies each month, and we take the opportunity here on this segment to share some of those companies each week with you. 
Today, we have two companies to watch: C2A Security & ConnectDER.
C2A Security
Our first company to watch this week is C2A Security. 
C2A Security provides cyber-security solutions relating to electric vehicles. 
The automotive industry has unique challenges for OEMs and Tier 1 suppliers that aim to protect vehicles from cyber-attacks.  
Ever-evolving software updates and cyber regulations, a shortage of relevant experts, and increasingly complex systems make automation essential in the modern automotive product lifecycle.  
C2A Security streamlines security work and data flow in the vehicle and beyond – from grids to charging stations, and technology across the connected, autonomous, and electric vehicle landscape. 
I really like C2A because they provide best-in-class cybersecurity solutions, while focusing on product development and streamlined operations. From the connected vehicle to charging stations and the grid – C2A provides automation throughout the product life cycle – reducing cost, time, and headcount. 
You can check out C2A Security at www.c2a-sec.com
ConnectDER
Our second company to watch this week is ConnectDER.
If you've attempted to install an EV charger at home, you may have experienced some of the major challenges facing consumers.
With ConnectDER, consumers can get their Distributed Energy Resources (or DERs) including solar panels, electric vehicle chargers, HVAC systems and electric water heaters installed quickly and easily at home – and ensure that the solutions work seamlessly with the grid.
With ConnectDER, EV installers can avoid the headaches associated with complex interconnections, and utilities can gain new insight into behind-the-meter generation.
ConnectDER meter adapters install directly between the home's meter and the meter socket to create a single plug-and-play access point for DER installation. From there, utilities and installers can plug-and-play with solar, storage, and electric vehicles.
I really love this innovative solution as an alternative for consumers installing EV chargers in their homes. The ConnectDER solution greatly simplifies installation, and reduces interconnection time from hours to minutes. You can literally be up and running within 10 minutes. And, every home with a utility meter works with ConnectDER.
I encourage you to check out ConnectDER at www.connectder.com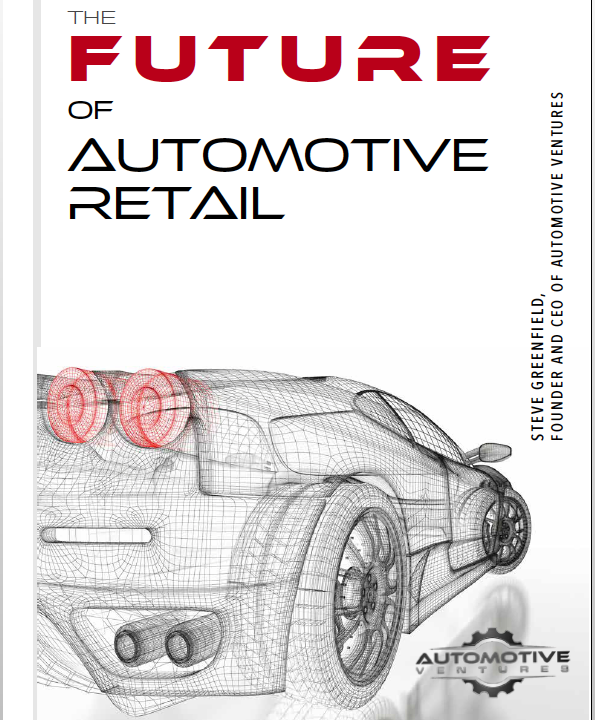 So that's it for this week's Future of Automotive segment.
If you're an AutoTech entrepreneur working on a solution that helps car dealerships, we want to hear from you. We are actively investing out of our new DealerFund.  
If you're interested in joining our Investment Club to make direct investments into AutoTech and Mobility startups with small checks, please join the Club. There is no obligation to start seeing our deal flow, and we continue to have attractive investment deals available to our members. 
And don't forget to check out my book, The Future of Automotive Retail, which is available on Amazon.com.
Thank you for tuning into CBT News for this week's Future of Automotive segment, and we'll see you next week!