Punxsutawney Phil predicted an early spring on February 2nd, but as we head nearer to the end of the month, it looks like the new vehicle market could be headed for a more extended winter.
So far 2019 hasn't been kind to many. First, there was a month-long government shutdown, then a polar vortex that left the center of the country frozen solid. Now, the online car shoppers' guide Edmunds has released an analysis of current buying trends and the picture isn't any rosier. Analysts at Edmunds project roughly 1,271,000 new car and truck sales for the United States in February, with a seasonal adjusted annual rate (SAAR) of about 16.7 million. This marks an increase in sales from January of this year, but a decrease of 2.2% from sales last February.
Said Jeremy Acevedo, Edmunds' manager of industry analysis, "Although the drop-off in sales is rather subtle year over year, February is shaping up to be a good barometer of the gradual sales decline we expect through 2019." He added, "We're really starting to see a slump in retail demand that stems from the growing cost of new car purchases."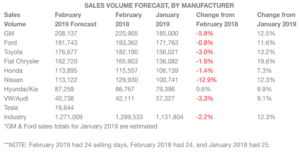 Getting specific, Edmunds released a chart forecasting sales volume by the manufacturer. While all companies showed increases from January 2019, all but Hyundai/Kia showed decreased sales from last February. Hyundai/Kia actually increased sales by 0.6% from last year, even as mainstays like General Motors and Ford showed dips 5.8% and 08% respectively. Nissan's drop was the steepest, with the brand showing a 12.9% drop from a year ago. When it comes to market share, though the downturns from February 2018 aren't quite as dramatic, there aren't any dramatic increases either, with Hyundai/Kia and Ford both making the most substantial difference at 0.2% and GM showing the largest deficit, being down 0.6%.
One of the factors noted in the analysis was that there wasn't any noteworthy uptick in sales on President's Day, the year's first major car sales event. There are many factors that one could attribute to slow sales in February. The aforementioned government shutdown and weather patterns are two popular factors that could have affected buying decisions as some tighten their belts or prefer to stay home rather than trudge to snowy lots. As Acevedo puts it, "It's easy to point fingers at anomalous factors like the polar vortex as the reason for a sales slowdown, but the numbers don't show that's the case."
What is behind the slip then? "Record-high interest rates and rising average transaction prices are what's really putting pressure on the market and keeping car shoppers at bay so far in 2019," said Acevedo. Going forward, these are the factors that will make the greatest difference.