Welcome to another edition of The Future of Automotive, with Steve Greenfield, Founder and CEO of Automotive Ventures, where I put recent automotive and mobility news items into context in terms of the broader thematic areas that will potentially impact the industry.
This week, let's examine a few interrelated consumer car shopping trends that are being fueled by the movement from internal combustion engine vehicles to electric vehicles (EVs).
First, to level-set, U.S. auto shoppers today have close to 450 different make/model combinations to choose from.
But this choice is going to grow considerably over the next five years.
With the arrival of electric vehicles across every mainstream and luxury brand, approximately 650 models will be competing for customer attention.
I would argue that it's hard enough for consumers to keep track of all the various vehicles vying for headspace with a portfolio that mostly comprises internal-combustion engine vehicles. But the push towards electrification is about to accelerate consumer confusion in the new car market.
Next up, brand loyalty seems to be declining amongst new car buyers.
According to a recent J.D. Power study, it's becoming increasingly difficult for carmakers to turn a driver into a repeat customer.
An unexpected side effect of the chip shortage was that consumers who on one hand are keeping their vehicles longer are also more likely to switch brands when it is time to buy another new car.
And finally, but related to the first two points, is that the as the EV market becomes more fragmented, Tesla seems to be is pushing many of the legacy automakers, who are just starting down the path to electrification, into unprofitable, low-volume niches.
Despite some aggressive projections by industry experts, EV sales, including plug-in hybrids and fuel cell vehicles, captured only 8.9% of the U.S. new car sales during the first half of 2023, up 2.6 percentage points from a year earlier.
But that small market share is already being divided up among 103 different models.
Legacy automakers are launching dozens of new EVs in the United States, and pouring billions of dollars into new EV and battery plants. But few EV models, besides Tesla's Model Y and Model 3, are selling at high enough volumes to support a full-scale assembly plant.
According to S&P Global Mobility Data, Tesla outsold its next 19 competitors by 10-to-one or more during the first half of the year.
For reference, Tesla sold 325,291 vehicles in the US from January to June.  Chevrolet, with its aging Bolt EV, was a distant second at 34,943 units, trailed by Ford, Hyundai and Rivian.
On a nameplate basis, all four of Tesla's models placed in the top 12 vehicles sold, with the Model Y and Model 3 ranked numbers one and two, with first-half sales of 200,000 and 160,000, respectively.
In comparison, the Bolt sold 35,000 and Ford's Mustang Mach E sold 13,600 — nowhere near enough volume to fill a typical assembly plant, which typically needs to operate at 80% of capacity or more to be profitable.
So, to summarize.
We have a plethora of new EV models hitting the market in an environment where year-over-year demand just isn't that strong. So, it's questionable whether there will be enough consumer demand to absorb all of these new EV models coming online.
Consumers seem to be less loyal than ever, willing to switch to a different brand when they're ready to buy their new car.
And with the fragmentation of the competitive landscape, in amongst soft demand, the legacy automakers may have a heck of time squeezing any profitability out of their new EV divisions.
I think the consumer wins in this scenario. There are going to be screaming great deals to be had on new EVs over the next year or so. Just wait for the oversupply and the incentives to mount.
Company to Watch
Every week we highlight interesting companies in the automotive technology space to keep an eye on. If you read my weekly Intel Report, delivered to your email inbox at 7:00 AM on Mondays, I showcase a couple of companies to watch, and we take the opportunity here on this segment to share those companies with you.
ScoutIt is a one-stop shop for EV batteries at end-of-life.
The company provides a service to find the most suitable option for EV batteries' second life, connecting suppliers of exhausted batteries with repurposers and end-users.
ScoutIt provides one complete platform for battery tracking, storage, shipping, recycling, reuse or repurposing.
Their offering appeals to end-of-life battery owners, battery re-use businesses and energy storage end-users.
If you're interested in learning more, you can check out ScoutIt at www.ScoutItWeb.com.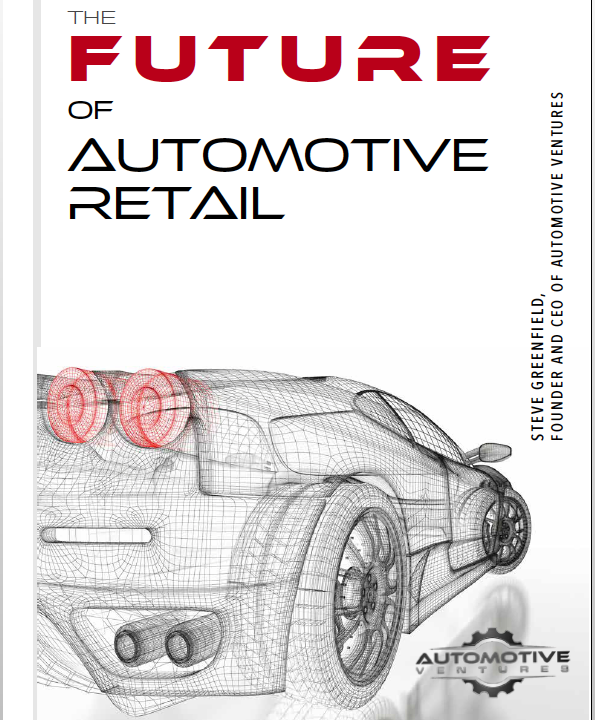 If you're an AutoTech entrepreneur working on a solution that helps car dealerships, we want to hear from you. We are actively investing out of our new DealerFund.
If you're a dealer who wants to invest in early-stage AutoTech companies that benefit your business, let me know. We are still accepting new investors into the DealerFund.
If you're interested in joining our Investment Club to make direct investments into AutoTech and Mobility startups with small checks, join the Club. There is no obligation to start seeing our deal flow.
And don't forget to check out my book, The Future of Automotive Retail, on Amazon.com. And keep an eye out for my new book, The Future of Mobility, which will be out at the end of the year.
Thanks as always for your ongoing support, and we look forward to working closely together with you to create the future of this industry.
Thank you for tuning into CBT News for this week's Future of Automotive segment, and we'll see you next week!
I'm glad that you could join us.