Almost a decade ago in June of 2009, Akio Toyoda was elected to replace Toyota's departing president, Katsuaki Watanabe. He took over the corporation at a low point for the auto industry, as "tight credit, volatile fuel prices and rising jobless numbers" had already caused record losses for many competitors in the auto industry. Despite the lackluster global economy at that time, he has since been able to keep Toyota prevalent in the industry.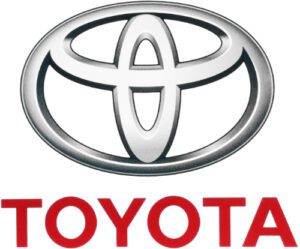 Even though there are no plans for Toyoda to step down, he reported that he has actually been seeking his replacement since his reign over the auto giant began. There are many individuals who could be contenders for the job, but Toyoda recently stated, "after 10 years, I find that it is even more difficult to find the right one."
Many times, outgoing presidents of corporations opt to select an internal candidate to replace them, but Toyoda is open to all options. Of course, many initially suspected he would choose one of his top executives from the "Seven Samurai," who work together to cut costs, save time, and improve overall efficiency throughout the global corporation. However, the "Seven Samurai" are in the same age group as Toyoda, who is 61, and Toyoda knows the corporation may benefit from a younger replacement.
Perhaps Toyoda's most impactful statement regarding his future replacement was, "I don't care about what school they went to, their gender or their nationality. All that is irrelevant. All I want to know is what they want to do here in this company?"
He clearly means business.
Toyoda is focused on the future and includes the goals of a "full model change" and a focus on mobility. Toyoda isn't even opposed to changing the name of the corporation from Toyota Motor Corp. to Toyota Mobility Corp., but said that would probably happen after the next president takes over.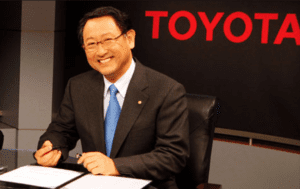 According to Toyoda, the "full model change" involves three goals, which he has named "Home and Away" and says include "leveraging Toyota Group companies, building alliances with other automakers, and expanding deeply into artificial intelligence and technology." Toyoda mentioned "spinoff candidates" that may transform into massive corporation like Toyota Motor Corp. has. These include Toyota Connected, which focuses on "past and predictive intelligence," Toyota Research Institute-Advanced Development (TRI-AD), which focuses on self-driving technology, and Admatechs Co., which labels itself as "the technological group which gives innovation."
Last month, Automotive News interviewed a New Mexico Toyota dealership's owner, Buddy Espinosa, who has spent time with Toyoda and said that he is "that man that everybody wants to work for — make things happen." Toyoda even maintains an Instagram profile in which he posts pictures of his travels and shares his love of professional racing with the world.
Despite the hardships Toyoda has faced since he was appointed president including the global economic crisis, massive recalls, and devastating hurricanes, he has worked diligently to make sure Toyota has remained a household name. The company's next president will have to work really hard to maintain the progress that Toyoda has made, but seeing as Toyoda has been scoping out options since the beginning, he'll likely choose the best one.
Photo credit: https://www.usatoday.com/story/money/cars/2017/05/10/toyota-akio-toyoda-earnings/101502702/