The last time we spoke to Jessica Stafford, Senior Vice President & General Manager at Autotrader, she told CBT News how AutoTrader kicked off the year rolling out a new look on their website homepage and media platforms. Using innovative technology, they were able to create a more user-friendly digital software that beneficially supports both the consumers and dealers with an emphasis on customizing tools to identify the wants and needs of each user. During our most recent interview, we learn how they enhancing the online shopping experience and furthering their distances from others in the industry with Accelerate.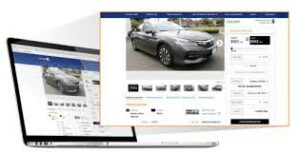 When we met with Jessica again in Las Vegas at The NADA Show this year she introduced CBT News to Accelerate, a new part of the Autotrader experience. Accelerate is the brand's new digital retailing platform that will be launched across Autotrader, Kelley Blue Book and Dealer.com websites. This platform provides a way for consumers to begin their purchase process online. Accelerate will be rolling out across the market over the next year as it has been operating extremely well during beta testing around the Las Vegas area and among 24 different dealerships.
what sets this platform apart from the rest is that it essentially allow consumers to start the buying process online through Autotrader and help transition them "from searching to buying when they are ready." says Jessica as she explains how consumers want to choose their own path when they are buying a vehicle. Everyone knows that it is probably one of the biggest purchases they will ever make. Allowing shoppers to structure that deal and align it with how they want their monthly payments before entering the store not only frees up a lot of the time that could have been spent and gives the shopper the transparency needed to feel comfortable, which hopefully leads to a purchase.