Just a few days after Bloomberg published an article quoting Tesla's Chief Executive Officer Elon Musk as saying, "We've gone from production hell to delivery logistics hell" after the company decided to handle retailing on its own, Mike Jackson has spoken out against the company's business practices. Jackson stated there is "going to be a day of reckoning" for Tesla and that Musk's "bait-and-switch strategy" might work for now but won't last.
Matthew Belvedere of CNBC reported that Musk has been "on shaky ground" since August 7th when he tweeted about the possibility of taking Tesla private. Most investors loathed the idea, which was later dropped, but Musk's claim that he had "funding secured" for it has led to a criminal fraud investigation and civil inquiries. Musk also raised some eyebrows when he was smoking marijuana and drinking whiskey while giving an interview on a podcast in early September.

Tesla is facing other massive obstacles, including legal ones, when it comes to delivering and servicing its own vehicles. Jackson noted that Musk can run Tesla however he chooses, but hypothesized that he is going to have a huge problem when it comes to production volume. This comes four years after Jackson had first predicted it would be difficult for Musk to create a tenable delivery process.
Several reports mentioned a Twitter user who tweeted at Musk and told him the Tesla she ordered – along with 41 other Tesla vehicles – had been sitting in a parking lot undelivered. This came after 3 previous delays and correspondence relaying that the delivery had been "postponed indefinitely." Musk has claimed that Tesla is aiming to build more than twice the number of vehicles than last quarter, which Jackson warns will cause an issue that is going to be "hell." To put it in perspective, Tesla only delivered about 76% of vehicles that it produced in a 3-month span in mid-2018.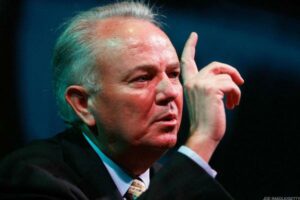 Jackson also called out Musk's allegation that Tesla would be able to release a $35,000 Model 3, stating the bait-and-switch tactics are not sustainable seeing as Model 3's cost more towards $50,000 and Musk will likely never be able to produce a $35,000 one. Audi, Mercedes-Benz, and BMW are just a few other manufacturers getting into the electric vehicle market, so Tesla will be facing some real competition.
Belvedere reported that Jackson predicts 30 percent of cars will be electric in ten years but Tesla might not be around for it because "Musk does not have a sustainable business strategy for the long haul." Bob Lutz, the former Vice Chairman of General Motors, gave an interview in which he claimed Tesla has been "hemorrhaging cash" and that the company won't ever make money because costs are "way too high."
Tesla stock has lost around a quarter of its value in the past month in a half, indicating the company needs to find strategies to get back on track. Lutz agreed with many executives in the automotive industry and has voiced that Musk should resign; however, so far Musk and Tesla have ignored the criticism.