Welcome to another edition of The Friday 5 with Steve Greenfield, Founder and CEO of Automotive Ventures, an auto technology advisory firm that helps entrepreneurs raise money and maximize the value of their companies. In this episode, Greenfield takes a look at M&A activity, Q3 sales results, Cazoo, and more. He also sits down with George Karolis, president of The Presidio Group.
Auto Tech M&A
Hampleton Partners reports that global automotive technology M&A activity was down by 11% in the first half of 2020, compared to the second half of 2019. But, while deal flow has been light during the first few months of the pandemic, we're starting to see things heat up. 
Profitable Dealers
One of the reasons that investors are getting more confident is the health of auto dealers. We're going to have an exciting Q3 earnings call season for the publicly traded automotive dealer groups. Group 1 Automotive just announced that they expect Q3 earnings per share to triple. 
Lithia Motors anticipates third-quarter net income to be up to 76% higher than last year. Dealers are recording record quarterly profits, largely due to reduced employee, operating and marketing costs, coupled with strong new car and used car gross profit per unit. The key question is whether dealers will be able to keep operating lean as the economy rebounds, as they may be tempted to add back operating costs.
IPOs
The New York Stock Exchange expects this month's record pace for initial public offerings to continue. September was the busiest month for IPOs in the exchange's history, and October is on track to also break a record. 2020 is very likely to turn out to be the biggest year for IPOs since 2014.
How upcoming IPOs perform will be a big test of the stability and strength of the U.S. stock market as we head into the final quarter of what's been a very interesting year.
SaaS Multiples
Software has been hot. SaaS Capital reports that public company Software as a Service revenue multiples continue to skyrocket, recently reaching 15-times average revenue run rate, the highest that we've ever seen for software valuations. Investors clearly love the SaaS model. 
The SPACs Continue
Challenged electric vehicle manufacturer Faraday Future plans to deliver its first electric luxury SUV, the FF 91, nine months after securing funding. Faraday wants to raise $800 to $850 million dollars to launch the FF 91 via a SPAC. 
Once one of the more hyped EV startups, Faraday burned through $2 billion dollars in cash and its founder Jia Yueting completed his personal bankruptcy filing in June. And Romeo Power Technology, a battery maker for electric vehicles, will go public through a merger with SPAC company RMG Acquisition Corporation in a $1.33 billion dollar deal.
Cazoo
Online automotive retailers continue to be hot. Carvana's market cap of $37 billion is definitely increasing investor interest in the automotive category in general. Shift Technologies should be a public company within the next week. So we're keeping a keen eye on that one.
UK online retailer Cazoo just launched 10 months ago. After a financing round last week, the company is now valued at $2.5 billion dollars. A lot of investor interest has been fueled by consumers shifting their shopping preferences due to COVID-19. I'm certain that we're going to see a number of online dealership players emerge, given the frothiness in this market.
Hertz and Donlen
Private equity players TPG and Onex are preparing offers to acquire fleet management business Donlen from Hertz in a deal that could value the unit at around $1 billion dollars. Donlen specializes in fleet management, automotive leasing and other related services. Hertz would use funds from the deal to pay down a debt load that had reached $24.4 billion dollars when it filed for Chapter 11 protection back in May.

Donlen made about $100 million dollars in profit last year. Hertz bought Donlen for $947 million dollars, including debt, back in 2011.
George Karolis and The Presidio Group
Physical dealership buy/sell activity in the first half of 2020 surpassed the first half of 2019, despite the economic challenges of the recession. Sellers grew more confident in their valuation expectations as earnings surpassed pre-COVID levels.
With that, we're excited to welcome The Presidio Group's President, George Karolis, to the show. Generally speaking, dealers are growing more confident in the resiliency of the dealership model, which has led to heightened demand on the M&A front.
This has been a record-setting year for Presidio as they have closed on 35 dealerships including our exclusive Park Place transaction, which to our knowledge was the largest transaction ever to be consummated in the industry after the Buffet / Van Tuyl deal.
This week they closed on another exclusive transaction with the sale of Infiniti of Memphis to Gossett Motor Cars. It was the second transaction they executed this year for our client, Johanna Ellis Reisinger, on March 16, they closed on the sale of Johanna's iconic Mercedes- Benz dealership here in the Atlanta market, Atlanta Classic Cars, to Krause Auto Group. The closing took place on the day many of the broader shutdowns around our country were beginning, and at that time they could never have predicted the comeback and overall strength the are seeing in the retail automotive space.
It's an exciting time for automotive technology companies, and we should see a lot of M&A activity over the remainder of the year. Tune in next week for another recap.
---
Did you miss last week's episode of The Friday 5? Watch it here now! And don't forget to share your questions and comments with Jim Fitzpatrick at jfitzpatrick@cbtnews.com.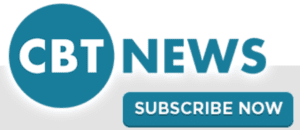 Be sure to follow us on Facebook and Twitter to stay up to date or catch-up on all of our podcasts on demand.
While you're here, don't forget to subscribe to our email newsletter for all the latest auto industry news from CBT News.