On the outset, November 2018 did not seem as if it would be a remarkable departure from the norm. It is typically a nice rebound for dealerships that may have lost money in October as they can capitalize on Black Friday sales and a general openness to spending on the part of consumers. However, this November took a different turn.
Edmunds forecasted the sale of 1,376,253 new cars for a seasonally adjusted rate (SAAR) of 17.3 million. The month is due to fair better than October with a 1.3 percent increase in sales. However, there is one notable drop of which many analysts have taken note. For the first time since 2009, November has experienced a decline in year-to-year increases.
Compared with November 2017, there is an expected 1.3 percent decrease. Due to factors including market saturation, an increase in transaction prices, and inflated interest rates, Jeremy Acevedo, Edmund's manager of Industry Analysis called the sales cool down a "new normal that we can likely expect for the rest of 2018 and even 2019." What else has come to define November's auto sales performance? Read on for takeaways.
Is Black Friday's Hold Loosening?
When it comes to sales across most industries, November is defined by Black Friday and the increasing popularity of Cyber Monday. Even if sales lag during the early part of the month, many retailers can rally by capitalizing on Black Friday sales and discounts. For many years, the openness to spending on Black Friday has extended to car sales, but November 2018 broke a nine-year tradition. As previous months have revealed, zero down financing opportunities, and pricing discounts are becoming hard to come by for today's buyer. So, as Acevedo pointed out, even in spite of Black Friday's past hold, November's auto sale performance is likely the new normal.
Who Excelled and Who Struggled?
The performance of individual automakers is a mixed bag. Domestic manufacturers, GM and Ford, are estimated to have seen a 9.3 and 2.5 percent drop in sales respectively. Nissan and Honda are not expected to fare much better with decreases of 16.3 and 7.1. There is a differing sentiment regarding Toyota as Cox Automotive estimates a decline of 3.5, and Edmunds sees Toyota make a 1 percent gain.
It is likely safe to assume Toyota's gain or loss will be minimal. This month's winners will again be Fiat Chrysler and Subaru. Both are expected to make add on to their record-breaking year of sales increases. Edmunds has Fiat Chrysler with a 14.1 percent increase, and Cox estimates their gains to be as high as 16.2 percent. Cox also forecasts an 8.3 percent rise in Subaru's year over year sales. It is no coincidence that automakers known for their fleet of large vehicles are leading the pack as SUVs and Crossover vehicles are still all the rage.
Prices Continue to Rise as Incentives and Discounts Fall
As the holiday season sets in, there is little relief for car buyers looking to capitalize on end-of-year sales. For those in the market for a new car, transaction prices have risen to a record high of $33,697, over $1000 higher than the same time last year. Relief in the form of incentive spending or discounts is unlikely as the former is down $3,783. Discounts have also fallen $784. While market saturation is also a likely reason for November's decrease in sales, there is also a high probability that this notable rise in price and lack of savings for consumers significantly contributed.
New-Car Finance Data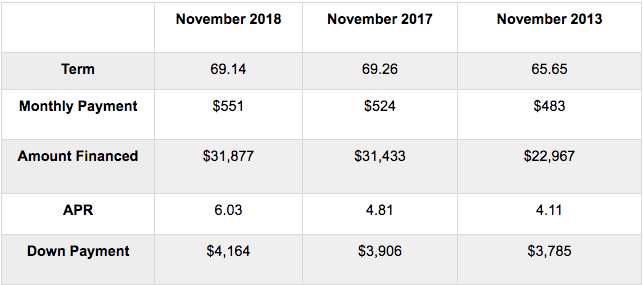 Used-Car Finance Data
Final Thoughts
November 2018 marked the end of a ten-year trend of increased sales. When a longstanding tradition such as this one begins to falter, it can potentially be used as a barometer to measure the overall state of auto sales moving forward. While the month did see an increase compared to October, it could be the start of a trend of year-to-year decrease as we move into 2019. If sales continue to fall, automakers and dealers may have to largely depend on the rising transaction prices of new vehicles to see a rise in profits.