General Motors plans to use its Super Bowl airtime to promote its all-electric future with comedian and movie star Will Ferrell. With the big game less than a week away, the automaker released a series of teaser ads with Ferrel, all of which concluded with the same tagline, "Why does Will Ferrell hate Norway? Find out Feb. 7th." 
In the teaser clips, Ferrell pokes fun at Norwegian history, weather, and the name Olaf. In a post introducing the ads, GM said, "With all the Olafs, and year-round sweater weather, why is actor and EV enthusiast Will Ferrell so obsessed with Norway? The answer to the big question posed in these big game teasers is coming soon, but it has something to do with Ferrell – and General Motors – wanting Everybody In on electric vehicles. Perhaps someone should tell him GM has 30 EV models coming by 2025."
Why Norway?
Norway is regarded by many as the EV kingdom due to the high volume of commuters who prefer electric transportation options. According to the Norwegian Road Federation, battery-electric vehicles accounted for 54.3% of all new cars sold in the country in 2020, a global record and up from 42.4% in 2019. 
The country has made the shift to electric vehicles very quickly as EV sales only made up 1% of new cars sold in the country 10 years ago. While Norway is a large-scale oil producing country, the nation will look to become the first country to end sales of gas and diesel vehicles by 2025.
GM's electric future
Ferrell is not the first iconic figure to star in its electric-focused commercials for the Super Bowl. During last year's game, NBA star LeBron James starred in GM's commercial showcasing the GMC Hummer EV. The commercial paired the intensity of James with the high-performance of the Hummer EV, which promised 1,000 horsepower and 11,500 pound-feet of torque.
It's clear that the automaker plans to add some humor to its EV pitch this year. While it's still unclear what direction the commercial will take, GM could be targeting Norway based on its ability to adopt EVs as a country. The automaker recently announced that it would sell EVs exclusively by 2035. The current challenge for the company is convincing the majority of Americans, who drive gas-powered vehicles, to make the shift to electric models.
Last month, GM introduced its "Everybody In" campaign, a marketing strategy that brought change to the company's logo and signaled the shift towards becoming an electric brand. The automaker says there are three main themes of the campaign:
Exciting a new generation of buyers and accelerating EV adoption;

Demonstrating GM's EV leadership, which includes the investment of $27 billion in EV and AV products through 2025 and the launches of 30 new EVs globally by the end of 2025; and

Highlighting the range, performance and flexibility of the Ultium platform.
---
Did you enjoy this article from Josh Isley? Read other articles from him here.
Be sure to follow us on Facebook and Twitter to stay up to date or catch-up on all of our podcasts on demand.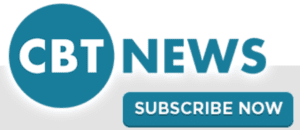 While you're here, don't forget to subscribe to our email newsletter for all the latest auto industry news from CBT News.